How Does Discord Make Money Without Being a Social Network?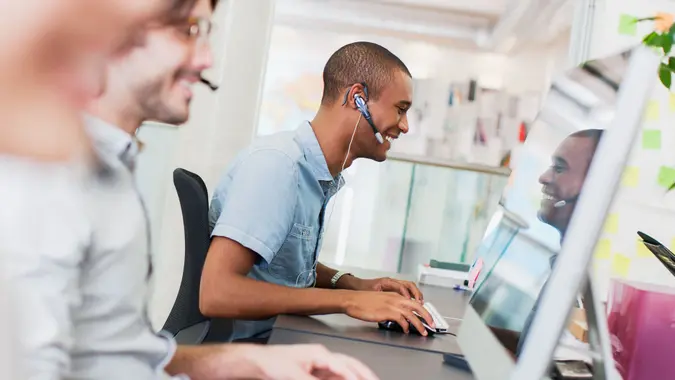 Paul Bradbury / Getty Images
What if you could toss your feet up on the coffee table any time you wanted and instantly have a conversation about your favorite topic with people who love it too? What if the conversation could be in any format you wanted? Would it take the edge off a hard day, or make a good day even better?
That's what the team at Discord is banking on. They've set out to create a safe place for you to connect online with people who share your interests and hobbies, and they're betting that you'll come to the table with cash and loyalty if they succeed.
Here's a look at what this digital lounge looks like right now, where it's headed and an answer to the million-dollar question — how does Discord make money?
What Is Discord?
Discord is a platform for building communities online. The service, which offers text, voice and video communication, aims to empower people to find belonging in online spaces and describes itself as "where the world talks, hangs out and builds relationships."
Make Your Money Work Better for You
From gamers to hiking clubs, artist communities, study groups and more, Discord offers a virtual lounge of sorts — a place where users can pop in any time, issue a friendly hello, connect with like-minded people and pursue interests and hobbies in always-open groups.
Discord reports 150 million active users, 19 million active servers, or conversations — each week and 4 billion server conversation minutes per day.
What Discord Isn't
Discord is, intentionally, not a social media site. It disavows the algorithm, abandoning the news feed and the "likes" feature that we've become accustomed to on websites aimed at connection.
It's social media without the virality, a digital platform that seems to imagine itself as a virtual dinner party conversation — just the people you choose to be near and the topics you choose to discuss.
How It Works
Discord servers host conversations with real people, in real time, in online spaces that matter to them, called servers. Users can pop into a group via voice call, text or video chat at any time and likely make connections based on common interests and hobbies. The platform's most popular servers are Fortnite and Minecraft, each of which has well over 500,000 users.
Make Your Money Work Better for You
How Discord Makes Money
Discord doesn't sell customer data, and does not share it with third parties who want to advertise. Instead, the service counts on users becoming so invested in the opportunity to connect in its fuss-free spaces that they'll be willing to buy an upgrade package.
One such upgrade package is Discord Nitro. Users willing to pay $9.99 per month or $99.99 per year gain the ability to create custom and animated emojis and avatars. Other amenities include two server boosts and 30% off of boosts after that, larger-scale uploads, hi-resolution video and streaming, and a profile badge showcasing the length of time that the user has been on the platform.
For those who are slightly less committed, Discord's Nitro Classic subscription removes the server boost but keeps enhanced chat functionality for $4.99 per month or $49.99 per year.
A Look at Discord's Net Worth
In 2020, as the COVID-19 pandemic lockdown kept consumers at home, Discord earned $130 million in revenue — a 188% year-over-year increase.
In 2021, the platform was valued at $7 billion, doubling its value in less than a year.
Make Your Money Work Better for You
Is Discord Safe to Use?
Although Discord is unable to monitor every post, the platform has a set of rules in place and a Trust and Safety team to help enforce them. Discord also began offering a Transparency Report in 2019, which it published twice each year.
During the COVID-19 pandemic, as traffic grew, Discord introduced the Discord Moderator Academy, which centralizes resources about moderation in an attempt to educate users about how to help keep the platform safe for all users.
Does Discord Collect User Data?
Discord does collect and keep data, with a few notable caveats. The service doesn't knowingly seek or store information about anyone under the age of 13, and it doesn't share details about individuals with business partners or other third parties. Users can also change their privacy settings.
Discord's Beginnings and Current News
Based in San Francisco, Discord launched in 2015. The site grew quickly, especially among gamers, by offering its service for free.
Today, Discord is generating significant revenue from its large user base and finding ways to optimize the experience of connecting on its platform. Earlier this year, the service rolled out a Clubhouse-esque feature called Stage Channels, which allows users to broadcast audio content to a room.
More recently, Discord offered developers an opportunity to beta test a new feature called Threads, which is meant to help users track the topics of greatest interest to them in big, bustling communities.
The Dream of an Intentional Digital Social Experience
Discord has set out to imagine online socializing not as it is, but as it could be. The service seems to have proven that users will pay for that, too.
Good To Know

Like many other digital products, Discord is not a problem-free utopia. The service has shuttered several servers tied to racism, terrorism, crime and explicit content. In a clear signal that it knows this kind of work won't cease, Discord recently purchased Sentropy, a company building artificial intelligence tools focused on spotting harassment online.
Discord, for its part, shows signs of awareness that it needs to continue trying to keep its user experience safe and manageable in the face of tremendous growth and industry disruption. Whether or not the service manages to become the online living room it seems to long for, where you can relax and put up your proverbial feet, it has already caused a clear shift in that direction.
Our in-house research team and on-site financial experts work together to create content that's accurate, impartial, and up to date. We fact-check every single statistic, quote and fact using trusted primary resources to make sure the information we provide is correct. You can learn more about GOBankingRates' processes and standards in our editorial policy.
Make Your Money Work Better for You