How Much Is Bank of America Worth?
Learn about BofA's market cap and how the company is faring.
Bank of America is the second-largest bank in the U.S. — after JPMorgan Chase — handling more than $2 trillion in assets. The amount of money the bank handles, and thus its monetary influence, might appear attractive to investors. Here is a breakdown of how Bank of America stock is performing, how the company is faring, and other information to help you decide whether you should invest.
Click here to get answers to investing questions you're too embarrassed to ask.
What Bank of America Is Worth
Bank of America Share Price,
52-Week Range
$22.73-$33.05
Bank of America Market Cap,
52-Week Range
$230.5B-$335.1B
2017 Revenue
$100.2B
2017 Profit
$18.2B
GOBankingRates' Evaluation of
Bank of America Net Worth
$401.7B
All information on 52-week range accurate as of June 26, 2018.
Bank of America Market Cap Range: $230.5B-$335.1B
Market capitalization is determined by the total dollar value of a company's outstanding shares, which helps investors determine the relative size of a company. Bank of America's market cap range, with a 52-week high of $335.1 billion, reflects how the market as a whole values the company, and investor differences mean the value is in contention. Although the bank's common stock has paid dividends that are relatively low, the bank has done a solid job handling expenses, and the shares are likely worth holding on to, according to InvestorPlace.
Sponsors of
Learn: Why Dividend Stocks Are Great for Beginner Investors
Bank of America Net Worth: $401.7B
Market caps offer just one view of what the market values a company at. That value is also susceptible to change on an almost-hourly basis due to external market forces and investors fighting over the value of shares. The GOBankingRates Evaluation, however, calculates a company's net worth based on recent annual reports of income and profit while also taking into consideration its assets and liabilities.
Based on the company's revenue and profits from the last three years, Bank of America is worth just over $400 billion.
Warren Buffett Is Sticking With Bank of America Stock
Bank of America weathered the 2008 financial crisis by shutting down hundreds of branch locations in order to save on costs — it also received more than $336 billion in federal aid, according to CNBC. Additionally, it made a significant investment choice by purchasing Merrill Lynch in 2008 — completed in 2009 — and integrating it into BofA's wealth management firm.
Sponsors of
Keep Reading: Top Market Meltdowns Over the Past 50 Years
Merrill Lynch is among the biggest wealth management firms in the world as of June 2018, according to Forbes, but was fined more than $40 million for routing customer orders to outside brokers. Still, the fact that Bank of America owns one of the largest wealth management firms in the world indicates it is a market force worth watching. It has held the attention of investing icon Warren Buffett, who has holdings in Bank of America worth more than $20 billion. In 2017, Buffett told CNBC he would maintain stock there for a "long, long, long time."
Why Buffett Is Also Keeping Wells Fargo Stock: How Much Wells Fargo Is Worth
Bank of America's CEO and His Advice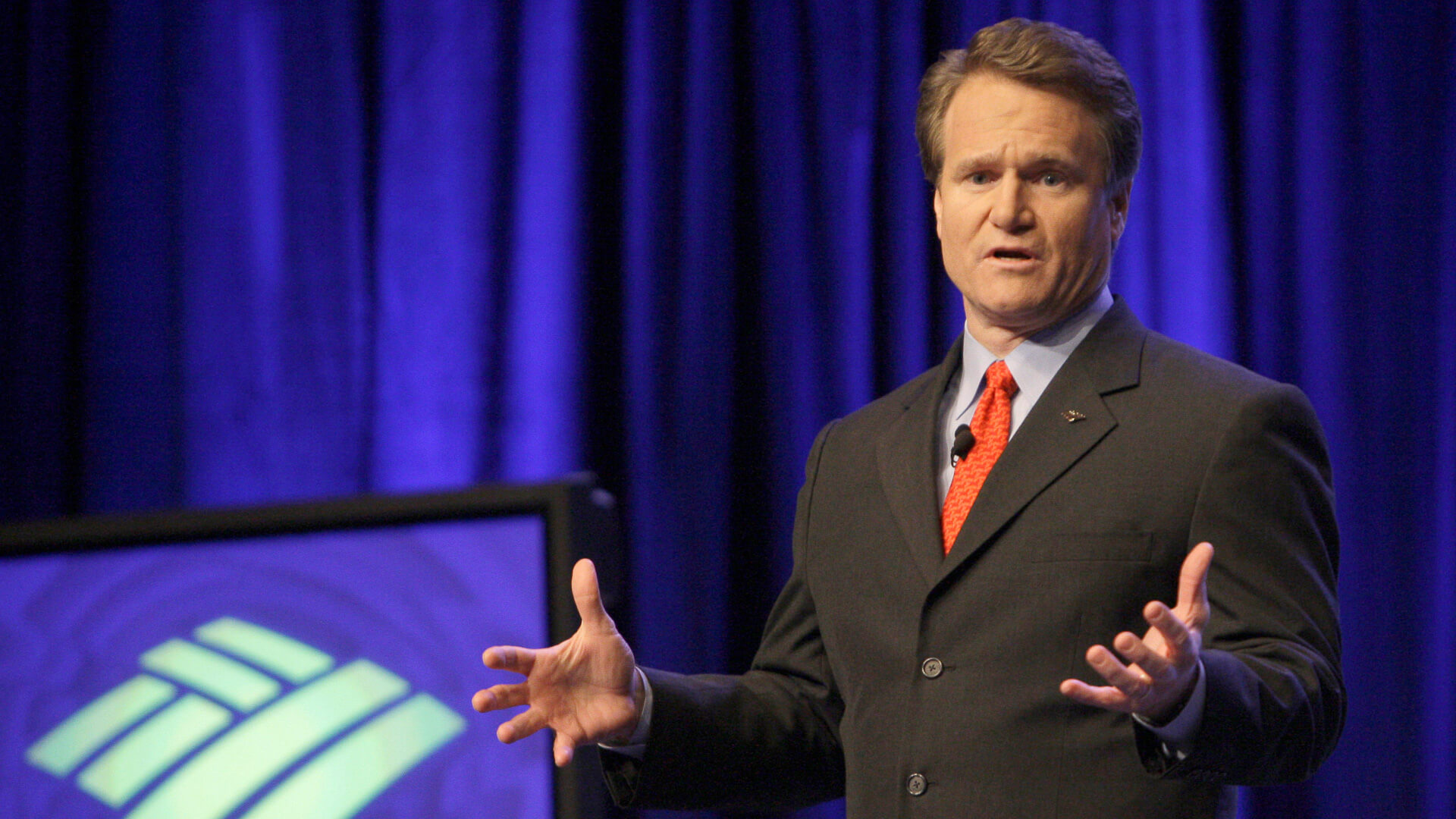 Bank of America CEO Brian Moynihan is credited with steering the company out of the financial crisis by "methodically overhauling and streamlining" its business model, reported The Post and Courier in November 2017. His strategy included closing branches, terminating employees and cutting operating costs. Customer deposits also increased under his watch, and it's the bank's deposit volume that contributes significantly to it being the country's second-largest bank.
Sponsors of
Check Out: Your Guide to Bank of America SWIFT Codes
According to Moynihan, the skill you need to succeed in the future will be information processing. "The ability of people to be successful in the future job market is going to come down to the ability to absorb tremendous amounts of information," he said in a January 2018 interview with CNBC.
More on Business
Methodology: The GOBankingRates Evaluation assesses a company's net worth based on the company's total assets, total liabilities, and revenue and net income from the last three years. Base value is established by subtracting total liabilities from total assets from the company's last full fiscal year. Income value is established by taking the average of the revenue from the last three full fiscal years, 10 times the average of the net profits from the last three full fiscal years, and then calculating the average of those two figures. The final GOBankingRates Evaluation number is the sum of the base value and the income value.