How Much Is Bank of America Worth?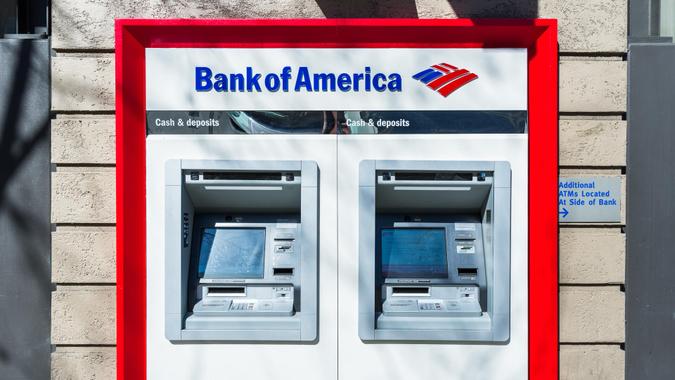 Sundry Photography / Shutterstock.com
Bank of America is the second-largest bank in the U.S. — after JPMorgan Chase — handling roughly $2.8 billion in total assets. Here is a breakdown of how Bank of America stock is performing, how the company is faring, and whether or not now is the right time to invest in the company.
Bank of America: A Healthy-Looking Financial Stock
So far this year, Bank of America stock–BAC–has returned 29.17% while finance stocks as a whole have gained 14.27% on average. Its performance has been strong enough that Zacks Equity Research notes improved sentiment around Bank of America's earnings outlook. The research firm currently ranks the stock as a strong buy.
Bank of America's Historic Bond Offering
On Friday, April 16, 2021, Bank of America announced a plan to sell $15 billion in bonds. It is a record-breaking deal, announced just one day after JPMorgan Chase & Co. announced a similar but smaller offering worth $13 billion and Goldman Sachs Group sold $6 billion in new bond notes.
Investors responded favorably to Bank of America's new bond offering, with one source claiming that investors bought to the tune of approximately $25 billion. That positions Bank of America to borrow at lower rates than planned. The company plans to use its proceeds from the bond sale for overall corporate needs, according to a spokesperson.
An Expanded Commitment to Housing Affordability
Two months ago, Bank of America announced plans to triple its investment in affordable homeownership — from $5 billion in 2019 to $15 billion through 2025. The company plans to help more than 60,000 consumers purchase homes. Bank of America's previously committed funding to this initiative has already placed more than 21,000 people in homes via affordable loans, plus down payments and closing cost grants.
A Focus on Retaining Talent Through a Pandemic
Bank of America also made headlines recently for announcing that it would be providing pay raises for analysts, associates, vice presidents, and international staff. In light of the COVID-19 pandemic, the bank aims to recognize the increased workloads its workers continue to face.
Bank of America at-a-Glance
Here's the 10,000-foot view based on the company's 2020 annual report:
Company Snapshot
CEO
Brian Thomas Moynihan
Headquarters
Charlotte, North Carolina
Number of Employees
213,00
Total Assets
$2.8 billion
Total Liabilities
$2.8 billion
Revenue
$85.5 billion
Net Tangible Assets
$2.7 billion
Here is an overview of the company's business as described on its website:
Overview
Clients
66 million consumer and small business clients
Retail Centers
4,300
ATMs
17,000*
Countries Served
35%
*Approximation
Bank of America Market Cap: Around $328.5B
Market capitalization is determined by the total dollar value of a company's outstanding shares, which helps investors determine the relative size of a company. Bank of America's market cap range, which sits at $328.5 billion as of April 21, 2021, reflecting how the overall market values the company.
Bank of America Net Worth: $439.9B
Market caps offer just one view of what the market values a company at. That value is also susceptible to change on an almost hourly basis due to external market forces and investors fighting over the value of shares. The GOBankingRates Evaluation, however, calculates a company's net worth based on recent annual reports of income and profit while also taking into consideration its assets and liabilities.
Based on the company's revenue and profits from the last three years, Bank of America is worth just over $439.9 billion.
A Company Performing Well in Challenging Times
Bank of America appears to be weathering the COVID-19 pandemic with resolve and focus.
The company has weathered hard times before. Bank of America CEO Brian Moynihan has been credited with steering the company out of the 2008 financial crisis by "methodically overhauling and streamlining" its business model, reported The Post and Courier in November 2017. His strategy included closing branches, terminating employees, and cutting operating costs. He also made a significant investment choice by purchasing Merrill Lynch in 2008 — completed in 2009 — and integrating it into BofA's wealth management firm.
Customer deposits increased under Moynihan's watch, and it's the bank's deposit volume that contributes significantly to it being the country's second-largest bank.
It appears that Moynihan is again navigating a difficult period with relative success –this time, investing in products and people that will help steer the bank through the economic stress and uncertainty of the COVID-19 pandemic. Investors may want to keep a close eye on Bank of America, its next moves, and its better-than-expected stock performance in the financial sector.
Sean Dennison contributed to the reporting for this article.
Methodology: The GOBankingRates Evaluation assesses a company's net worth based on the company's total assets, total liabilities, and revenue and net income from the last three years. Base value is established by subtracting total liabilities from total assets from the company's last full fiscal year. Income value is established by taking the average of the revenue from the last three full fiscal years, 10 times the average of the net profits from the last three full fiscal years, and then calculating the average of those two figures. The final GOBankingRates Evaluation number is the sum of the base value and the income value.
Our in-house research team and on-site financial experts work together to create content that's accurate, impartial, and up to date. We fact-check every single statistic, quote and fact using trusted primary resources to make sure the information we provide is correct. You can learn more about GOBankingRates' processes and standards in our editorial policy.