How To Start a Cleaning Business: What You Can Expect To Earn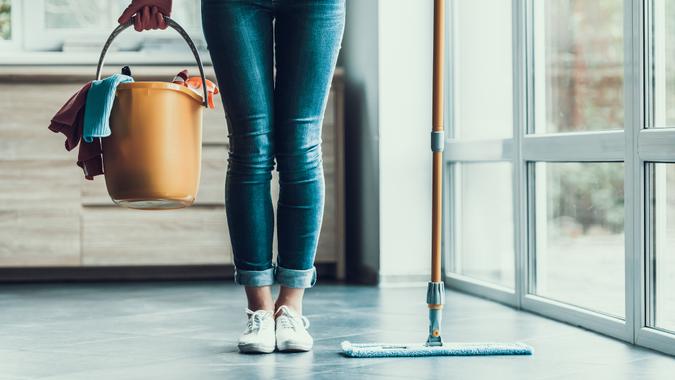 ©Shutterstock.com
There are many reasons why people decide to take on a side hustle or even go into business for themselves. Some want to escape the 9-to-5 office culture. Others want to be their own boss and make their own rules.
A cleaning company can be a fulfilling and profitable business for the right individual. There are many reasons why you might want to consider a cleaning business. For example, it's one with low overhead, little to no operating costs and reliable demand. With low up-front costs compared to other businesses, it's also easy to get started quickly.
Starting a cleaning business entails planning, making financial decisions and completing some legal steps. This guide will walk you through all the steps necessary to start a cleaning business in 2021.
Ask Yourself, "Am I Ready to Launch My Own Cleaning Business?"
The first step is a bit of self-reflection. Starting and operating a business can be hard work, and it requires patience and perseverance. You might have to work long hours, including nights and weekends, to get your business off the ground. This might seem overwhelming at the outset.
Make Your Money Work Better for You
Knowing yourself and what it will take to succeed in your new venture is essential.
How Much Can You Earn?
Of course, making money is the ultimate goal of any business. But how much can you earn with a cleaning business in 2021? The short answer is: it depends.
Let's assume we're talking about a standard residential cleaning company. The average base pay for a house cleaner in 2021 is $30,190. That's about $14.50 an hour, working 40 hours a week. Additionally, your clients may tip you, but that'll depend on your work and how much they're willing to give.
But you don't just want to be a house cleaner. You want to be the business owner, although you might have to do a lot of the cleaning work until you're ready or able to hire cleaners. So, how much can your cleaning business make?
How Much You Can Charge
Cleaning companies charge anywhere from $25 to $90 per hour, depending on the home's location, service, and condition. If you're in an upscale area providing a luxurious cleaning service, you might be able to charge more than standard house cleaning in a lower-income neighborhood.
Make Your Money Work Better for You
If you charge $50 per hour for your service, that means you can make $400 to $500 per day per cleaner on your staff, depending on how many hours per day they work. So one cleaner could bring in over $100,000 per year if you can keep them busy.
If you had a team of three to five cleaners, you're talking about annual revenues of $300,000 to $500,000 or more.
3 Steps To Launching Your Cleaning Business
Does this sound interesting? Keep reading to learn how to start a cleaning business, including how to plan and register your company, find clients and grow your business.
1. Plan Your Business
Careful planning is essential to business success. In this step, you'll conduct market research, write a business plan, choose your market, select a structure and pick a name.
Make Your Money Work Better for You
Conduct Market Research
Identifying the right target market is an essential part of any business plan. In this step, you should determine what the current demand is for home cleaning. You can conduct Internet searches, talk to people you know already working in the industry and research relevant news websites or industry magazines. Below are some questions you should answer for your new business.
Questions To Ask

Do you want to do residential cleaning? Commercial? Both?
What are the demographics of your desired location?
How much disposable income do they have?
What competitors are already operating in your preferred area? What services are they offering? How much are they charging?
What's the total reachable market size? What percentage do you think you can capture?
How easy will it be to acquire new customers?
What areas or services will you offer?
Is the area easy to get around?
Write Your Business Plan
If you're thinking about getting outside investment for your company, a business plan is essential. This plan is a written document that describes in detail how your business will operate. It contains specific information about all business activities, products and services offered, your marketing strategy and your financial planning.
However, even if you're self-funding or bootstrapping it, the exercise of thinking through each section and writing it down will be beneficial. You'll be able to hit the ground running with a roadmap for success.
2 Register Your Business
Before you engage in any business activity, you'll want to make sure you complete all the necessary legal steps. That includes registering your business with your state, applying for relevant federal and state tax identification numbers, getting any local licenses and opening a business bank account to make and receive payments.
You will likely need an Employer Identification Number, or EIN, from the IRS so you can file the relevant tax forms for your company.
3. Find Clients and Get to Work
After you've written your plan and registered your cleaning business, you're ready to get to work. The next step is finding clients. Friends and family are great places to start. You can also advertise your cleaning services on social media. You might create a blog or newsletter to discuss your benefits and promote your company. Once you've gotten your first few customers, you may also ask them for referrals.
Quick Recap: Steps To Create a Cleaning Business

Decide if being a cleaning company business owner is right for you.
Conduct market research to determine who you'll serve, what cleaning products and services you'll offer and how much you'll charge.
Document your findings in a business plan that will act as a roadmap for your business.
Register your cleaning company and acquire all necessary tax IDs and local licenses.
Open a business banking account so that you can accept payments.
Find clients through word of mouth, digital marketing and referrals.
Final Take
Starting a cleaning company can be a lucrative business in 2021 if you want to go out independently. Owning and operating a business isn't for everyone, so be sure that you're able and willing to tackle the challenges that await. If you're successful, you'll have a profitable and rewarding business that also makes a difference in your customers' lives.
Our in-house research team and on-site financial experts work together to create content that's accurate, impartial, and up to date. We fact-check every single statistic, quote and fact using trusted primary resources to make sure the information we provide is correct. You can learn more about GOBankingRates' processes and standards in our editorial policy.