How To Start a Vending Machine Business: Costs, Pros and Cons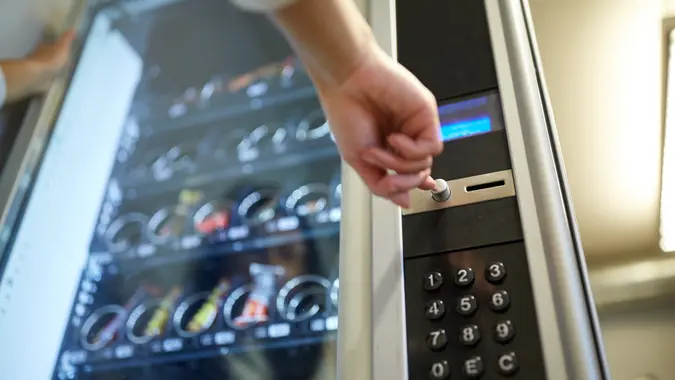 ©Shutterstock.com
Like any business that requires time, effort and money to scale, a vending machine business is perfect to start as a side hustle. And if you're looking for a side-hustle opportunity, you're not alone. A LendingTree survey conducted in October 2020 found that 45% of Americans considered taking up a side hustle during the pandemic — and those who did depend on that income.
But there's more to starting this type of business than simply buying a vending machine and setting it up. You'll have to complete a lot of in-between steps to make your vending machine venture successful. And while you won't likely become a millionaire, you may be able to scale the business to the point that you can replace the income from your full-time job. Here's what you need to know in this go-to guide for starting a vending machine business, including startup costs and what you can earn.
How Much Do Vending Machines Cost?
Vending machines can vary in cost, depending on what type of machine you choose. Here's a breakdown of the different types of vending machines and their estimated costs. Note that estimated costs are for new machines. If you buy a used or refurbished machine, your cost could be lower.
Bulk Vending Machines
Estimated cost: $100-$500
Bulk vending machines are often placed outside of retail stores or in malls, in waiting areas of offices and transportation stations and inside kid-themed restaurants or arcades. These machines offer small toys and candy, such as stickers, costume jewelry and gumballs, and usually require quarters to vend their wares. Bulk vending machines are the most affordable of all vending machines but also provide lower profits per item than machines that vend more expensive products. An advantage of bulk vending machines is that they don't require electricity or batteries to operate, which makes them easy to maintain.
Make Your Money Work Better for You
Food and Drink Vending Machines
Estimated cost: $3,000-$5,800
Food and drink vending machines are placed inside retail stores, malls, hospitals, hotels, airports, office buildings, event centers and schools. They offer a variety of food and drink items, including candy, chips, cookies, water, energy drinks, tea and soda, and have higher price points than bulk vending machines, which can make them more profitable — especially if they are placed in a high-traffic area. More specialized food and drink vending machines are also available, including those that dispense coffee, deli-syle sandwiches or ice cream. Note that these types of machines require electricity to operate and need ongoing maintenance.
Specialty Vending Machines
Estimated cost: $2,300-$6,200
Specialty vending machines are most often found in places where the target audience travels, such as airports, hotels, resorts, restaurants, gyms, event venues and bars. These machines dispense specialty items, such as personal protective equipment, beauty products, laundry products and electronics. These machines often include specialized technology, which can require more upkeep. Plus, they often have customized slots to fit specific products, making it difficult to switch up the products you sell.
8 Steps to Starting a Vending Machine Business
Now that you know what types of vending machines are available and their estimated costs, here are the steps to launch your vending machine business.
1. Research the Market
Determine how many customers you will need each day or week to make your vending machine business profitable. Drive around to find available locations with plenty of foot traffic to place your vending machine. Good locations include hotels, motels, gyms, office buildings, laundromats, schools and shopping centers. Note any other vending machines in the area so you can avoid competition.
2. Register Your Business
Check with your local government about required business registration and licenses. According to the Small Business Administration, if you conduct business under your own name, you do not have to register anywhere. However, you won't be able to take advantage of legal protection, personal liability protection and potential tax benefits that a registered business may offer. Depending on your business's structure, you may also need to apply for an employer identification number, which will help identify your business when you file taxes.
Make Your Money Work Better for You
3. Select Your Vending Machines
Now that you've completed market research for the area you want to service and registered your business, select the type of vending machines you want to offer. You can choose from bulk vending machines, which require no electricity and typically take coins. Or you can choose a snack vending machine, beverage vending machine or any type of specialty vending machine.
Advice

If you're interested in a new machine, check out the warranty before you buy and note the price of common spare parts that you may need to repair the machine. If you decide to buy a used or refurbished machine, search the model number to help you find out if spare parts are available. If the machine is no longer being made, you may find it difficult to locate spare parts should the need arise.
4. Determine Operating Costs
Make a spreadsheet detailing all of your expenses — no matter if they're one-time costs or recurring ones. Operating expenses include inventory costs, maintenance, fuel, leasing expenses, sales tax and loan repayments, such as if you finance your vending machine. Find out what it costs to run your vending machine business in the short term, such as weekly or monthly, and in the long term, such as yearly.
5. Get Funding
If you aren't able to launch your vending machine business with funds you already have, you can apply for a loan or vending machine financing. You'll be more likely to land the loan or financing with a good credit score. Additionally, be prepared to submit a business plan and a budget if you apply for a small business loan.
Make Your Money Work Better for You
6. Secure Each Vending Machine's Location
Refer back to the locations you scouted for each of your vending machines, and work on securing each one. You'll have to make contact with the business owner or property manager at the location where you want to place each machine. To get the right person's contact information, you can either visit the location in person or call to inquire.
To secure the location, you'll need to pitch your offer first to see if there's any interest. Make a case for having your particular vending machine in the location, such as by noting that it could provide more variety or replace an outdated and unattractive vending machine. Once you've determined the property owner or manager has an interest in your machine, here are some additional steps to secure the location:
Negotiate the leasing costs. You may have to pay a flat fee each month to have your vending machine on the property or agree to share part of your profits. Either way, make sure you negotiate a fair deal and get it in writing.
Keep in touch. Understand that there are other vending machine owners who are scouting for locations just like you. It's important to keep in touch with the property owner or manager to find out how your vending machine is performing. If you just swing by every so often to replace inventory and never check in, you may lose your lease to someone who's more enterprising.
Build a lead list. Unfortunately, once you've secured a location for your vending machine, that doesn't mean that it's permanent. Anything could happen, from someone else taking over the lease to the business closing. Be aware of other potential locations where a vending machine might be profitable, and get the property owner's or manager's contact information. This can save you a step or two if you find yourself having to suddenly relocate your vending machine.
7. Install and Stock Your Vending Machines
Once you've secured locations for your vending machines, you'll need to install them. Be sure to bring your inventory with you so your machines can start making money as soon as possible. Choose to install machines and inventory that fit the type of traffic at the location. For example, at a hotel or in a hospital lobby, you may want to install a PPE machine. At an event venue, you may want to install an ice cream machine. If the machine will be installed at a gym, consider energy drinks and protein-packed snacks, like power bars.
Every time you visit your machine to restock, take note of items that sell well and items that are not moving. Keep restocking top-selling items, and switch out the stagnant items with items that you predict will sell well based on top sellers.
Make Your Money Work Better for You
8. Keep Your Vending Machines in Tip-Top Shape
Make a schedule to revisit your machines to make sure they are clean, operating properly and fully stocked. While you're there, you'll need to wipe down the machines and keypads and make sure all buttons, lights, money slots and credit card readers are functional.
Pros and Cons of Starting a Vending Machine Business
As with any business you start, a vending machine business also has its pros and cons. Here's a quick look at some of the advantages and drawbacks to expect.
| Pros | Cons |
| --- | --- |
| Potentially low startup costs | Machine breakdowns equal loss of income. |
| Predictable income flow | Monitoring and replacing product inventory takes time and fuel. |
| Potential to scale the business as desired | Finding high-traffic locations to place machines may be difficult. |
| Largely recession-proof | Leasing agreements are the norm; you'll have to pay a flat fee or a portion of sales to place your machine in certain locations. |
How Much Money Can You Make With Vending Machines?
How much you can make with vending machines depends on various factors, such as the type of products each machine offers and the traffic in each location. For example, a vending machine in one location may make as little as $5 a week, while the same machine offering the same products in another location could make $100 (or much more) per week. It also depends on how many vending machines you are operating at one time. To scale to $1,000 or more a day in profits, you'd need at least 75-100 vending machines in operation at all times, according to information from VendSoft.
FAQ
Here are answers to some of the most commonly asked questions about starting a vending machine business.
Make Your Money Work Better for You
How much does it cost to start a vending machine business?
The minimum startup costs for a vending machine business are approximately $1,592, according to information from Starter Story. These startup costs are in addition to any vending machines and inventory. They can include advertising and marketing costs, software expenses, business formation fees and any tools you may need to work on the machines.
Do you need an LLC to own a vending machine business?
No. While you don't need to designate your vending machine business as an LLC, doing so can protect your personal belongings and finances in case of a lawsuit. Also, the profits or losses your business incurs will pass through to your personal tax return. See a tax professional for more details.
Can you put a vending machine anywhere?
No. You need a contract, or at the very least, permission, to put a vending machine on someone else's property. Also, not just any location will do if you want to be successful. When placing your vending machine, you'll want to find locations that have enough people consistently moving through the area who want to buy the items in your machine.
Vending Machine Business Takeaways
A vending machine business can be a profitable venture as long as you do your research first to find and secure locations that have enough foot traffic, as well as the type of customers who will want what your vending machines are offering. This business doesn't take a lot of money to break into, either. At a minimum, all you have to do is buy one functional machine and stock it, and you're ready to make money, which will be mostly passive income. Plus, as you make money, you can reinvest it in your business to form an LLC, buy more machines and maybe even hire an employee to help you service and restock the machines. And if you work hard, one day you may even be able to replace your full-time income and quit your job.
Make Your Money Work Better for You
Our in-house research team and on-site financial experts work together to create content that's accurate, impartial, and up to date. We fact-check every single statistic, quote and fact using trusted primary resources to make sure the information we provide is correct. You can learn more about GOBankingRates' processes and standards in our editorial policy.