Instacart and Trader Joe's Are Paying Their Employees to Get Vaccinated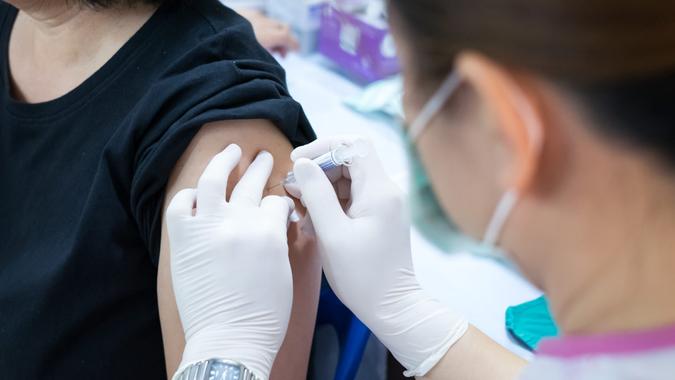 Byjeng / Getty Images/iStockphoto
Although plenty of people know that getting the coronavirus vaccine is the right thing to do, things get in the way. For some, it's a dislike of needles. For others, it's the hassle of scheduling an appointment. And for many people, it's the very real cost of time away from work.
See: How Much Will COVID-19 Vaccines Cost Taxpayers?
Find: Can Employers Require You to Get the Vaccine… Or Else?
To encourage their employees to be vaccinated, several employers are offering financial incentives. MarketWatch reports that Instacart is offering its delivery workers $25 to receive the shot. Trader Joe's is giving employees two hours' pay for each dose of the vaccine they receive, and Dollar General (NYSE: DG) is giving employees four hours' pay when they are fully vaccinated.
Other employers, such as Target (NYSE: TGT) and Albertsons (NYSE: ACI), have said that they will not pay employees to get the shots. However, both operate on-site pharmacies, making it convenient for their workers to receive the vaccine.
See: These 30 Companies Are Giving Bonuses and Raises to Their Essential Workers
Find: 15 Jobs That Look Drastically Different as the Economy Reopens
Retail workers are on the front lines, coming into contact with hundreds of people every day. This makes them especially vulnerable to getting COVID-19 and spreading it to others. In most states, they have priority to receive the vaccine, but having priority and actually getting it are two different things.
Make Your Money Work Better for You
Employers can require vaccination as a condition of employment, except for workers with bona-fide religious or health objections. Many choose to encourage rather than require. For annual flu shots, some companies offer on-site vaccination or give employees small gifts for proof that they received one.
A coffee gift card is nice, but the best incentive is being immune.
More From GOBankingRates: