Pfizer Moves Forward With FDA Approval — What Does It Mean for the Stock Market?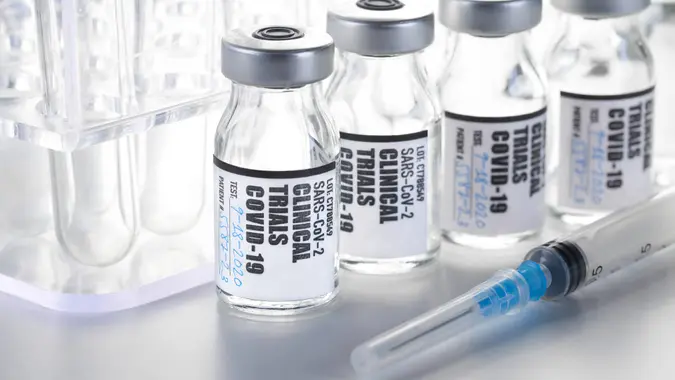 Bill Oxford / Getty Images/iStockphoto
Late Thursday evening, the Food and Drug Administration's Vaccines and Related Biological Products Advisory Committee voted to recommend the Pfizer (NYSE: PFE) and BioNTech (NASDAQ: BNTX) COVID-19 vaccine (BNT162b2) for emergency use authorization for people age 16 and older.
It was a bright spot in an otherwise disheartening day for the economy, with reports of jobless claims rising and lawmakers in a stalemate over the next coronavirus stimulus plan.
The Dow and S&P 500 both closed low Thursday evening, rising rapidly in after-hours trading. Nasdaq, which closed Thursday up slightly, started to drop after hours.
Pfizer stock closed down -0.12 points Thursday evening but saw a 2.58% gain by 8 p.m. BioNTech was up by nearly 7 points at close Thursday and gained another 4.36 in the evening shortly following the announcement of expected FDA approval.
See: Should You Invest in Vaccine Stocks Right Now?Explore: Will Medicare Cover the Coronavirus Vaccine?
The advisory committee voted 17 to 4 in favor of the vaccine, with one member of the committee abstaining. Committee member Dr. Paul Offit, director of the Vaccine Education Center at Children's Hospital of Philadelphia, told CNN's Wolf Blitzer, "I think we know enough now to say that this appears to be our way out of this awful, awful mess."
Will the vaccine represent an end to financial worries and the massive unemployment rates that are rivaling the Great Recession? Not immediately.
First, the vaccine has several more steps to go before it is approved. The FDA must authorize the vaccine for emergency use based on the committee's recommendation. Then, the U.S. Centers for Disease Control and Prevention's Advisory Committee on Immunization Practices has to recommend that the vaccine be deployed for use.
Make Your Money Work for You
See: Biden's COVID Team Meets With Fauci — How Much Will It Cost To Prevent the Next Pandemic?Explore: How a COVID-19 Vaccine Could Hurt Your Portfolio
Then there are the logistics of getting the vaccine into the hands of health care providers for administration. Operation Warp Speed officials say they plan to begin shipping within 24 hours of getting the FDA's go-ahead.
"In this time of great urgency, FDA staff feel the responsibility to move as quickly as possible through the review process. However, they know that they must carry out their mandate to protect the public health and to ensure that any authorized vaccine meets our rigorous standards for safety and effectiveness that the American people have come to expect," FDA Commissioner Dr. Stephen Hahn said in a statement.
See: County Legend Dolly Parton Helped Fund Moderna's 'Impressive' COVID-19 VaccineExplore: This New COVID Drug Might Not Even Work — So Why Does It Cost Hospitals a Fortune?
Even after jumping these important hurdles, Pfizer and BioNTech will still need to apply for FDA approval for widespread use, which means clinical trials on children and pregnant women. These trials could begin as early as January 2021, Dr. Anthony Fauci, director of the National Institute of Allergy and Infectious Diseases, said at a Columbia University event Thursday. Successful trials could mean widespread distribution by the spring.
Meanwhile, Moderna's EUA application for its COVID-19 vaccine will be reviewed by the advisory committee next week on Dec. 17.
Hang on — these vaccines could represent several lights at the end of the long, dark tunnel of 2020.
Make Your Money Work for You
More From GOBankingRates