Markets React as Coronavirus Vaccines Get Ready to Ship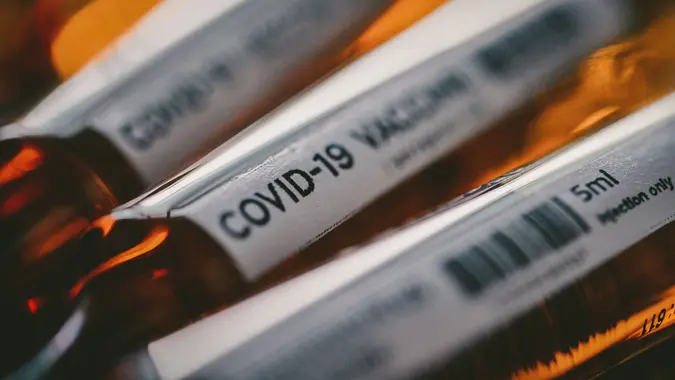 da-kuk / Getty Images/iStockphoto
Good news for those in the U.S. and our friends across the pond in the U.K. as major pharmaceutical companies are estimated to ship coronavirus vaccines soon. Early Wednesday morning, Pfizer (NYSE: PFE) and BioNTech (Nasdaq: BNTX) issued a release stating that U.K. Regulator MHRA (the equivalent to the Food and Drug Administration in the U.S.) authorized supply of the COVID-19 mRNA vaccine for emergency use.
Find Out: Will Medicare Cover the Coronavirus Vaccine?
Despite the fact that Pfizer and BioNTech are set to deliver the first doses immediately, according to the release, global stocks didn't exactly have a banner day: Germany's DAX plummeted 0.3%, Euro Stoxx 50 dropped 0.2% and London's FTSE 100 went up by a marginal 0.1%. In the U.S., however, things looked bright at market close: Pfizer stock soared by 3.55% and BioNTech skyrocketed 6.21%. Moderna (NASDAQ: MRNA) stock went up by 1.41%, as well.
Market News: Wall Street Overlooks COVID-19 Surge as Markets Rally on Vaccine Hopes
The first doses will go to older adults in nursing homes and assisting living centers, along with medical workers. The U.K. is the first in the world to approve and will be first to distribute the vaccine, starting next week. Overall, the companies have agreed to supply 40 million doses across the U.K. in 2020 and 2021.
End of the Tunnel?: The World Economy Will Be 'Back to Normal' By End of Next Year
"Today's Emergency Use Authorization in the U.K. marks a historic moment in the fight against COVID-19," said Albert Bourla, Chairman and Chief Executive Officer, Pfizer. "This authorization is a goal we have been working toward since we first declared that science will win, and we applaud the MHRA for their ability to conduct a careful assessment and take timely action to help protect the people of the U.K."
Stock Trading: A Beginner's Guide to the Markets
In the U.S., Operation Warp Speed efforts continue at, well, warp speed. The OWS project seeks to accelerate the testing, supply, development, and distribution of safe and effective COVID-19 vaccinations and treatments. Vaccines from Pfizer and Moderna await FDA approval, but an OWS document obtained by news site CNN says Pfizer could ship its first deliveries of the COVID-19 mRNA vaccine by December 15, with Moderna shipping its version on December 22. Both of these dates, of course, are pending FDA approval of the vaccines.
Get In Now: Best Stocks You Can Buy for $1
It's been widely acknowledged that a vaccine will assist with global economic recovery, but the U.S. faces challenges ahead when it comes to widespread distribution of the vaccines. U.S. governors have been instructed to complete a list of "essential tasks" by December 4. These objectives include pre-ordering vaccines from Pfizer, coordinating with healthcare providers as part of the COVID-19 vaccine program, and planning for the distribution and administration of the vaccine. Meanwhile, American debt is piling up in every state thanks to COVID-19.
More From GOBankingRates