Wall Street Overlooks COVID-19 Surge as Markets Rally on Vaccine Hopes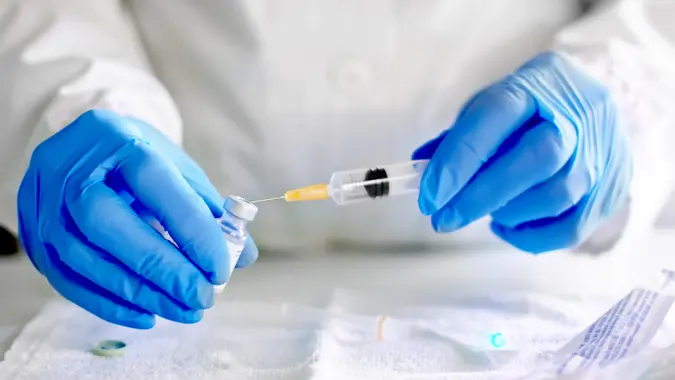 Meyer & Meyer / Getty Images/iStockphoto
As more promising vaccine news poured in, Wall Street rallied on Monday morning. The Dow Jones Industrial Average was up 1.3%, the S&P 500 gained 0.8% and the Nasdaq composite was up 0.5%. The boost in the market came after AstraZeneca announced that its COVID-19 vaccine had an efficacy rate of 70.4% — but could be as effective as 90% when administered according to a different dosing regimen. 
AstraZeneca's announcement follows other encouraging news around COVID-19 vaccines. On Nov. 9, Pfizer and German partner BioNTech announced that their experimental vaccine is more than 90% effective. On Nov. 16, Moderna announced that its COVID-19 vaccine had an efficacy rate of 94.5%. At this point, it's not yet clear which vaccine, or set of vaccines, will prove appropriate for people beyond clinical trials, but any and all advancements in this area are encouraging enough to kindle excitement among investors. 
Hope and optimism around a vaccine is warranted, but it doesn't overshadow the fact that COVID-19 is worse than it has ever been in the U.S. More than 3 million new cases were reported between Nov. 1 and 22, according to data from Johns Hopkins University, and as infection rates soar, many states are implementing restrictions again. Though President Donald Trump has said that another national lockdown will not occur under his term, state and local leaders are ready to enact lockdowns as they are needed. As COVID-19 cases soar and the winter emerges to be as deadly as feared, the economy, still wounded and fragile from the first waves of COVID-19, could bottom out. 
There's also a shadow of unease looming over Wall Street in regards to the incoming Biden-Harris administration. Though the Federal Reserve and big banks will likely approve of President-elect Joe Biden's rumored appointment of Janet Yellen as treasury secretary, Biden has assembled tough-as-nails agency review teams to oversee the finance sector, heralding the end of the "anything goes" attitude that the Trump administration championed.
More From GOBankingRates