Options vs. Stocks: Which Is Best for You?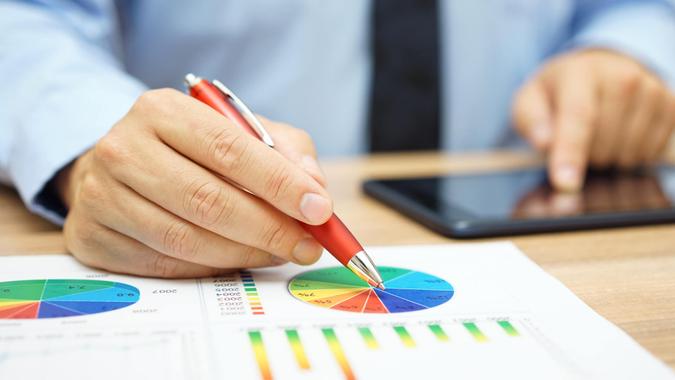 BernardaSv / iStock.com
Both stocks and options offer a lucrative way to put your money in the market. However, they have different reward and risk profiles.
This option vs. stock comparison will help you determine which investment type will best help you reach your financial goals.
Options vs. Stocks: Which Is Right for Your Investment Portfolio?
Stocks are high-reward and high-risk investments representing your shares of ownership in a company. Meanwhile, options are rights to purchase an asset, primarily stocks, at a specified time and price.
Options give investors the possibility of multiplying their money in a specified period, but they come with the risk of losing it all. Whether you are interested in buying stocks or options, it's useful to weigh the two against one another.
What Are Stocks?
Buying stock gives you a share of ownership in a company. As long as the said business continues to operate and trades publicly, the stocks will continue to exist. They are often traded on stock exchanges and have an indefinite life.
The price of a stock can fluctuate throughout the year, depending on a multitude of factors. The overall performance of a stock usually tracks a company's growth, so ever-increasing stock prices are often a good sign for investors.
Benefits of Stocks
Investing in stocks comes with several benefits:
Investors who put their money in a diversified stock portfolio have a higher likelihood of earning a high return on investment, as well as lower risk, as compared to investors who buy individual stocks.
Unlike options, stocks last indefinitely since their lifespan is associated with the duration of the company's operation.
Some stocks also pay dividends while earning capital gains at the same time. Dividends are the shares of profits a company gives to its stockholders based on the number of stocks those shareholders own.
Online stock brokers often have lower trading fees, some at almost zero, thus making it cheaper to own and trade stocks.
Stocks that are publicly traded tend to be highly liquid. You can sell your stocks for cash whenever the market is open.
Investors who hold stocks over the long term get a tax break from the IRS which lowers the effective tax rate for investors who have owned stocks for more than a year.
Investors can package stocks in mutual or exchange-traded funds. In doing so, they diversify their portfolios without having to spend too much money.
Shortcomings of Stocks
Although investing in stocks can be lucrative for your investment portfolio, it has a few disadvantages:
In a fiscal year, a stock's price can fluctuate heavily, going to either extreme. Thus, you may not be able to sell a stock for the price that you bought it for.
Investors have to be careful when choosing stocks since the government does not guarantee them. So, if you choose the wrong stocks, you may end up losing your money.
Stock prices rise and fall based on a company's performance, so choosing the right stock requires a lot of research.
Analyzing stocks can be arduous since you have to consider different metrics and may even have to read multiple performance reports to determine if a stock is worth investing in.
While holding a stock for over a year has some tax benefits over short-term investing, the effective tax rate never hits zero. You will always have some tax liability when investing in stocks.
What Are Options?
Options give you a "right" to sell or purchase a stock at a specific date and price. You are not obligated to make the purchase or sale but can use the option for a strategic advantage. Options have a definite life since the investors predetermine a specific date.
As a buyer, you have to pay a "premium," which is a cash payment, to get the option contract. The two types of options are:
Put Options: Put options allow investors to sell a particular stock by a certain date at a specific price. Generally, investors who buy put options expect the actual price of the stock on the market to be lower than their options price so that they maintain the right to sell at above market value.
Call Options: A call option lets you buy the stock by a certain date at a specific price. Investors who buy call options usually expect the price of the stock to increase so that they can buy it at below market value.
Benefits of Options
Here are some advantages of owning options:
Options usually come in bundles of one hundred. By owning the right options, you can multiply your money substantially over a short period, enjoying a high return on investment.
Online brokers have lowered the trading commissions for options, making it easy to find a broker that lets you trade options for free.
Since options are highly liquid, you can sell them whenever the market opens. However, you may not get the same amount that you paid to purchase them.
If you hold options for a long time, you may qualify for capital gains tax rates, which are generally lower.
Shortcomings of Options
Since options can be even more volatile than stocks, there are a few disadvantages that you should know beforehand:
The prices of options can fluctuate massively, sometimes by as much as 50% from the price you bought them at. So, there is always a risk of losing a sizeable chunk of your investment.
With stocks, you merely have to consider the company's performance and the stock's historical market value. However, options are traded in a timeframe, so your investment must be made with an understanding of the current state of the market.
Like stocks, the government does not guarantee options, which means you may lose your money.
Since options are time-restricted, you cannot trade them after the expiration date. If your options expire without having been used or sold, they become worthless.
Since options are bundled, they require a more sizeable investment than most stocks.
Stocks vs. Options: How To Choose
When choosing between options and stocks, you have to consider the duration for which you want to hold the asset, your risk tolerance and your expertise.
Stocks for the Experienced
If you have significant stock market experience and prefer long-term investments, stocks are the way to go. Stocks are also better if you do not want to monitor the market closely since they do not expire like options.
Options for Strategic Approaches to Investing
Meanwhile, options are better for people with a strategic investment approach. If you want to multiply your investment in a short span and are willing to do the legwork, you should go for options.
Since it requires additional research, investing in options is better for advanced investors who know how to minimize risk and strategically benefit from market trends.
Tax Regulations
Tax regulations are pretty similar for both options and stocks. If you hold your investment for a more extended period, you can qualify for lower tax rates on your capital gains. However, many options are traded within a year of their expiration, making it less likely that you will hold them long enough to receive tax breaks.
The comparison table below summarizes the features of both investment types:
| Features | Options | Stocks |
| --- | --- | --- |
| Lucrativeness | Very High | High |
| Risk | High | Medium to High |
| Timeframe | Short | Market-dependent |
| Trading Commissions | None or less than $1 | Usually none |
Final Take
While stocks are indefinitely yours and follow the trajectory of the company's performance, options are time-bound. They can earn a high return on investment in a limited period — but can also lead to greater losses.
Both investment types come with substantial risks and gains. Therefore, investors should do thorough research beforehand and determine their risk tolerance before seeking to diversify their portfolios with either stocks or options.
Our in-house research team and on-site financial experts work together to create content that's accurate, impartial, and up to date. We fact-check every single statistic, quote and fact using trusted primary resources to make sure the information we provide is correct. You can learn more about GOBankingRates' processes and standards in our editorial policy.