Best Stocks You Can Buy for $1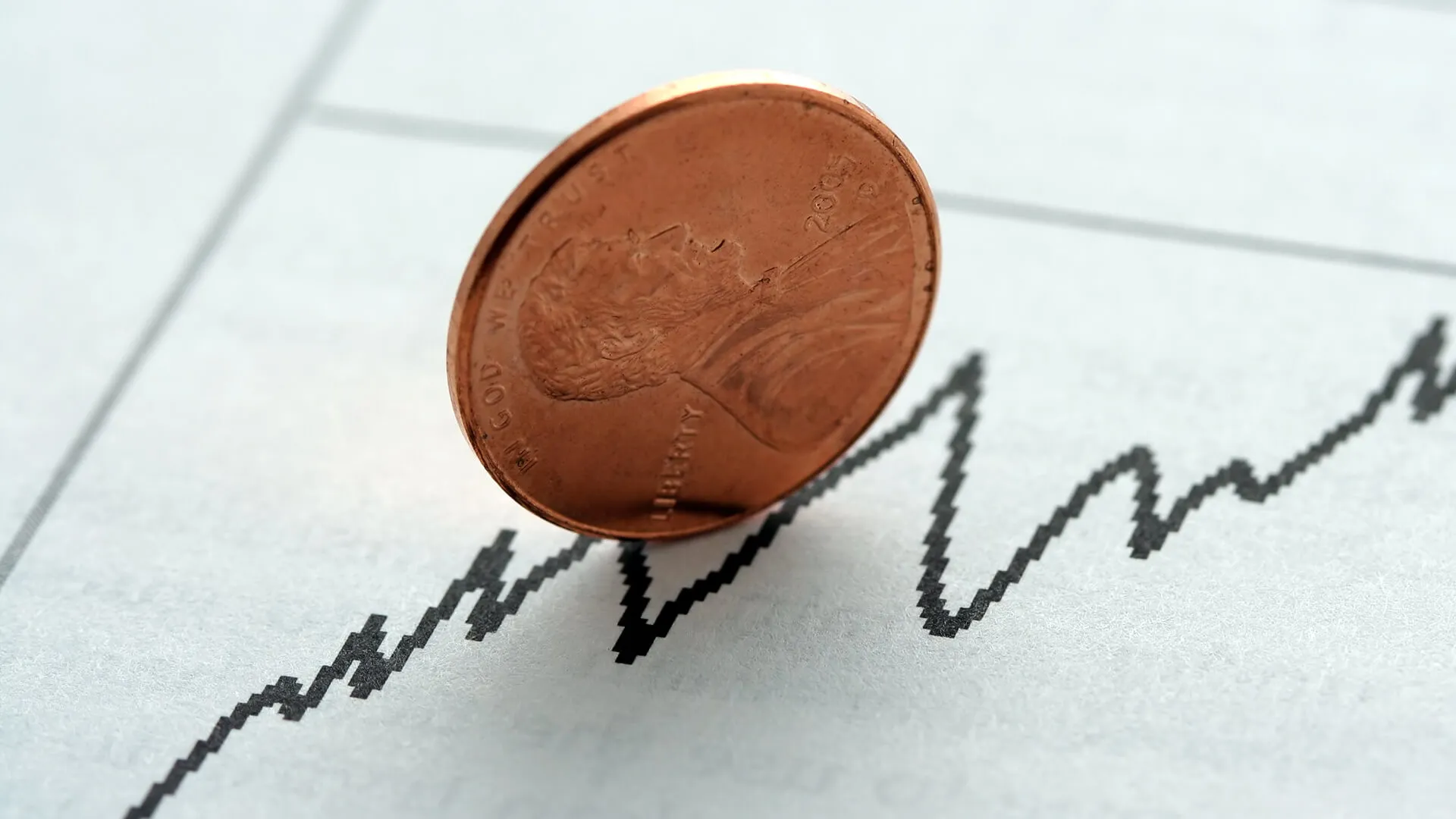 Looking at the price of stocks like Amazon or Google, you might think the stock market is only for the rich. The fact is, many stocks can be purchased for a dollar or less per share. These penny stocks — so called because their trading prices are measured in cents, not dollars — are often connected to relatively new companies in industries like pharmaceuticals, biotech and technology.
The low price of penny stocks might be because their products are not yet commercially available. The stocks have the potential to rise significantly, however, if the companies manage to bring the products to market — resulting in a big payday for shareholders. Of course, these stocks could also fall to zero; but if they do, investors won't have lost much.
Check out these stocks you can buy for less than a buck a share.
Trovagene (Nasdaq: TROV)
Share Price: $0.38
Trovagene develops targeted cancer therapies with the mission of improving cancer care. The company has developed a proprietary technology called Precision Cancer Monitoring — aka PCM. Trovagene has several products in the pipeline that target both liquid and solid tumors. Cancer treatment is a high-demand area of medicine, with the potential for large returns if products are successful.
Turtle Beach Corporation (Nasdaq: HEAR)
Share Price: $0.58
Turtle Beach Corporation sells gaming headsets and other audio products for consumer and commercial use. The company expects its net revenue to increase over 100 percent in the first quarter of 2018 compared to the same period last year. The company expects to continue to operate at a loss, although the loss is expected to improve. As gaming becomes more sophisticated and includes virtual and augmented reality, companies such as Turtle Beach could benefit.
iBio, Inc. (NYSE: IBIO)
Share Price: $0.28
iBio, Inc. develops pharmaceutical product applications using its proprietary plant-made pharmaceutical platform. If you invest in this company, you're choosing a company that produces vaccines, monoclonal antibodies and other therapeutic proteins, as well as licenses the technology to other pharmaceutical companies.
ImmunoCellular Therapeutics (NYSE: IMUC)
Share Price: $0.31
Another player in the cancer treatment sector, ImmunoCellular — which develops immune-based therapies — is advancing its Stem-to-T-Cell research program and several clinical-stage programs, which target solid tumors. Before you invest in medical stocks, find out if it's one of the fastest-growing industries to invest in this year.
BioPharmX Corporation (NYSE: BPMX)
Share Price: $0.35
BioPharmX Corporation specializes in new drug delivery methods for dermatology patients. Its lead product candidate at this time is a topical minocycline gel that treats moderate to severe acne. The gel allows the medication to be rapidly absorbed into the skin rather than remaining on the surface as current preparations do.
Westmoreland Coal Company (Nasdaq: WLB)
Share Price: $0.54
Westmoreland Coal Company has 17 coal mines in the U.S. and Canada, as well as a stake in an activated carbon plant and char production facility. The company indicates it is the sixth-largest North American coal producer. The current emphasis on domestic coal production and use could mean increased business for this company.
InVivo Therapeutics Holding Corp. (Nasdaq: NVIV)
Share Price: $0.54
InVivo Therapeutics develops technologies and treatments for spinal cord injuries. It has developed the Neuro-Spinal Scoffold, which is implanted into the injury to enable healing and neuroregeneration. The company indicates this is the only spinal cord injury therapy that treats the condition at the center of the injury, and the only one to provide meaningful improvement in patient outcomes following a spinal cord injury.
BIOLASE, Inc. (Nasdaq: BIOL)
Share Price: $0.49
BIOLASE, Inc. develops, manufactures and markets dental lasers. The company also distributes dental imaging equipment. The company has a number of products under development and has distribution and marketing agreements with other manufacturers.
Fibrocell Science, Inc. (Nasdaq: FCSC)
Share Price: $0.66
Fibrocell Science, Inc. is in the business of personalized biologics for diseases that affect the skin and connective tissue. The company currently has products in the pipeline that include gene therapy for localized scleroderma and a gene therapy research program for arthritis.
Ability, Inc. (Nasdaq: ABIL)
Share Price: $0.40
Ability, Inc. provides interception, geolocation and cyber intelligence tools. It is a holding company, and its subsidiaries supply intelligence agencies, security agencies, military forces and law enforcement agencies around the world.
LiqTech International, Inc. (NYSE: LIQT)
Share Price: $0.35
LiqTech International, Inc. develops, manufactures and supplies systems that purify liquids and gasses using silicon carbide ceramic technology. The company's main lines of business are diesel particulate filters that control soot from diesel engines, ceramic membrane systems and water treatment plants. The need for clean water throughout the world could mean increased business for this company.
EMX Royalty Corporation (NYSE: EMX)
Share Price: $0.88
EMX Royalty Corporation has a business model designed to manage the risks inherent in the minerals exploration and mining industry. The company focuses on royalty generation, royalty acquisition and strategic investments to generate cash flow and create value.
Neovasc, Inc. (Nasdaq: NVCN)
Share Price: $0.22
Neovasc, Inc. develops, manufactures and markets products and devices for the cardiovascular marketplace. They currently have two products in development: Tiara, a transcatheter device to treat mitral regurgitation, and Reducer, a refractory angina treatment. These two disorders affect millions of people, making the potential market for these products significant.
Auris Medical Holding AG (Nasdaq: EARS)
Share Price: $0.27
Auris Medical Holding AG develops pharmacotherapy for inner ear disorders. Some of the company's current product candidates address such common issues as inner ear tinnitus, inner ear hearing loss and vertigo. As people live longer, more senior citizens develop hearing issues, which will likely increase demand for products and therapies such as these.
ENSERVCO Corporation (NYSE: ENSV)
Share Price: $0.82
ENSERVCO Corporation serves onshore oil and gas companies in the U.S. by providing well enhancement and fluid logistics and management services. The increased emphasis on investing in domestic oil and gas exploration bodes well for this company's business.
Parker Drilling Company (NYSE: PKD)
Share Price: $0.89
Parker Drilling Company supplies companies in the energy industry with drilling services and rental tools, as well as rig design, construction and operations management. The company has been in business since 1934, making it one of the most experienced drilling companies in the world. Increased interest in domestic drilling for energy could increase business for this firm.
VIVUS, Inc. (Nasdaq: VVUS)
Share Price: $0.47
VIVUS develops products that improve the quality of life of patients with serious medical conditions and life-limiting diseases. The company currently has two commercial products: Qsymia for chronic weight management in adults with obesity, diabetes or other weight-related issues; and STENDRA for the treatment of erectile dysfunction. The market for both of these products is significant and on the increase.
Akers Biosciences, Inc. (Nasdaq: AKER)
Share Price: $0.65
Akers Biosciences produces products that offer faster, easier diagnoses of common medical conditions. The company's products include clinical diagnostic tests, wellness products that allow clinicians and consumers to test and monitor health over time and safety diagnostics, like the BreathScan alcohol detector. The company has several tests in the development pipeline for conditions such as asthma, chlamydia, chronic obstructive pulmonary disease, diabetic ketoacidosis and myocardial infarction. Akers Biosciences' products are aimed at reducing the cost of healthcare, which is becoming increasingly important.
Synthetic Biologics, Inc. (NYSE: SYN)
Share Price: $0.41
Synthetic Biologics, Inc. has two microbiome science programs in late-stage clinical development: A program to protect the natural gut microbiome and prevent infection and antimicrobial resistance, and a program to treat an underlying cause of irritable bowel syndrome with constipation. These products, if the company is able to bring them to market, have considerable potential because the conditions they treat are common.
Capstone Turbine Corporation (Nasdaq: CPST)
Share Price: $0.94
Capstone Turbine Corporation develops and manufactures "clean-and-green" microturbine power generation systems. The company's microturbines are low-emission, reliable and efficient. The corporation is in a good position to benefit from the clean energy trend.
As with any investment, you should understand the company you are investing in, and realize that investments in equities are not guaranteed and could lose value. Low-priced stocks can be riskier than other investments, but they also have the potential for a handsome return if the company is successful.
All share prices are accurate as of March 7, 2018, and are subject to change.
Photos are for illustrative purposes only. As a result, some of the photos might not reflect the companies listed in this article.

BEFORE YOU GO
See Today's Best
Banking Offers