Country Legend Dolly Parton Helped Fund Moderna's 'Impressive' COVID-19 Vaccine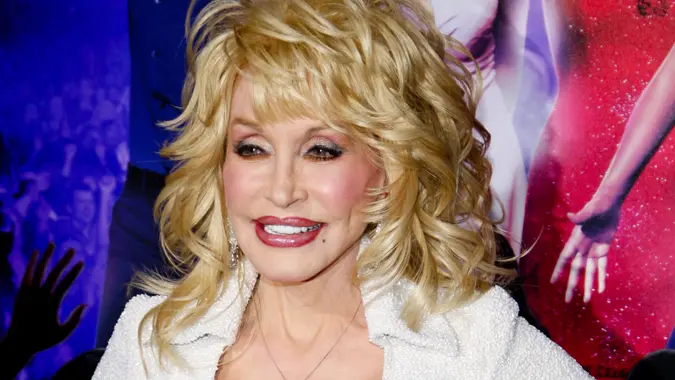 Tinseltown / Shutterstock.com
Just when the world thought Dolly Parton couldn't get any more amazing, news broke that the legendary singer-songwriter helped fund Moderna's COVID-19 vaccine. The country star's name appears among sponsors in Moderna's preliminary report on the vaccine, which touts a 94.5% efficacy rate. Back in April, Parton gave $1 million to Vanderbilt University's efforts to battle the virus. That money, donated in honor of her friend and Vanderbilt professor of surgery Dr. Naji Abumrad, created the Dolly Parton COVID-19 Research Fund and was used to help pay for developing the vaccine.
"Dolly's amazing generosity is a source of inspiration and will have a lasting impact on the battle against COVID-19," said Jeff Balser, MD, PhD, president and CEO of VUMC and dean of the Vanderbilt University School of Medicine, in April. "She cares so much about helping others and we are very grateful for her ongoing support. These funds will help us complete promising research that can benefit millions in their battle with the virus."  
Make Your Money Work Better for You
Philanthropy has long been important to Parton. She launched her own nonprofit, the Dollywood Foundation, in the '80s and has contributed to numerous charitable organizations including the Barbara Davis Center for Childhood Diabetes, Save the Music Foundation and the Boot Campaign, among others. VUMC seems to be close to Parton's heart — her niece, Hannah Dennison, was successfully treated for leukemia as a child at VUMC's Children's Hospital.
Hopes are high for the Moderna vaccine, which Dr. Anthony Fauci has described as "stunningly impressive." There is still a great deal to learn about the vaccine and the research continues. A release date for the vaccine has not yet been announced.
More From GOBankingRates
Make Your Money Work Better for You