Postmates vs. DoorDash: Which Is Best for Customers and Drivers?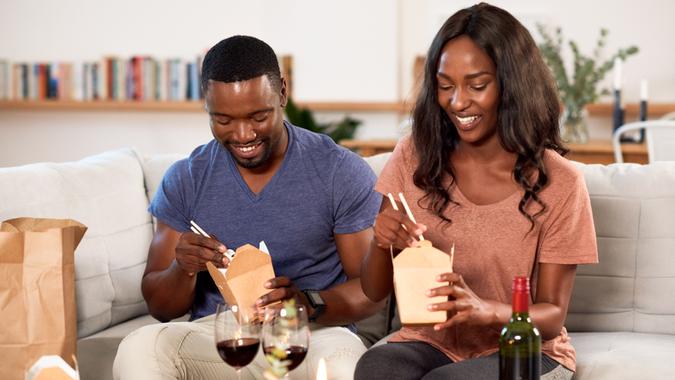 Daxiao Productions / Shutterstock.com
Delivery of restaurant food, groceries and just about everything else has become of way of life recently. As a result, delivery services have expanded and there are now usually several to choose from in most cities. How do you know which one is the best, whether you're a consumer or a driver?
Here's a comparison between two popular delivery services, Postmates and DoorDash.
About Postmates
Postmates delivers food, beverages, groceries and more – just about anything that you can send someone out for, Postmates can deliver. Alcohol delivery is available in select cities only.
Postmates claims it has 500,000 "fleet members" or drivers, whom it refers to as "Postmates." The website says they serve 80% of U.S. households in all 50 states.
What's it Like to Deliver for Postmates?
The requirements to deliver for Postmates are about the same as they are for DoorDash. You need to be 18 years old –21 to deliver alcohol–, have a social security number and pass a background check. You'll need to provide your driver's license and a description of your car if you'll be using it to make deliveries.
Make Your Money Work Better for You
How Much Does Postmates Pay Drivers?
Postmates pays based on a formula that's based on the city you are in. When delivering for Postmates, you'll get:
An amount for the pick-up
An amount for the drop-off
An amount for the time you wait at the pick-up location, at a per-minute rate
An amount for the distance between the pick-up and drop-off locations, at a per-mile rate
100% of the tips you earn
Postmates' customers tip after the delivery. Tips are added to your dashboard, but you can't see them for at least 24 hours after they're posted.
Postmates' Market-Sensitive Pricing
Here are some examples.
If you are in Boston, you'll earn:
$1.70 per pick-up
$0.70 per drop-off
$0.07 per minute you wait
$1.13 per mile between pick-up and drop-off
Postmates offers a market-specific referral bonus as well. If you are in Boston and you invite someone to drive for Postmates, and they complete 95 deliveries in 30 days, you get $200. The person you invited is guaranteed $750 for those 95 deliveries in 30 days, meaning that if they don't earn that amount in base pay, Postmates will make up the difference.
Make Your Money Work Better for You
If you're in Davenport, Iowa, you'll earn:
$1.40 per pick-up
$0.80 per drop-off
$0.07 per minute you wait
$0.61 per mile between pick-up and drop-off
If you are in Davenport and you invite someone to drive for Postmates, and they complete 20 deliveries in 30 days, you get $150. The person you invited is guaranteed $150 for those 20 deliveries in 30 days, meaning that if they don't earn that amount in base pay, Postmates will make up the difference.
About DoorDash
DoorDash operates in 4000 cities in the U.S., Canada and Australia. They pick up and deliver food purchases from fast food, quick service and fine dining restaurants. They also deliver essential household goods from merchants such as CVS, 7-Eleven and PetSmart.
Make Your Money Work Better for You
What's It Like to Deliver for DoorDash?
In order to be a "dasher," or deliver for DoorDash, you must:
Be at least 18 years old
Have access to a car, scooter, or (in some cities) a bike
Provide your driver's license number
Provide your social security number if you're in the U.S.
Undergo a background check
If you meet these criteria, you can submit an application online. Then you have to take driver orientation and complete your sign up. Then you download the DoorDash app and you can start scheduling jobs.
You can set your hours so that you only see assignments during the times you want, or you can be available 24/7. You'll know how much you'll make before you accept the order.
How Much Does DoorDash Pay Drivers?
According to the DoorDash website, dashers get paid between $2 to $10 or more per delivery. The pay is based on the duration, distance, and desirability of the order. If you have to travel further, spend more time, or take deliveries other dashers don't want to take, you'll get paid at the higher end of that scale.
DoorDash also offers promotions that help dashers earn more. Orders that are accepted during peak delivery times may pay a bonus, and dashers who are particularly active may get extra pay. DoorDash says that customers can tip on checkout or after the delivery.
Tipping DoorDash Drivers
According to the website, "Every dollar customers tip is an extra dollar in their Dasher's pocket." But dashers seem to feel there's an issue with the transparency around tips.
Ron Walter says, "If the customer tips particularly well, DoorDash will only display a portion of the overall pay when offering a delivery to you. It seems like that happens when the tip is above $5. Usually, DoorDash's delivery fee is $3 and then you get whatever tip on top of that.
"So, if a customer tipped $3, the total pay is $8, and that's the amount that would show up. But say the tip amount is $10. DoorDash still displays $8 ($3 fee plus $5) as the offer amount. When you complete the delivery, it's only then that you find out that it paid out $13 instead of the $8 that they offered."
While it's nice to get extra cash, this method makes it difficult for a dasher to determine the most profitable assignments to take.
Is DoorDash or PostMates Better for Drivers?
The best choice for drivers will often depend on which platform is more popular in the driver's area, and therefore offers more assignments. But the app can make a difference, too.
Testimonial

According to Ron Walter, who has delivered for DoorDash, Postmates, and other delivery services, "You have a better idea what you're getting into when DoorDash offers a delivery. You get an offer screen that shows the restaurant and a map of where you're going like you get with Postmates, but it also gives you information including how much the delivery will pay, how many miles total you will be going, and when the delivery is expected to be completed. It's a lot easier to make a decision on deliveries with DoorDash because of that.

"(With Postmates), you get an offer that comes upon your app, and it tells you where you're picking up as well as a map showing where the customer is, and that's about it. You can accept or decline. When you complete the delivery, you'll find out how much that delivery paid. The next day (or sometimes later) you would find out how much the customer tipped, if any."
Is DoorDash or PostMates Better for Customers?
There are two main differentiators between the two services as far as customers are concerned: price and service.
As far as price goes, it can be challenging to figure out each platform's pricing, since they include a 'delivery fee' as well as a 'service fee' and in some cases an additional fee at high-demand times. You can see the fees for each order on the app.
To determine which app is the most cost effective, you can enter your order in each and compare. If you typically order from the same few restaurants, you should have a pretty good idea of which one is better for you after you've compared a few times.
Subscription Programs
Each platform offers a subscription program for frequent customers. DoorDash offers DashPass for $9.99 per month, which gives you a $0 delivery and reduced service fees when you order from DashPass-eligible restaurants. Postmates Unlimited is $9.99 per month or $99.99 per year, and you get free delivery on any order over $12.
Service is dependent on the delivery person you happen to get. As with any customer service-focused business that has thousands of people doing the work, that can go either way. Because Postmates lets you tip after the delivery, you can demonstrate your satisfaction – or lack thereof – more readily, which may result in higher service quality than with Postmates.
Easy-To-Use Apps
The apps themselves are similar in terms of ease of use. "Both Postmates and DoorDash have easy-to-use apps that are available on the (Google) Play and Apple stores," said Anish Godha, who uses both. "It's easy to input payment information, track order progress, and create an account. Both apps will grey out restaurants that aren't available if you signed up for an account beforehand."
The Bottom Line
Both Postmates and DoorDash have the ability to get you a burger and fries when you really need it. The one that is better for you, whether you are a customer or a driver, has a lot to do with where you are and what is being ordered. DoorDash seems to be slightly preferred by drivers, and PostMates by customers, but it's very dependent on location.
Delivery Side Gigs

Reviews

Comparison
Our in-house research team and on-site financial experts work together to create content that's accurate, impartial, and up to date. We fact-check every single statistic, quote and fact using trusted primary resources to make sure the information we provide is correct. You can learn more about GOBankingRates' processes and standards in our editorial policy.