With Retail Theft Rampant, Will New Deterrents at Walmart, CVS and More Drive Consumers Away?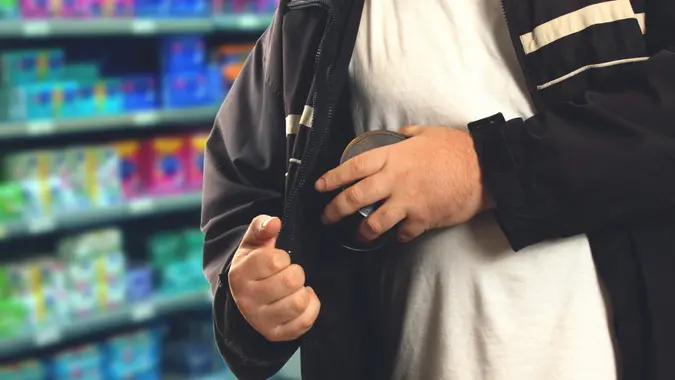 springtime78 / Getty Images/iStockphoto
Retail shrink, or company inventory lost to causes other than sales, has risen to an unprecedented level, causing some of the trade's biggest corporations to implement extra in-store anti-theft devices at the risk of losing customers.
In its 2022 National Retail Security Survey, the National Retail Federation (NRF) declared that non-sales product losses amount to almost $100 billion in the industry.
Although retail management has identified several types of shrinkage — such as internal/employee theft, operational loss, administrative errors and return fraud — it is organized retail crime (ORC) that accounts for a large part of the problem. This grander, more coordinated type of shoplifting has industry leaders taking tougher security stances and paying plenty for them.
When speaking to Forbes in November 2022, the National Retail Federation's (NRF) Mark Mathews emphasized that the problem is more than an uptick in random shoplifting. "The kind of theft that's mostly happening isn't run-of-the-mill shoplifting. It's organized crime," said Mathews.
Make Your Money Work Better for You
As Best Life reported, companies have seen ORC numbers climb steadily over the past three years. Talking about the problem on CNBC's "Squawk Box," Walmart CEO Doug McMillon said, "Theft is an issue. It's higher than what it has historically been."
Explaining these "more sophisticated and highly dangerous" crimes to a Senate hearing in Nov. 2021, CVS Health crime and corporate investigations exec Brendan (Ben) Dugan told the committee judiciary that his company has seen ORC increase 300% since the start of the pandemic. Dugan indicated those thefts had resulted in annual losses of more than $200 million for his company.
And in a company call to investors in Jan. 2022, Walgreens CFO James Kehoe claimed his company's retail shrink rose 40% to 50% "over the last two years" — and was then currently "absorbing a 52% increase in shrink," per Best Life.
Retailers Lock Up Product In Response to Increased Theft
More locked product cases and additional security gear have been implemented by Walmart, CVS, Walgreens and others in an attempt to thwart criminals from stealing large quantities of goods and reselling them for profit.
Make Your Money Work Better for You
Having to access items from locked displays is causing an inconvenience for shoppers, who have taken to social media to complain about the increasingly unacceptable customer service at stores that are understaffed and underperforming.
NRF's vice president of asset protection and retail operations, David Johnston, admitted that the rise in lock-and-key measures is "probably not great for the customer experience," but tightened security actions aren't ideal for companies, either.
Although Joe Budano told Slate that the security devices his company, Indyme, sells to Walgreens and others are "a solution of last resort," he also said they are an unfortunate requirement for companies trying to combat ORC. In a separate interview with Forbes, Budano suggested that merchandising lock-ups cost stores between 15% and 25% in sales.
Describing the type of individual complicit in retail ORC, Kehoe said: "It's not somebody who can't afford to eat tomorrow… These are gangs that actually go in and empty our stores of beauty products. And it's a real issue."
Take Our Poll: What Do You Plan To Use Your Tax Refund For?
More: 10 Aldi Brand Products Worth Buying
If the issue grows into a widespread departure of bothered and scared shoppers from stores, retailers will have to come up with more consumer-friendly strategies to battle this level of theft. On a broader level, one might expect the industry to confront ORC through proposed legislation and retail-crime associations.
Make Your Money Work Better for You
More From GOBankingRates
Make Your Money Work Better for You