Poll Shows Most Americans Support $1,400 Stimulus Payments as Relief Package Nears Approval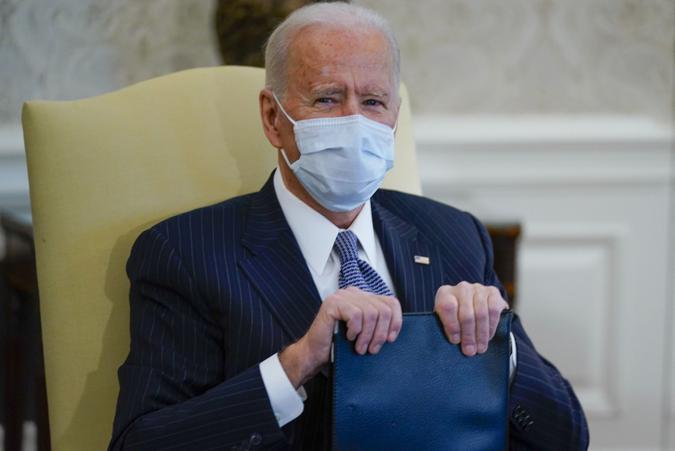 Evan Vucci/AP/Shutterstock / Evan Vucci/AP/Shutterstock
Nearly seven in 10 Americans support the Biden administration's proposed $1.9 trillion stimulus package, as 68% say they support it and 24% oppose it, according to a new Quinnipiac University survey. In addition, nearly eight in 10 Americans are in favor of $1,400 stimulus payments to Americans, with 78% supporting and 18% opposing.
See: No Compromise on Stimulus Plan for Biden and the GOP – See the Divide on Checks, Vaccines and More
Find: $1,400 Stimulus Checks and $15 Minimum Wage — Digging into Biden's Stimulus Proposal
The $1,400 checks seem to be almost on their way to being approved as the House on Wednesday approved a budget resolution in a 218-212 vote that would allow Congress to pass a $1.9 trillion COVID-19 relief bill without Republican support, according to The Hill.
Democrats overwhelmingly support Biden's stimulus package, with 97% saying they support it, followed by Independents, with 68% in support of it, according to the Quinnipiac survey.
In terms of the $1,400 direct stimulus payments included in the relief package, 90% of Democrats support the measure and 64% of Republicans support the increased payments.
See: Never Got Your Stimulus Check? Claim It on Your Taxes
Find: Planning for 2021: How to Prepare Financially for Two Different Halves of the Year

Make Your Money Work for You
"Struggling to pay the bills, American households need an infusion of cash and need it now. So give it to them, is the resounding judgement of the public," Quinnipiac University polling analyst Tim Malloy said in a statement.
Not surprisingly, 47% of Republicans are opposed to the package, with 16% not offering an opinion, according to the survey.
Yesterday, President Biden met with Senate Majority Leader Chuck Schumer and the Democratic chairs of the Senate committees with jurisdiction over the American Rescue Plan to discuss the relief package. They agreed to "move swiftly to ensure that we get $1,400 direct payments to middle- and working-class Americans as soon as possible; that we need to take steps to get immediate relief to the Americans who are struggling with food insecurity or facing eviction; and that we need to provide more resources to get shots into arms faster," Press Secretary Jen Psaki said in a briefing.
See: GOP's Proposed Stimulus Plan Would Cover 29 Million Fewer Americans than Biden's
Find: What to Do If You've Depleted Your Savings Over the Last Year
In a statement, the House Budget Committee said that "the American people cannot afford any more delays. Republican stalling already caused a painful lapse in critical unemployment assistance last year, and with additional unemployment assistance set to expire in March, Congress must create a failsafe to prevent more needless suffering. While Democrats work toward a bipartisan agreement, it would be irresponsible to not lay the groundwork for other legislative tools. As negotiations continue, the 2021 budget resolution will provide another option: using reconciliation to achieve the goals outlined in President Biden's American Rescue Plan. This will ensure Congress can meet the needs of the American people and move our nation forward with or without Republican cooperation."
Make Your Money Work for You
The $1,400 direct payments have been one of the most contentious items in Biden's plan, which Republicans have been trying to reject for weeks.
See: Republicans Meet with Biden to Try to Lower Stimulus Checks to $1,000
Find: Economy, Labor Market to Improve 'Rapidly' in 2021, According to Congressional Budget Office
A group of 10 GOP senators drafted a much smaller, $618 billion counterproposal that would notably lower the direct payment check amount to $1,000.
The group of 10, which is led by Sen. Susan Collins (R-Maine) and includes Sen. Lisa Murkowski (R-Alaska), Sen. Mitt Romney (R-Utah), Sen. Bill Cassidy (R-La.), Sen. Rob Portman (R-Ohio), Sen. Shelley Moore Capito (R-W.Va.), Sen. Todd Young (R-Ind.), Sen. Jerry Moran (R-Kan.), Sen. Michael Rounds (R-S.D.) and Sen. Thom Tillis (R-N.C.), met with the president earlier this week to discuss their plan.
More From GOBankingRates: