Currency Exchange Near Me: Find Your Closest Location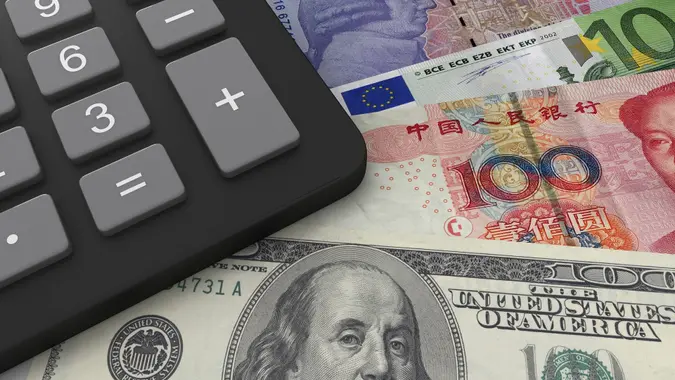 alexsl / iStock.com
If you're traveling to another country, it's a good idea to exchange the United States dollars you plan to spend for some of the local currency. If you've never had to exchange currency before, the process can be costly and confusing. Understanding how currency exchanges work and where to exchange your money can save you dollars, cents and headaches while planning your travels.
How Do Currency Exchanges Work?
A currency exchange is a business that facilitates the exchange of one currency for another. For example, if you'd like to exchange your U.S. dollars for euros, you would bring your U.S. dollars to a currency exchange to buy euros at a specified rate. 
As a service provider, the exchange needs to make money, and it does so through what's called the bid-ask spread. This is the difference between the price the exchange is willing to sell the currency for and the price they're willing to buy it for.
There are a few factors that play a role in a currency exchange:
The bid-ask spread
The value of the base currency
The value of the ending currency 
For example, say 1 U.S. dollar is worth 1.25 Canadian dollars. The exchange may give you CA$1.23 for each U.S. dollar you trade, taking into account the exchange rate and a small spread taken to cover the cost of the transaction. 
Make Your Money Work for You
Although the bid-ask spread may look small, it can add up quickly, so make sure you're aware of the spread before you proceed with the transaction. 
Currency Exchange Near Me
The best way to find a currency exchange when you need one is to use a simple Google Maps search. Just type "currency exchange near me" into the search bar and scan through the results. You can adjust the map to focus on a specific region or take advantage of the in-depth information available on the full-size map. 
Keep in mind that if you're interested in exchanging cryptocurrency for fiat currency, you'll need to search specifically for cryptocurrency exchanges.
No matter where you are in the United States, you're likely to find at least a few currency exchanges near you. If you don't have access to a Google Maps search, consider one of the following alternatives.
Your local bank: Most banks, including Wells Fargo, Bank of America, Member FDIC, and Chase, can exchange common currencies.  
Use your debit or credit card: You may be able to use your debit or credit card overseas to avoid the exchange process. You can also use your debit card at a foreign ATM for quick access to local cash. However, chances are that you'll pay a foreign transaction fee. 
Airport kiosks and hotels: Most airports and some hotels offer currency exchanges. If you take this route, be sure to watch for fees, as they can be significantly higher than other sources.
Make Your Money Work for You
Getting the Best Deal for Currency Exchanges
If you're looking for the best deal when you exchange currency, consider going to your local bank or credit union. Those that offer currency exchange services typically offer them for free or at a modest charge to bank members. 
For example, if you're a Wells Fargo member, you can order foreign currency. It may take from two to seven days to receive the currency you order, but you won't pay a fee to do so. 
The key here is acting early. Since it may take days or even weeks to receive your currency, it's important to place your order well in advance of your trip.  
Where Can I Exchange Currency for Free?
As mentioned above, many banks offer free currency exchange services. If your bank doesn't provide this service for free, don't worry  — you have other options. There are several apps that make it possible to exchange your currency, some of which are absolutely free. 
For example, you could use Winngie. This app is a social platform that offers free currency exchanges for those traveling abroad. However, as is the case with banks, it may take some time to receive your foreign currency, so be sure to order in advance. 
Final Look
Local currency is often a must when traveling, especially to developing countries with little to no electronic payment infrastructure. If you plan ahead, you'll have the time to compare your options, find affordable or even free services, and wait for the currency exchange to fulfill your order. So, be sure to do some research and plan for your currency needs early. 
Make Your Money Work for You
Currency Exchange FAQ
Here are the answers to some commonly asked questions about currency exchange.
Does every bank do currency exchange?

Not all financial institutions exchange currency. Moreover, those that do may not have the currency you want to exchange. If you need to exchange currency and your bank either doesn't provide the service or doesn't have the currency you need, consider doing a Google Maps search for "currency exchange near me" or taking advantage of a free currency exchange app.

Which banks offer foreign currency exchange?

Not all banks and credit unions exchange currency, but most major banks like Wells Fargo and Bank of America do. Call your bank's customer support line if you're not sure whether it offers this service.

Where is it best to exchange money?

It's typically best to exchange currency at your local bank. That's because most banks that offer this service do it for free for members, or they only charge a modest fee.

Do banks convert currency for free?

Yes, many banks offer currency exchange to their members at no charge.

Does Bank of America exchange currency?

Yes, Bank of America offers currency exchange services. You can access a wide range of popular currencies and some less common ones as well. Moreover, Bank of America members enjoy a discounted exchange fee and don't pay the standard $7.50 shipping cost.
Taylor DeJesus and Brenda Zhang contributed to the reporting for this article.
Information is accurate as of March 17, 2023. 
Editorial Note: This content is not provided by any entity covered in this article. Any opinions, analyses, reviews, ratings or recommendations expressed in this article are those of the author alone and have not been reviewed, approved or otherwise endorsed by any entity named in this article.
Our in-house research team and on-site financial experts work together to create content that's accurate, impartial, and up to date. We fact-check every single statistic, quote and fact using trusted primary resources to make sure the information we provide is correct. You can learn more about GOBankingRates' processes and standards in our editorial policy.