How Biden Is Impacting SNAP in 2022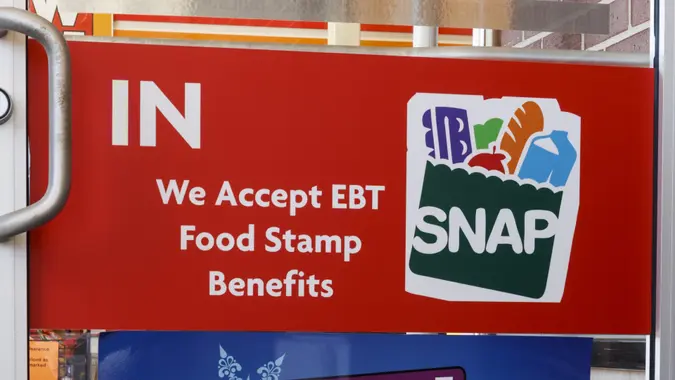 jetcityimage / iStock.com
On June 6, 2019, the Center on Budget and Policy Priorities reported some welcome news regarding America's largest anti-hunger initiative. Supplemental Nutrition Assistance Program (SNAP) rolls had shed 7 million beneficiaries between 2013 and 2018 — a decline of about 16%. Another 5 million people left SNAP in 2019. The program had responded well to the crisis of 2008 and its aftermath and, as a result, food insecurity had declined across the country.
Check Out: Surprising Things You Can Buy With Food Stamps in the South
Discover: Surprising Things You Can Buy With Food Stamps in the Midwest
The report's authors couldn't have imagined what the next six months would bring; but, needless to say, the trend was short-lived. Participation had declined from 47.64 million in 2013 to 35.7 million in 2019; but, thanks to the pandemic, the SNAP rolls are now again swollen with more than 42 million beneficiaries.
Not only was this the first pandemic year with no stimulus payments, but inflation forced food prices to rise faster than they had in four decades, stressing low-income households ever further and making 2022 one of the most consequential years in SNAP history.
Make Your Money Work for You
Here's how President Biden has left his mark on the program.
SNAP Benefits Grew to Compensate for Inflation
In 2022, SNAP beneficiaries are receiving bigger checks than ever before thanks to the most significant cost of living adjustment (COLA) in the program's history, which President Biden approved in 2021. The COLA increased average payments by 25%, with the typical beneficiary's check jumping by $36, from $121 before the pandemic to $157 today.
The maximum payment now runs from $250 for a one-person household to $1,504 for a family of eight. After that, each additional member is $188. Maximum payouts are higher in Alaska, Hawaii, Guam and the U.S. Virgin Islands.
Live Updates: Financial Trends, Money News and More
Biden Extended Emergency Allotments Through the Summer
In April, the president extended the monthly emergency allotments (EAs) that have helped keep SNAP recipients afloat since April 2020. The 90-day extension runs through August because the program's rules automatically add an extra month.
The allotment gives $95 extra to those already receiving the maximum benefit, but it offers the most assistance to those receiving the least by paying the maximum benefit to those who would otherwise qualify only for partial SNAP payments.
Make Your Money Work for You
Will You Get Extra? That Depends Where You Live
Although the secretary of Health and Human Services extended the federal COVID-19 emergency declaration, the USDA grants waivers only to states that have issued their own emergency or disaster declarations.
There's been a significant dropoff in qualifying states as officials continue to lift COVID emergency measures nationwide. In the first four months of the year, the USDA granted waivers to at least 40 states. Now it's down to less than half the country.
The following states currently hold USDA waivers that make it possible for their residents to collect SNAP EAs: Alabama, Alaska, California, Colorado, Delaware, District of Columbia, Hawaii, Illinois, Kansas, Maine, Maryland, Michigan, New Hampshire, New Jersey, New Mexico, North Carolina, Ohio, Oregon, Pennsylvania, Rhode Island, South Carolina, Utah, Vermont, Virginia, Washington, West Virginia, Wisconsin.
Biden Strengthened P-EBT for Schoolchildren
In May, the USDA's Food and Nutrition Service (FNS) released new guidance to help states develop Pandemic EBT (P-EBT) plans. Same as the summer of 2021, P-EBT is now available to:
Children who were eligible for free or reduced-price meals during the current school year
Children who are now eligible for summer meal benefits in states with approved 2021-22 school year plans for kids in school and child care. In those states, all children under six who are enrolled in SNAP during the summer are eligible for P-EBT, but only through the end of the federal government's pandemic public health emergency declaration.
Make Your Money Work for You
In response to the rising food costs and supply chain disruptions that continue to frustrate child nutrition program operators, the president signed the Keep Kids Fed Act. The act gives schools, summer meal sites and child care food programs the resources they need to serve children throughout the 2022-23 school year.
The president announced on June 30 that the USDA would provide almost $1 billion in extra funding to buy American-made food products for meal programs.
The States Administer SNAP — Biden Can Do Only So Much
Like just about everything else, SNAP is a political football — particularly because of its connection to the COVID-relief packages. On April 15, the Associated Press reported that SNAP recipients were "seeing their benefits plunge even as the nation struggles with the biggest increase in food costs in decades."
The ability of vulnerable families to pay for food was directly related to the political leanings of their state's elected officials. In July 2020 at the height of the pandemic, Nebraska's Republican governor became the first to opt his state out of expanded federal SNAP benefits, purportedly to "show the rest of the country how to get back to normal," according to the AP report.
Nearly two years later, in the spring of 2022, a dozen GOP-led states had opted out, and today the trend continues along partisan lines.
More From GOBankingRates
Make Your Money Work for You