Experts Predict How Long Cash Will Survive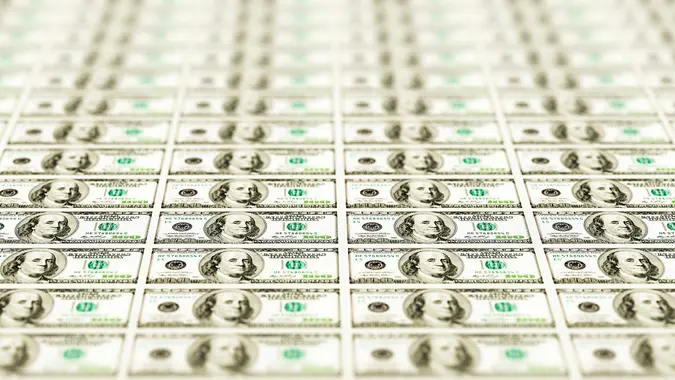 RapidEye / Getty Images/iStockphoto
Remember when you had to pay for nearly everything with cash? Probably not if you are a baby boomer, Gen Xer, millennial or younger.
Checks have been commonplace since World War II. Credit cards have been around since the 1950s. Debit cards were introduced in the late '60s and became mainstream by the '80s and '90s.
Not only have these forms of payment reduced the need for cash but so have mobile apps that let you make payments from your phone. And let's not forget about digital currencies. You can even pay your taxes with bitcoin in one state. In fact, almost one-third of Americans don't make any purchases with cash during a typical week, according to a Pew Research Center survey.
Does that mean the U.S. is well on its way to being a cashless society? Experts think so, and research shows that the use of noncash payments among consumers continues to grow. But there's not a consensus on when cash will die for good.
Cash Still Is King for Small Transactions
Despite the rise of more convenient forms of payment, cash still is the most frequently used payment instrument in the U.S., according to a 2018 Federal Reserve System report. It accounts for 30 percent of all transactions and 55 percent of transactions of less than $10. So cash still is king, especially for small transactions.
The Pew survey supports these findings. Although a growing percentage of Americans are using other forms of payment, more than half try to make sure they always have cash on hand in case they need it. Adults ages 50 and older are more likely than younger adults to keep cash on hand. And lower-income Americans are more likely to rely on cash.
Make Your Money Work for You
Although cash is still the most commonly used form of payment overall, it has dropped from 33 percent of transactions in 2015 to 30 percent in 2017. Credit as a form of payment, on the other hand, has increased from 18 percent to 21 percent over that same period. Debit accounts for 27 percent of payments, and electronic transfers account for 10 percent, according to the Federal Reserve study.
Plus, Americans tend to prefer other payment methods for larger transactions. Debit and credit cards are more commonly used than cash for transactions of $25 to $99.99. And Americans are more likely to use electronic transfers for transactions of more than $100, such as mortgage and loan payments.
Cash Might Be Around for a While
So, just how long will cash be around? Although the U.S. is moving away from cash, it won't disappear anytime soon, said Andrew Morris, senior counsel for research and policy at the National Association of Federally-Insured Credit Unions. "I think cash will persist for a long time," he said.
In particular, he expects cash to continue to be used for small-value transactions, something it is commonly used for now. However, Morris said the transition to a cashless society could happen sooner if the real-time payment settlement system that's been proposed by the Federal Reserve is developed.
Such a system would allow payments to be settled immediately so funds would be available as soon as transactions are completed. That means, for example, when a customer pays a small-business owner for a product with a credit or debit card, the business owner doesn't have to wait days for the transaction to clear and for the money to show up in his account. He would get paid immediately. "Faster payments might be a game changer," Morris said.
Make Your Money Work for You
In fact, the speed of transactions would be the primary benefit of a cashless society, he said. However, there would be drawbacks if cash disappeared entirely, such as the increased risk of fraud. The biggest drawback, though, would be the lack of payment options if a disaster struck. "If the power goes out and you can't swipe a card, it would be exceedingly difficult to pay for things if you didn't have cash," Morris said.
For now, though, there are still barriers to becoming a cashless society. "As cashless options improve in their efficiency, those barriers will gradually fall," Morris said.
Or Cash Could Disappear Soon
Unlike Morris, Jeff Ramson expects the transition to a cashless society to happen sooner rather than later. "I do think we will have a cashless society in the not too distant future — five to 10 years at the most," said Ramson, who is the founder and CEO of PCG Advisory Group, which offers advisory services for the digital assets sector.
Don't count on cryptocurrencies to become mainstream forms of payment, though. Instead, Ramson expects the U.S. dollar and other government-backed currencies to become digital. But there are obstacles to overcome before cash disappears entirely.
"I think the biggest obstacles will be getting all consumers on the 'digital grid,' so to speak," Ramson said. "Everyone will need a bank account and, of course, constant online access with mobile devices. I don't see this as a hurdle ultimately, but certainly, it is a big transition we need to see through before we can be completely cashless."
A cashless society would make transactions easier, more efficient and safer thanks to built-in fraud protection through encryption technology, he said. That doesn't mean fraud will be eliminated. With digital currencies and transactions, "there is always a concern about fraud, identity theft and lack of privacy," Ramson said. And becoming a cashless society will take trust in the institutions that make digital transactions possible. But at least you won't have to worry about losing your cash anymore.
Make Your Money Work for You
Keep reading to learn more about new banking technologies you'll see in the next five years.
More on Cash and the Economy
We make money easy. Get weekly email updates, including expert advice to help you Live Richer™.