Is 'Excuseflation' Keeping Grocery Prices High? Here's What You Need To Know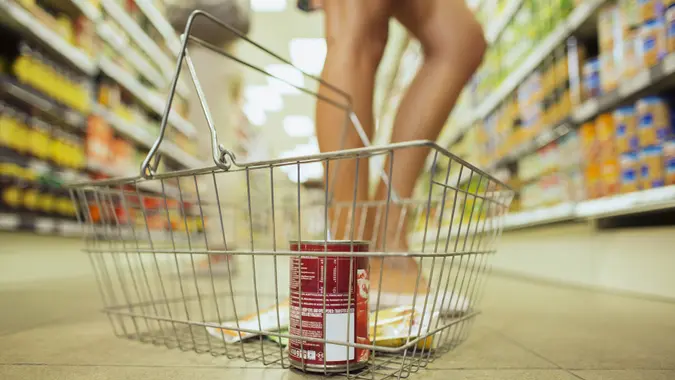 Dan Dalton / iStock.com
While inflation slowed to just 4%, year-over-year, and just 0.1% between April and May, the U.S. is not out of the woods yet when it comes to higher prices plaguing grocery stores and other retail outlets.
Economists say that recent price increases may not necessarily be the fault of the Federal Reserve and, as such, may be harder to control. The Fed has been steadily raising interest rates to stem inflation since March of 2022, per Forbes. With less borrowing power, it is presumed, people and businesses will buy less. Fearing a recession and aiming for a "soft landing," instead, the Fed temporarily paused interest rate hikes at the June Federal Open Market Committee (FOMC) meeting.
But one more recent cause of inflation has very little to do with interest rates. As UBS Global Wealth Management chief economist Paul Donovan explained in a Yahoo Finance video segment: "We've had a really unfortunate situation where we've had three very, very different inflation waves caused by very different things."
The first stage of inflation, which mostly affected essential consumer goods, was led by demand during the pandemic. Fearing shortages, people hoarded household goods like toilet paper and disinfectants, leading to rising prices caused by intense consumer demand.
The second phase came as supply chain challenges emerged from lockdowns. Consumer demand shifted to more typical items in the usual quantities. But high fuel prices, a shift to e-commerce — which requires different infrastructure than brick-and-mortar retail — and a labor shortage created "supply-led" inflation.
Make Your Money Work for You
Now, as people return to work (and national average gas prices drop to $3.58, which is $1.43 less than this time last year) a new type of inflation has emerged.
What Is Excuseflation or Greedflation?
Deemed "excuseflation" or "greedflation," profit-led inflation happens when retailers take it upon themselves to raise prices. Consumers have grown accustomed to higher prices, and it's easy for retailers to point to recent inflation or supply chain issues as a cause, Donovan explained.
The real reason, however, is expanding profit margins designed to keep investors happy. "It's using excuses," Donovan said.
This time, retailers have another plausible explanation, with state increases in minimum wage and the nationwide labor shortage leading to higher wages.
"… Companies can only stomach those high labor costs for so long, especially if you're not getting that revenue back," Charles Schwab senior investment strategist Kevin Gordon told Yahoo Finance.
However, experts say many businesses are using higher wages as just another excuse to raise prices and increase profit margins. "They're expanding margin and just basically persuading customers to accept that," Donovan said in the Yahoo Finance segment.
More From GOBankingRates
Make Your Money Work for You