NBA Finals 2023: Here's How Much the Economies of Denver and Miami Will Make in Tourism for Hosting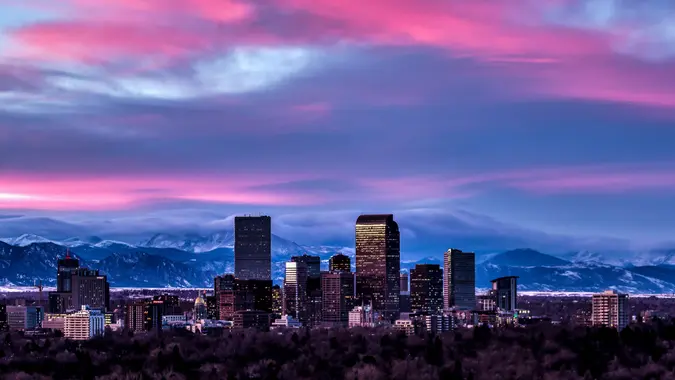 Planet Unicorn / Getty Images/iStockphoto
With tickets ranging from $450 to $33,000 apiece, secondhand market sellers are poised to cash in on the NBA finals — but they're hardly alone. With the No. 1 seeded Denver Nuggets, who have never been to the Finals before, set to take on the No. 8 seed Miami Heat, who were never expected to make it this far, both cities stand to gain eight-figure economic windfalls for their local economies.
With basketball's emergence as a truly international sport, the eyes of the world will be on Miami and Denver starting June 1 at the 8:30 p.m. ET tipoff time. But not everyone is watching from home.
Both cities are bracing for an enormous influx of sports tourists, as well as an awakening of dormant locals who will flood the host cities' businesses with a sorely needed injection of cash.
Both Cities Can Expect $25 Million Directly — Times 4 Indirectly
By earning a spot in the NBA Finals, the Heat and the Nuggets bring pride, excitement and the global media spotlight to their home cities. They'll also bring a mountain of tourism dollars, both directly and indirectly.
Direct tourism spending includes all the goods and services travelers purchase, like hotel stays and rental cars. Indirect tourism spending involves the things needed to support those purchases, like fuel and maintenance for the rental cars and toiletries in the hotel rooms.
Make Your Money Work for You
Denver and Miami are in for a whole lot of both.
"Based on analysis from our chief economist from the Denver Metro Chamber of Commerce, we are anticipating a direct economic impact to the region of up to $25 million and a total impact of four times that amount," said J. J. Ament, president and CEO of the Denver Metro Chamber of Commerce.
That figure excludes ticket sales and Nuggets-branded merchandise, which the Denver Gazette says are too hard for economists to estimate. And since those figures are based on prior cities' experience with hosting the NBA Finals, they also apply to Miami.
The Challenges of Calculating Series Sports Tourism Dollars
According to the Denver Gazette, it's impossible to nail down the precise economic impact of incoming tourist dollars during the Finals because there's no way to determine local vs. out-of-market game attendance.
It's much easier to quantify tourism spending with third-party-city standalone events like all-star games or the Super Bowl than it is for a back-and-forth series split between two host cities — especially in destination cities like Denver and Miami, which draw tens of millions of annual visitors regardless of who makes the playoffs.
Therefore, there's scant information on exactly how the NBA Finals impact local tourist economies — with one exception.
The Milwaukee Example
Visit Milwaukee created the most comprehensive data analysis of the post-pandemic era when the Bucks won the NBA Championship in 2021. It found that the NBA Playoffs generated $57.6 million in economic activity for the city.
First round: $2.7 million
Second round: $12.8 million
Third round: $14.1 million
NBA Finals: $28 million
Make Your Money Work for You
As you can see, the Finals accounted for roughly half of the total haul. Considering the figure includes direct and indirect spending, it roughly matches the $25 million that Denver expects the Finals to generate for it and Miami.
A local ABC affiliate reported that Denver officials expect the city to enjoy a direct economic benefit of $50 million to $60 million between the Western Conference Finals and the NBA Finals, which correlates with the data from Milwaukee.
For a rough estimate of what Miami and Denver can expect, here's how the direct spending played out there:
Lodging: $8,424,845
Recreation: $6,586,263
Retail: $5,819,003
Food and beverage: $5,219,209
Transportation: $4,258,004
Business services: $1,210,430
Space rental: $38,521
The Avalanche Example
As gloating Denver sports fans will be quick to point out, the city has recent championship history to look to for an example of what's in store for the NBA Finals. In 2022, the NHL's Colorado Avalanche thrilled the city by bringing home the Stanley Cup after defeating the Tampa Bay Lightning. The result was the hotel industry's highest average room rate and number of bookings since before the pandemic. On June 15 for game one, there were 2,457 rooms booked for an average of $246.68 per room. Three days later for game two on June 18, there were 2,425 rooms booked at an average of $244 per room.
The Avalanche's victory parade brought 500,000 people and their wallets to downtown Denver and the team's victory generated $68 million for the regional economy.
The Priceless Value of Free Media Attention
What might be the NBA Finals' biggest contribution to Denver and Miami tourism can't be quantified and comes for free.
"In addition to the economic impact, we understand the importance of supporting a member company, Kroenke Sports & Entertainment, the Denver Nuggets and our whole region, which will have a longer impact on our region as we will have the national and international spotlight on our great city," said Ament.
The Visit Milwaukee report found that between July 18-24, 2021, "Milwaukee" as a Google search term was more popular than it had been for five years. The playoffs and Finals generated over 331 billion earned media impressions about the Milwaukee Bucks, roughly the same amount generated from December through early May during the entire rest of the season.
Make Your Money Work for You
Ament told the Denver Gazette, "There's really no good way to measure the domestic and international media attention on a region. I could spend the whole budget of the Chamber and Economic Development Corporation on global media and not get anywhere close to the benefit from having a series like this in our town."
More From GOBankingRates