6 Legitimate Ways To Make Money From What You Already Spend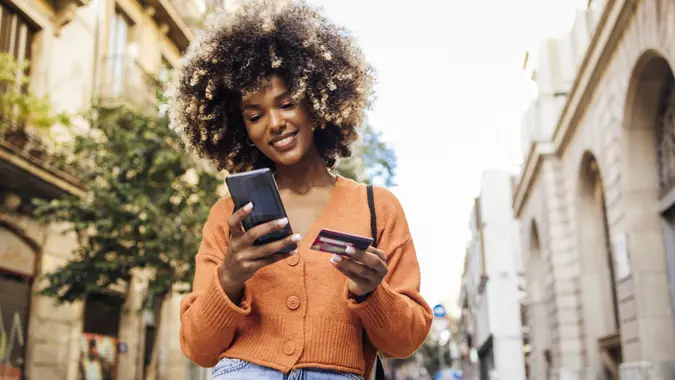 RgStudio / Getty Images
"You have to spend money to make money" is a wise saying. But we have a better one for you: "Whenever you spend money, you can make money."
From traditional options to apps you might never have heard of, there are plenty of ways to earn a percentage of your money back when you shop. GOBankingRates rounded up six of the best options to earn cash back without spending anything extra.
Earn Cash Back With Upside
Upside's mobile app partners with grocery stores, restaurants and gas stations to offer cash back on purchases at participating businesses. After claiming an offer and confirming your purchase, you receive a percentage of the money spent or a certain amount of cents per gallon back. You can cash out directly to your bank account, PayPal or a gift card. Upside's frequent users make an average of $340 annually — that makes Upside the highest-earning method of making money from what you already buy.
If you don't go buying things you wouldn't normally just to earn more cash back, it's impossible to lose with Upside. Just remember to claim your offers and you'll get paid for buying your everyday essentials.
Take Our Poll: Are You Concerned About the Safety of Your Money in Your Bank Accounts?
Use a Cash-Back Credit Card
While anyone can download and use Upside, getting a good cash-back card is easier said than done. You might not know what cash-back card options are out there, or maybe you're struggling to raise your credit score so you can get the card you want.
You should aim for a card with unlimited cash back on all purchases, or at least one that lets you earn in the categories you spend the most money on. That way you earn cash back on all of the money you spend with your card, unlimited by which businesses participate.
Make Your Money Work Better for You
Earn on Online Purchases With a Browser Extension
Upside offers the best cash-back earnings at brick-and-mortar stores, but you probably buy plenty of things online, too. To earn on your online purchases, you can add a cash-back browser extension to your money-saving toolset. With an extension installed, you can activate cash-back offers when you shop at select websites. Accumulate rewards and accept your money as cash back, PayPal shopping credit or gift cards.
Join a Loyalty Rewards Program
Many stores have loyalty programs you can join for perks such as member discounts, free shipping or points redeemable for store credit. If your shopping habits keep taking you back to the same stores, you should investigate whether they have loyalty programs. But don't go crazy signing up for them. Take a close look at how much you currently spend at a particular business, how much of that you would save with member discounts, and whether the amount you'd save in a year is more than the cost of joining the loyalty program.
Never rely on loyalty rewards sounding like a good deal. Whether any program is a good deal for you personally depends on your existing shopping habits.
Fill Out Those Receipt Surveys
Next time you pull out a crumpled receipt along with your recent purchase, take a moment to check it for survey opportunities. Many fast-food restaurants will reward you for filling out a quick survey with free fries next time, or some stores offer 10% off your next purchase in exchange for letting them know how your shopping experience went (just remember that most coupons have an expiration date). If it's a store you'll return to soon, it's worth taking a few minutes to get some money off next time.
Make Your Money Work Better for You
Get Paid for Taking Photos of Your Receipts
Companies want to know consumers' shopping habits. That makes your receipts, with their information on what you buy and how much you spend, monetizable. You can tap into this with apps that let you earn points for each receipt you upload. You can redeem points for cash or gift cards and boost the amount you earn by taking bonus surveys.
Choose What Works for You
While these methods won't make you rich, they're all opportunities that don't require you to spend any extra money, or much effort, to earn extra cash. Explore which ones are worthwhile for you, mix and match options from this list based on how you shop, and set up your cash-back opportunities. When you cash out in a few months, you'll thank us.
More From GOBankingRates