List of Scamming Websites: 11 Fake Shopping Sites To Avoid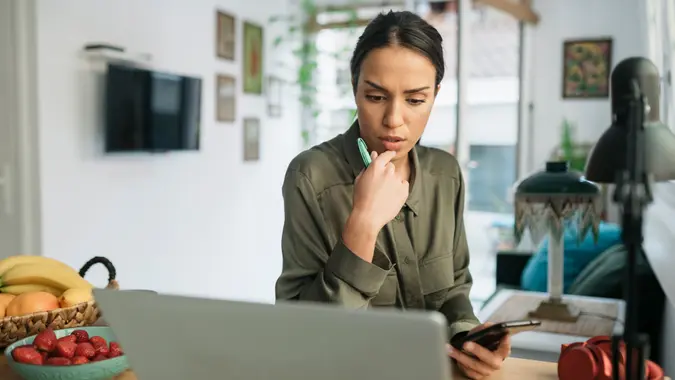 Brothers91 / Getty Images
Commerce sites can be helpful and deliver exactly what you want or need. In other situations, they can leave you with false hopes, charges on your credit card and very little or nothing to show for it. If you spot a deal on a website that seems too good to be true, trust your gut as it may be part of a larger website scammer list.
List of Scamming Websites: 11 Sites To Avoid
Unfortunately, fake shopping websites pop up every day. Some are even identified and shut down by governmental agencies. To avoid being taken advantage of while shopping online, here's a list of scamming websites:
Pilosaleltd.com or piloltd.com
AmazonStorePro.com
Anhbhau.shop
ShoePublic.com
Outdoorbest.store
TiffanyCoShop.com
Omitages.com
Moziep.com
Morrity.com
MyFaceBoxer.com
Halaboommall.com
1. Pilosaleltd.com
This scam site can also be found at piloltd.com. On TrustPilot, this scam site has a 1.7-star rating from 20 reviews. Various consumer reviews state that the products are nothing like what the pictures on the site indicated, claiming they don't work properly. 
Reviews also state that their emails are either ignored by this site's customer service or they have been told they won't be issued a refund because they should have looked at the product more closely before ordering.
2. AmazonStorePro.com
This site makes the fake shopping websites list because it has high-priced items at heavy discounts and unbelievable deals. You might see an offer like "buy 2, get 3 free lounge chairs" which is a tell-tale sign of a scam site. Not only that, users of this site have reported receiving low-quality items that are not what they ordered, such as a cheap hammock, instead of the two swing chairs with stands and protective covers that they ordered.
Make Your Money Work Better for You
3. Anhbhau.shop
This site has several red flags that point to it being fake. There are typos and spacing errors in the product description area. There's also a sense of urgency to buy with the timer that's counting down. Additionally, some pop-ups appear every few seconds that state someone has recently purchased an item. This is to make potential shoppers feel as if others are getting the deal and they should too.
4. ShoePublic.com 
This website has an extremely poor trust score online through many website scammer lists. Though some warnings may be overblown, it doesn't seem to be the case here as the website itself seems to hide content or avoid direct contact with consumers. 
5. Outdoorbest.store
The Outdoorbest Store does not seem to be a legitimate company. Because of that, it makes the list of scamming websites. If you shop on this site, you may risk receiving counterfeit goods. The fake site claims to sell such products as musical instruments, dress clothing and other apparel, but you may want to look elsewhere if you're in the market for these products.
6. TiffanyCoShop.com 
Having a big name on the website that's similar to the main designer's site can be a large red flag. You'll often find this kind of site linked to sketchy social media sites or even sent to you via spam text messaging. The real site of the famous jeweler and retailer, Tiffany & Co., is Tiffany.com.
Make Your Money Work Better for You
7. Omitages.com 
The Omitage website itself puts up many red flags such as the website's owner hiding their identity and offering anonymous payment methods. Though this site does seem to sell goods online, it does not seem to be trusted by either reviewing websites or customer reviews. For these reasons, it makes the website scammer list.
8. Moziep.com
Just because a website is new doesn't mean it's a scam, however, it does mean it has to prove itself which Moziep.com has not. It has no reviews, no social media presence and the site has no contact or owner information. Despite it claiming to sell clothing, it appears to be a retail scam and you should consider shopping elsewhere.
9. Morrity.com 
Though its online trust rating isn't as low as some other websites on this fake shopping websites list, you should exercise extreme caution with Morrity.com. Under the guise of being part of a Wall Arts niche, it shows a high Malware score due to its suspicious code indicators. 
10. MyFaceBoxer.com 
This website does have some positive reviews, but in general, the site has both low ratings and traffic. Not having many visitors doesn't necessarily mean it's a fake shopping site. But hiding the owner's identity and its paid service might be. 
11. Halaboommall.com  
This website is filled to the brim with too-good-to-be-true deals which are always timed on a 24-hour flash sale clock. The site has no reviews, no social media platforms in its name and a low trust score for both coding and Malware. You should consider other retailers before exploring your options here. 
Make Your Money Work Better for You
How Can You Tell If a Website Is a Scam?
There are a few ways to tell if a website is a scam. Here are a few to know:
Domain name: If the domain name doesn't match the official company name or website, it could be a scam site.
Grammatical errors: Real companies spend the time and money to make sure their sites are error-free. If you notice obvious spelling mistakes or errors, that would be a red flag.
Online trust ratings and reviews

:

You can check the trust ratings for sites and read user reviews. If there are multiple reports of scamming activity, you should not visit the site.
Good To Know

Another way to check if a website is legitimate is to look for the lock icon next to the web address. Many web browsers use this symbol to let you know if the website is safe and trusted. If you do not see the lock icon, you should proceed with caution.
Final Take To Go
When online shopping, if something about a website seems off, trust your gut. Don't provide your personal information such as your phone number, address or Social Security number, or your financial information such as your bank account or credit card number. Instead, do a few minutes of investigation using the previously mentioned tips. If you do believe that a website is fake or a scam, report it to the Federal Trade Commission.
FAQ
Here are the answers to some of the most frequently asked questions regarding scam websites.
Is Telegram used for scamming?

There are some common scams on Telegram you should know:

Fake groups and channels
Phishing
Fake job listings
Fake classified ads

What should I do if I purchased something from a scam site?

If you purchased something from a scam site, you should notify your bank or credit card company immediately. Try to take screenshots of your transaction or of the website and provide as many details as possible to your bank. From there, monitor your account and if you notice anything out of the ordinary, report it.
Make Your Money Work Better for You
Cynthia Measom and Elizabeth Constantineau contributed to the reporting for this article.
Information is accurate as of July 28, 2023. 
Our in-house research team and on-site financial experts work together to create content that's accurate, impartial, and up to date. We fact-check every single statistic, quote and fact using trusted primary resources to make sure the information we provide is correct. You can learn more about GOBankingRates' processes and standards in our editorial policy.