4 Red Flags Indicating an ATM Has Been Tampered With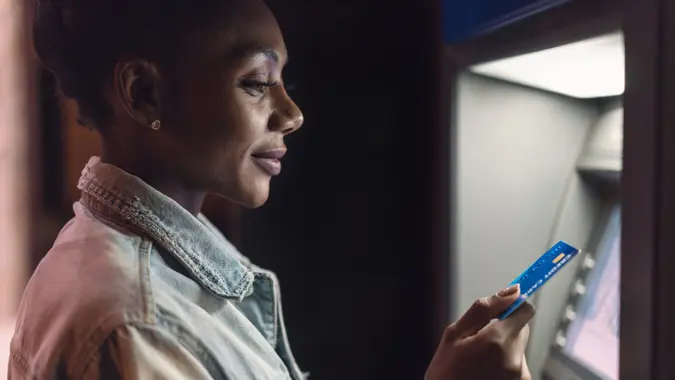 Mixmike / Getty Images
Do you know how to recognize a compromised ATM? Key findings from a GOBankingRates August 2023 survey polling 1,141 Americans revealed that only 31% of overall respondents check ATMs for signs of tampering before use.
Knowing what to look for before using an ATM can protect you from becoming the victim of identity theft and more financial crimes. Watch out for these four red flags that can indicate an ATM has been tampered with by fraudsters.
Does the Card Reader Slot Look Strange?
Look closely at the card reader slot before using it. Something may be off if you see any of the following suspicious signs:
A loose, or blocked, card reader slot. According to The People's Federal Credit Union, this is typically a sign the ATM contains a Lebanese loop. This is a method that fraudsters use to trap your card inside an ATM.
An unusually wide, or not aligned, card reader slot. This may indicate skimming devices have been installed.
The slot is in a different color that is not part of the bank's branding, or has an unrecognizable logo.
There's glue or tape near the slot.
These signs indicate the ATM has been tampered with. Do not use the card reader.
Does the Keypad Look or Feel Different?
Take a look at the ATM's keypad and feel its keys.
If you notice the keys look thicker than usual or have a sponge-like consistency, Mid Penn Bank said this may be indicate that fraudsters have installed a fake PIN pad overlay on top of the real ATM keypad. Don't use the ATM or enter your PIN.
Do You See a Hidden Camera?
This can be a tricky red flag to spot since hidden cameras tend to be, well, hidden. However, one helpful tip from Mid Penn Bank is to look for out-of-place boxes.
Make Your Money Work Better for You
If you find a box, which may be on either side of the keypad, around the card reader slot or next to the ATM's screen, touch the box's corners and sides. You're trying to find a hole that may indicate there's a hidden camera inside recording you entering your PIN. If you spot anything suspicious, do not use the ATM.
Is There an 'Out of Order' Sign?
According to Mid Penn Bank, some fraudsters will place "out of order" signs on ATM machines. 
Typically, these signs are placed on machines that work perfectly fine to encourage banking customers to use machines that have been tampered with instead. If you see such a sign, don't attempt to determine which ATM is the "right" one to use. Avoid using these ATMs altogether, and go somewhere else.
More From GOBankingRates