Retirement Planning: Many Older Americans' 401(k) Balances Still Hurting from 2022 — What Can They Do To Recover?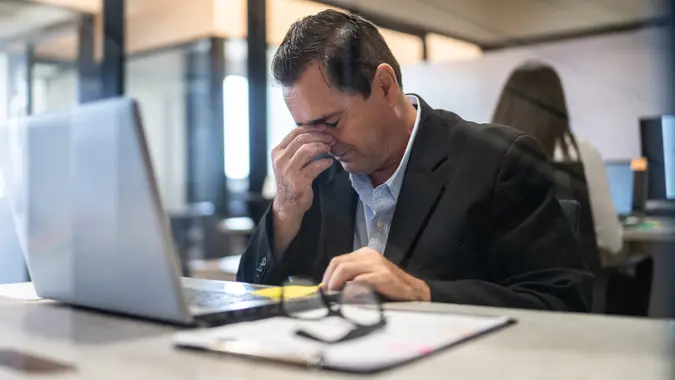 FG Trade Latin / iStock.com
Stock market slumps are always bad for retirement savings plans, and the slump that hit in 2022 was particularly brutal. The average balance of Vanguard 401(k) accounts dropped to $112,600 in 2022 from $141,500 the previous year, according to a report from the Center for Retirement Research at Boston College. That represented a dip of 20%. Median balances sank 23% — from $35,300 to $27,400.
A year later, many of those 401(k) balances have yet to recover — but mainly for baby boomers and Gen Xers. The situation is much brighter for younger investors.
First, the good news: As of mid-2023, average balances across all types of retirement accounts increased for the third straight quarter on a quarter-over-quarter basis, according to Fidelity Investments' Q2 2023 retirement analysis. The average 401(k) balance in the United States stood at $112,400 at the end of the 2023 second quarter. That was up from $108,200 the previous quarter and $103,800 the previous year.
"We are pleased to see a third straight quarter of positive gains for retirement savers as the market continues to improve and both employees and employers commit to establishing a strong financial future," Kevin Barry, president of Workplace Investing at Fidelity Investments, said in an August news release. "As we begin to see improvements in market conditions, maintaining high contribution and savings rates is an essential component of improving one's retirement readiness."
But those improvements are not spread evenly among generations. A USA Today analysis of the Fidelity data found that the average 401(k) balance for millennials stood at $48,300 through June 30, 2023 — up from $48,000 at the close of 2021.
In contrast, the average 401(k) account for boomers came in at $220,900 at the end of the 2023 second quarter — down from $249,700 at the end of 2021. The average Gen X retirement account was $153,300 at the end of the 2023 — a decline of 8% since the end of 2021.
Make Your Money Work Better for You
Average millennial balances are up 1% vs. 2021. Gen Z is doing even better, with average 401(k) balances up 53% since 2021, though they have a much smaller average balance of $8,100.
What Can Be Done To Recoup Losses?
Retirement savers who are still hurting from the 2022 stock market slump do have some options that can improve their situations. One thing many experts recommend is to seek the help of a professional financial advisor — especially boomers, who have not always been quick to consult with the pros.
"The boomers are what you call do-it-yourselfers," Michael Shamrell, Fidelity's vice president of thought leadership, told USA today. "They've been managing their own allocation, [which] might not be exactly where a Fidelity or someone else thinks they should be."
A Transamerica survey found that fewer than four in 10 Americans 50 and older said they were working with a financial advisor, USA Today reported. Younger workers are much more likely to hire financial professionals.
Another move you can make — at least for now — is add more bonds to your portfolio. With interest rates on a steady rise, newly issued bonds carry much higher rates than they did a couple of years ago. As USA Today noted, the 10-year Treasury yield hit 4.858% at the end of the first week of October — its highest point since July 2007.
More From GOBankingRates
Make Your Money Work Better for You