How To Find the Best Financial Advisor for Your Money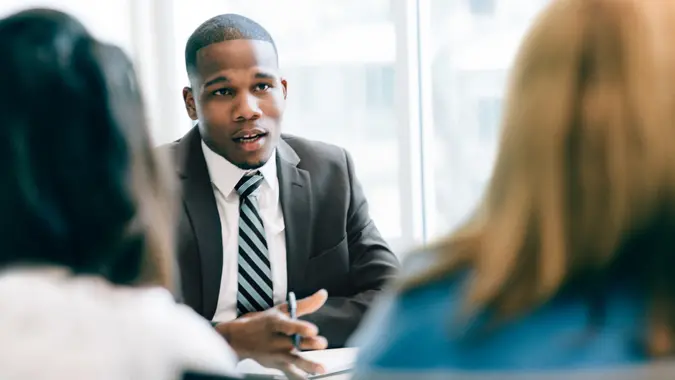 Ferran Traité Soler / Getty Images
A financial advisor is a professional who helps people manage their money so they can reach their financial goals. A financial advisor's services include creating budgets, establishing savings plans, estimating future income needs and recommending insurance products. Finding the best financial advisor for your money is important because you don't want to trust just anyone to help you with your finances.
How To Find the Best Financial Advisor
There are a few steps you should take when looking for a financial advisor.
Learn about the different types of financial advisors
Decide what you want in a financial advisor
Understand how different financial advisors are paid
Know what questions to ask a financial advisor
Vet financial advisors to find one that you can trust
1. Learn About the Different Types of Financial Advisors
Financial advisors offer a range of services to meet the needs of their customers. Here are some of the most common types of financial advisors.
Robo-Advisors
Robo-advisors provide automated portfolios based on the investor's preferences and needs. This digital service is available through websites and mobile apps.
They're best for people who need assistance with investments but don't require human interaction. They also tend to be cheaper than traditional financial advisors because they typically don't include financial planning — only investing help.
Traditional Financial Advisors
Unlike robo-advisors, traditional financial advisors use a personalized approach to provide a full range of financial planning options.
As your life circumstances and needs change, a traditional financial advisor can guide you in making the best decisions regarding your finances — a service that a robo-advisor cannot provide. If you desire face-to-face interaction, a traditional financial advisor is likely your best choice.
Online Financial Advisors
Online financial advisors offer traditional financial advising services. These advisors use technology to come up with your investment plan and can conduct business over the phone or online.
These professionals are best for people who need some help but don't want to incur the cost of a full-service, in-person financial advisor.
2. Decide What You Want in a Financial Advisor
To decide what you want in a financial advisor, consider the following factors as you search.
Fiduciary Duty
A fiduciary puts your interests first. They refuse to take actions that would allow them to profit from their positions and disclose potential or current conflicts of interest. Although any financial advisor can choose to abide by fiduciary duty, not all of them are required to do so.
Credentials
Financial advisors come from many different backgrounds and offer a variety of different services. Their credentials provide insight into their education, experience and areas of practice. Here are some of the most common titles held by financial advisors.
Certified Financial Planner
A CFP is a professional designation issued by the Certified Financial Planner Board of Standards. Someone who holds this designation is best at offering general planning advice on a wide variety of personal finance issues like investing, saving, paying for college, purchasing long-term care insurance, choosing a mortgage and planning for an estate.
To qualify for this designation, the professional must:
Have at least a bachelor's degree
Have at least 6,000 hours of professional experience or 4,000 hours of apprenticeship experience
Complete a CFP-Board registered program
Pass a certifying exam
Take 30 hours of continuing education courses every two years
Follow designated conduct standards and an ethics code
Personal Financial Specialist
The personal financial specialist credential is a professional designation issued by the American Institute of CPAs. Those who hold this designation are experts in the following areas of personal financial planning: estate, investment, personal income tax, retirement and risk management.
To qualify for this designation, prospective candidates must:
Belong to the AICPA
Possess a valid CPA certificate issued by a state authority
Have a minimum of two years of full-time teaching or business experience — or 3,000 total hours — in personal financial planning within the previous five years
Have at least 75 hours of personal financial planning education within the previous five years of application
Successfully completed the final certification exam
Chartered Financial Analyst Certificate
The chartered financial analyst designation is issued by the CFA Institute. Although investment advisors holding CFAs often work for corporate clients, they are still regarded as investment management specialists. People looking for help with selecting stocks might find an advisor with a CFA designation to be a good option.
To attain this professional designation, candidates must meet one of these requirements:
Have completed a bachelor's degree or equivalent program and have received a degree
Be in the final year of a bachelor's degree program
Possess a combination of work and university/college experience totaling at least 4,000 hours
Other requirements for this designation include:
Passing a three-part exam
Submission of two to three professional reference letters that comment on your work experience and professional character
3. Understand How Different Financial Advisors Are Paid
Another important consideration when you're searching for the best financial advisor is how the specific advisor is compensated. Compensation is one of the factors that influence how much it costs to go to a financial advisor. Some financial advisors are fee-only, some earn commissions only and some earn fees and commissions. 
Here are the differences between the three forms of compensation. 
Commissions: Financial advisors who only receive commissions typically sell investment products and earn money when they sell these products to customers.
Fee-only: Financial advisors who only receive fees might charge a flat, hourly or retainer fee to help customers manage their finances.
Fees and commissions: Financial advisors who receive both fees and commissions charge a flat, hourly or retainer fee for financial planning services and earn a commission on eligible investments they sell.
4. Know What Questions To Ask a Financial Advisor
According to the National Association of Personal Financial Advisors, here are some important questions to ask a financial advisor you're considering hiring. The answers to the following questions can help you evaluate the financial advisor so you choose the person best suited to help you meet your financial goals:
How are you compensated?
Do you itemize commissions, if applicable?
Do you accept referral fees?
Are you held to a fiduciary standard at all times?
Are you willing to sign a fiduciary oath that states you'll always put my interests first?
Have you ever been disciplined by the Securities and Exchange Commission or the Financial Industry Regulatory Authority?
Do you provide full-service financial planning or just investment management?
Do many of the clients you work with fit my profile?
Will you or an associate work with me?
5. Vet Financial Advisors To Find One That You Can Trust
When you're ready to start searching for a financial advisor, ask friends and family members for names ofadvisors they trust. Or, check professional networking organizations such as the Financial Planning Association, NAPFA or the Garrett Planning Network for advisors in your area. Some banks also have financial advisors on staff.
Unfortunately, fraud is not uncommon in the financial planning and advice industry. Always, look up the person on FINRA BrokerCheck.
Additionally, keep an eye out for signs of fraudulent activities from your financial advisor.
What To Watch Out For

Be on the lookout for any financial advisor — or anyone claiming to be one — who is involved in any of these potentially fraudulent activities:

Claims to have special credentials or experience
Promotes limited-time offers with a sense of urgency
Offers guaranteed or overly consistent returns that don't match market conditions
Refuses to explain the investment, including how it makes money and the potential risks
Promises large profits from a small investment
Requires an advance payment
Final Take
Ultimately, what you're looking for in a financial advisor depends on your personal goals. It's important that you not only make sure that the financial advisor you choose offers the products or services you need but also that they are someone you can trust and relate to.
FAQ
Here are the answers to some of the most frequently asked questions regarding financial advisors.
What does a financial advisor do for you?

A financial advisor can create budgets, help you establish savings plans, estimate future income needs and recommend insurance products and securities

Is it worth paying for a financial advisor?

Figuring out if a financial advisor is worth it will come down to your personal financial goals and needs. If you would benefit from their services, the cost might be worth it for you.

How much do you pay a financial advisor?

The average cost for financial advisors can vary significantly depending on their qualifications, expertise and the type of compensation they charge. Here is a breakdown of typical costs:

Average hourly fee: $120 to $300
Flat fee: $7,500 to $55,000
Fixed or flat fee for assets under management: 0.59% to 1.18%
Our in-house research team and on-site financial experts work together to create content that's accurate, impartial, and up to date. We fact-check every single statistic, quote and fact using trusted primary resources to make sure the information we provide is correct. You can learn more about GOBankingRates' processes and standards in our editorial policy.