Here's How I Made $100 for Free: 20 Simple Ways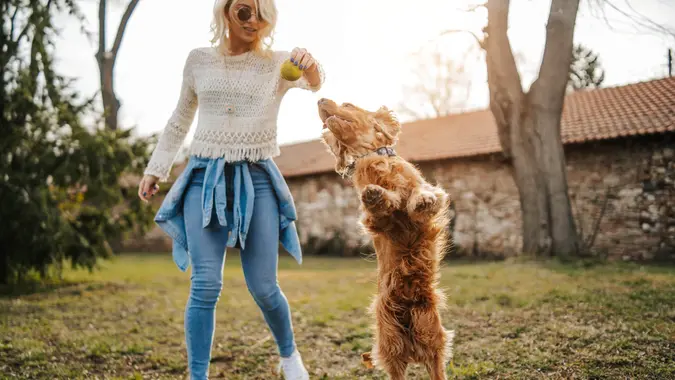 bojanstory / Getty Images
In these days of steep inflation, who couldn't use more money to put toward anything from bills to a little stress relief? Even with a busy schedule, you might wonder how to make $100 a day on the side. Keep reading to learn 20 easy ways.
How To Make $100 a Day: 20 Simple Ways
If you need $100 now instead of three to five business days from now, worry not as there are many ways to make extra money fast. While reaching the $100 a day mark requires effort, investing your time can be a lucrative decision. Here's a look at how to make $100 a day in 20 easy ways:
Freelance data entry or graphic design
Clean homes
Tutor students
Shop for others
Clean out your closet
Work as a virtual assistant
Participate in research studies
Sponsored posts
House or pet sitting 
Sell your specialties
Teach online classes
Rent out a room on Airbnb
Drive for rideshare services
Sell photos online
Start a dropshipping business
Become an affiliate marketer
Offer personal training services
Sell handmade crafts on Etsy
Provide social media management services
Participate in gig economy jobs
1. Freelance Data Entry or Graphic Design
If you're keen on diving into a side hustle and are ready to be your own boss, consider data entry and graphic design jobs on online platforms like Upwork and Fiverr. It's a great starting point for those eager to explore.
2. Clean Homes
People who clean homes can often charge between $50 and $90 per hour, according to Dave Bochichio, CEPF, founder of Clean Cut Finance. "That means if you clean one home for two hours, you just made $100. Ask neighbors, post on local Facebook groups or use Craigslist to get started."
3. Tutor Students
If you've got a little expertise you aren't putting to work, consider using it to help high school and even college students get better by tutoring in sought-after lesson areas — you can even do it as an online course. "Math, science and SAT prep tutors often make up to $100 per hour. One client a day at that rate makes you $100," Bochichio said.
Make Your Money Work Better for You
4. Shop for Others
Before the pandemic, hardly anyone was using services like Instacart and Uber Eats. But now these services are a regular way for many folks to get their food delivered. If you enjoy shopping, you can deliver groceries or food orders for others.
5. Clean Out Your Closet
If you have good taste in clothing and keep it in decent shape, an easy way to make $100 or more daily is to clean out your closet and sell it online, said Yulia Vershagina, marketing lead at Treet. "Resale is booming … so selling and shopping secondhand is more legitimate than ever."
6. Work as a Virtual Assistant
In this era of remote work, one job where you can earn $100 in a day without even leaving your house is the virtual assistant. According to FlexJobs, VAs may work on any number of tasks — assisting with emails, calendar scheduling, making and answering phone calls, billing, accounting and much more. The median hourly rate for this work is $17, though it can be much higher. You'd need to work only about six hours to earn $100.
7. Participate in Research Studies
Various companies look for participants to take part in their research studies. The compensation for these studies can vary depending on the time slot you sign up for. Platforms like User Interviews, Respondent and RarePatientVoice are known to compensate participants around $100 or even more for their insights.
8. Sponsored Posts
If you have a blog or a website with a good amount of traffic, sponsored posts can be a lucrative opportunity. With sponsored posts, businesses compensate you to promote their products or services on your platform.
For instance, on websites with a moderate following, it's not uncommon for individuals to earn between $100 and $200 for each sponsored post. As the site grows and garners more traffic, these rates can increase considerably.
Make Your Money Work Better for You
9. House or Pet Sitting
If you have a knack for dealing with animals, consider offering your services as a pet sitter. This job could entail staying at the owner's home, thus combining both house and pet sitting duties, or simply making daily visits to care for the pets.
Alternatively, if you prefer to focus solely on house-sitting, that's a viable option too. For such roles, especially if they span over a weekend or longer, you can potentially earn a significant amount. However, be prepared to provide references to assure potential clients of your trustworthiness and reliability.
10. Sell Your Specialties
Leveraging your existing skills can be a lucrative avenue to explore. If you're known for a signature baked treat or are adept at a particular craft that always garners attention, think about monetizing these talents.
You could offer these items for sale online or accept commissions. Given the nature and quality of your product, it's entirely possible to reach the $100 mark with just a handful of orders.
11. Teach Online Classes
If you have expertise in a particular subject, consider teaching online classes on platforms like Skillshare, Udemy or Teachable. From yoga to digital marketing, there's a demand for almost every skill.
12. Rent Out a Room on Airbnb
If you have a spare room or a guesthouse, consider renting it out on Airbnb. This can provide a steady source of income, especially if you live in a touristy area.
13. Drive for Rideshare Services
Platforms like Uber and Lyft offer opportunities to earn money by driving people around. With flexibility in hours, you can work during peak times for maximum earnings.
Make Your Money Work Better for You
14. Sell Photos Online
If you're a photographer, websites like Shutterstock or Getty Images can be a platform to sell your images for a quick $100.
15. Start a Dropshipping Business
Use platforms like Shopify or WooCommerce to start a dropshipping store. This way, you sell products without handling inventory, as your supplier ships directly to the customer.
16. Become an Affiliate Marketer
Promote products or services and earn a commission for every sale made through your referral link. Websites like ClickBank or ShareASale have various products you can promote.
17. Offer Personal Training Services
If you're fit and knowledgeable about fitness, offer personal training sessions at local gyms or even online. A few hours of training can easily get you to the $100 mark.
18. Sell Handmade Crafts on Etsy
If you're crafty, platforms like Etsy can be perfect for selling handmade jewelry, art or even digital products like printables. To thrive on Etsy, it's crucial to present high-quality photos of your products, research competitive pricing and engage with your audience. Starting with a clear niche and marketing your unique selling points can set you apart in this bustling marketplace.
19. Provide Social Media Management Services
Many businesses are looking for individuals to handle their social media accounts. For this opportunity, you should focus on building a solid portfolio showcasing successful campaigns, stay updated with the latest social media trends and consider taking online courses or certifications to enhance credibility.
Make Your Money Work Better for You
20. Participate in Gig Economy Jobs
Apps like TaskRabbit or Gigwalk allow you to earn money by completing small tasks for others, from assembling furniture to standing in line for event tickets.
Final Take
While some side gigs might yield higher returns and others might demand more of your time, channeling your talents and creativity towards earning additional income can significantly bolster your financial status. Exploring and diving into any of these opportunities that resonate with you could lead to pleasantly surprising growth in your savings.
Caitlyn Moorhead and Jordan Rosenfeld contributed to the reporting for this article.
Information is accurate as of Oct. 20, 2023. 
Editor's note: This article was produced via automated technology and then fine-tuned and verified for accuracy by a member of GOBankingRates' editorial team.