Addicted To Work: 82% of Americans Admit To Working on Vacation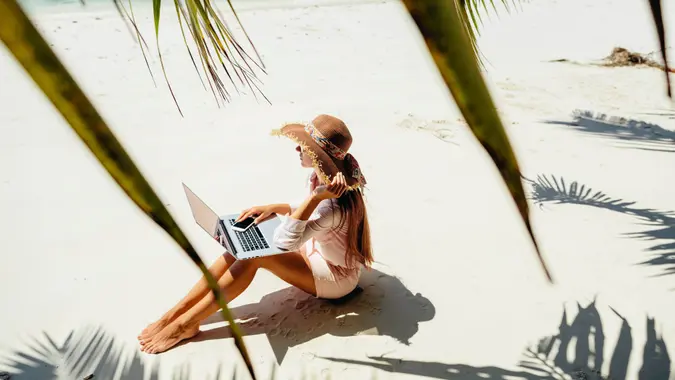 @86shon / Twenty20.com
Are you addicted to work? If you're like the typical American worker, you might be. A recent survey of over 1,000 U.S. workers conducted by MyPerfectResume found that 82% admit to working on vacation and nearly 90% said they check work messages and emails while on vacation.
See: Best (and Worst) States for Work-Life Balance
Read More: Nearly 10 Million Working Moms Are Burned Out, Thanks to COVID-19

Why Are We Working Through Our Time Off?
The survey also asked people why they felt the need to work during their vacation time, and 20% said they did it because they love their job while over a third (37%) said they wanted to be on top of things. This isn't inherently a bad thing, said Jen Pieniazek, a career expert at MyPerfectResume.
"Putting in a little work means lightening the load for yourself so you're not in over your head when you return and are still in 'vacation mode,'" she said. "If limits can be set and you really have to get back to someone or something — say a deal that's about to close — it can feel like a big relief to get it off your plate. Being able to check 'done' on a task can be good for your mental state so you can actually enjoy that sunset stroll on the beach."
Make Your Money Work Better for You
Find Out More: The Pros and Cons of Continuing To Work Remotely Post-Pandemic
Some employees may feel like they don't really have a choice — 66% reported that their boss contacted them to do work while they were out of office. Although some workers ignored this, 94% said that they did the work that was requested of them. The ironic part is that most workers said they would not subject their own teammates to this — 77% said they would feel guilty if they disturbed someone's vacation with a work issue.
See: What Are the Pros and Cons of Going on a Working Vacation?
Some Employees Actually Take Time Off To Work
It's one thing to be answering emails and doing the occasional work task while on vacation, but some employees are actually taking a day off with the intention of working through it. The survey found that 42% of Americans have taken vacation days specifically to do more work.
"When you're in the office, you're getting pinged, the clock is ticking and you feel the pressure of completing tasks as quickly as possible," Pieniazek said. "Rushing through tasks means quality can take a hit. When you work a bit on vacation, there's (usually) no, 'So, what's the status on X?' If you don't work best under pressure, working while on vacation means you'll probably produce higher quality work as you'll be more relaxed."
Make Your Money Work Better for You
Dream Job Alert: These 10 Companies Let You Work From Home AND Have Unlimited Vacation Time
The Drawbacks of Working Through Vacation
Although there may be some advantages of working on vacation, there are definite drawbacks to not going into full vacation mode during your time away from the office. Over half of the employees surveyed by MyPerfectResume — 51% — admitted that working during their time off had a negative impact on their lives. Thirty-nine percent said that missing time to relax and have fun was the main negative impact, 26% cited the added stress as a major drawback and 25% said the worst part of working on vacation was missing time with family. And then there's also the long-term effect on workers' mental health.
"There is a myriad of health benefits to unplugging," Pieniazek said. "If you're working, chances are you're experiencing a level of stress. This stress has damaging effects, such as loss of concentration, lack of sleep, increased agitation and even aggression if left unchecked."
Working through vacation may also make you less productive in the long run.
"Science has proven that taking a true break means we're even more productive when we come back to our tasks," Pieniazek said.
Make Your Money Work Better for You
Tips: How To Interview for a Job Over ZoomHelpful: 24 Tips To Change Your Career and Land Your Dream Job
Should You Work on Your Vacation?
If you have a vacation coming up, should you fully unplug for the long-term benefits? Or should you be responding to your boss' emails to stay on their good side?
"I'm definitely an advocate of switching off," Pieniazek said. "That said, I also know that if you're looking to develop and perhaps have your sights set on a promotion, putting in a little work during vacation may mean the difference between getting to the next rung on the ladder or not."
If you do decide to work on your vacation, take steps to ensure you don't spend more time going through your inbox or taking work calls than relaxing and getting in quality family time.
"If you feel you simply must do some work, set a timer and stick to the time limit," Pieniazek said. "You'll feel good knowing you did something for your future career development, and then you can get back to connecting with friends, family and yourself."
Make Your Money Work Better for You
More From GOBankingRates
Last updated: July 13, 2021