AI Hiring Filters Will Reject Your Resume if You Make These 3 Common Mistakes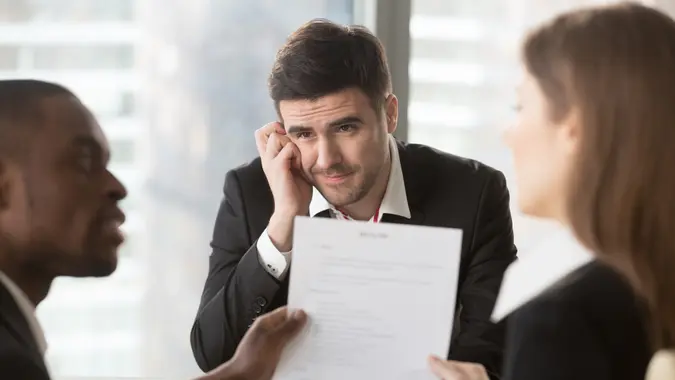 fizkes / Getty Images/iStockphoto
There's a good chance nobody will look at your resume when you apply for an online job posting. 
Make Money With AI and Chat GPT: How To Earn $1,000 a MonthSee: 3 Things You Must Do When Your Savings Reach $50,000
A 2019 study from job search services firm Preptel found that about three out of every four resumes are never seen by human eyes, CNBC reported. And in January, the Equal Employment Opportunity Commission estimated that 83% of all employers use automation to filter job applicants.
Experts call this the 'resume black hole,' where some resumes never see the light of day because they're filtered out before anyone can see them.
"The black hole exists pre-technology," Frida Polli, chief data science officer at talent recruiting platform Harver, explained to CNBC. "The resume black hole oftentimes just has to do with the fact that companies are, quite frankly, just ignoring certain pools of candidates. And that's been true for a long time."
AI applicant screening technology scans resumes and cover letters based on certain keywords. According to a 2021 Harvard Business School study, 88% of executives know their AI tools screen out qualified applicants, Business Insider reported, but use them anyway because they're cost-effective.
Make Your Money Work Better for You
This means that candidates need to optimize their resumes for AI hiring systems. CNBC says to avoid these three common mistakes to help your resume get seen by an actual person.
1. Using Non-Standard Resume Formats
Complicated resumes can confuse AI. If you stray too far from standard formats, it could end up in the rejection pile.
Amanda Augustine, a career expert at TopResume, told CNBC that jobseekers should avoid adding pictures and hyperlinks with caution. AI cannot interpret visual images and text with an attached link could be cut out. Also, you shouldn't use custom fonts or symbols. Use a default font and keep it consistent.
2. Thinking of AI as a Person
Don't expect AI to read between the lines. AI is trying to match keywords from the job description to your resume, so make sure you use those exact terms in your resume. For example, Amit Bhatia, the cofounder of recruiting analytics firm Datapeople, told CNBC that an engineer with a background in programming might think it's obvious that they have experience with JavaScript, but unless you add 'JavaScript' to your resume, AI could disqualify you.
Make Your Money Work Better for You
3. Not Writing for a Human
Don't write solely for machines. Once you pass the algorithm, your resume will eventually land on the desk of a real person. Experts agree that you should always assume that a human will ultimately read your application and resume, CNBC reported.
Take Our Poll: Do You Think AI Will Replace Your Job?Side Gig: Earn Up To $200/Hour With This Easy-To-Start Job, No College Degree Required
Navigating the resume black hole requires striking a balance between catering to AI screening systems and appealing to human reviewers. By following these strategies, you can increase your chances of your resume being seen by both AI and human eyes, maximizing your opportunities in the competitive job market.
More From GOBankingRates