At Least 40% of Workers Are Contemplating Quitting Their Jobs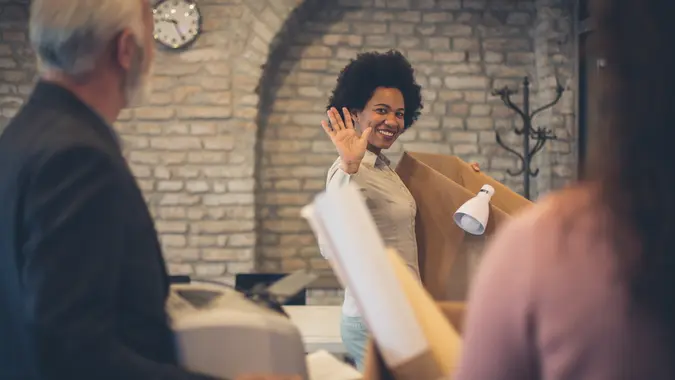 Mladen Zivkovic / Getty Images/iStockphoto
A Microsoft study from this month discovered that 41% of workers worldwide are considering quitting their jobs, with 54% of Gen Z, aged 18 to 25, saying they are contemplating the decision, the World Economic Forum reports.
See: Remote Workers Hired During the Pandemic Are More Likely Quit Jobs
Find: Are There Too Many Workers or Too Many Jobs? It Depends Which State You Call Home

Economists are calling it "the great resignation." According to a report from Axios, people are leaving their jobs for a variety of reasons, with experts such as Betsey Stevenson, economist at University of Michigan, saying that workers are deciding they want fewer hours with more flexibility.
Others are shifting careers to pursue their passion or to work in more stable industries. Hospitality workers have especially noticed the volatility in their fields and may be looking for more security. Other studies have shown that some employees want to leave their jobs because their employers aren't offering flexible work-from-home arrangements once offices open back up, according to Prudential Insurance's Pulse of the American Worker Survey. Prudential noted that 25% of American workers planned to look for a new job once the threats of the pandemic diminished, calling it a "war for talent."
Make Your Money Work Better for You
Related: Majority of Young White-Collar Workforce Sees Going Back to Office as Crucial to Career Success
That war could be starting now, leaving HR directors in a quandary to find highly qualified talent who fit their company culture and the company's needs for either on-site or remote employees. In most cases, employees want a hybrid model, the Prudential survey showed, with 86% of the 2,000 adults surveyed calling a hybrid workplace model — which entails splitting time between the office and remote work — "ideal."
Plentiful Jobs Mean Good News for American Workers
For employees looking for work, however, this "big churn" in American workplaces could mean good news. There are currently 9.3 million open jobs in the U.S., giving workers plenty to choose from.
Learn More: JOLTS Report Shows 9.3 Million Jobs Added As Quits Hit Record High

Employee standards are rising, as well. Not only do workers want flexible arrangements and remote work options, but they also want higher pay. The lowest wage workers without a college degree are willing to accept in 2021 is $61,483, representing an over $10,000 increase from 2020, according to a labor market survey by the New York Federal Reserve.
Make Your Money Work Better for You
Meanwhile, extended unemployment benefits, stimulus checks and increased savings are enabling workers to be more selective about the jobs they choose.
Learn: What Should Your Post-Pandemic Savings Strategy Be?

Tips for Leaving Your Job
If you're considering jumping ship on your current work situation, make sure you're prepared to face any possible storms, so to speak. Ensure you have enough savings — or other means of earning money through part-time gigs — in case you don't find the perfect position immediately. With the job market so abundant and employers competing for top talent, you don't want to have to settle.
If you plan to quit your job before you have another in place, make a plan to fill that resume gap with continuing education, travel, professional development, volunteer work or side gigs.
Get set to leave on a high note, before allowing burnout to set in. Give notice while you're still performing at your best, and make sure to ask for letters of reference from supervisors.
See: 11 Best Lucrative Side Hustle Ideas: Earn More
Find: 30 Odd Jobs That Pay Insanely Well
Make Your Money Work Better for You
Americans on a job search may have more choices than ever before, so it's a great opportunity to get clear on what you want to do and pursue that dream now.
More From GOBankingRates:
Last updated: June 14, 2021
Make Your Money Work Better for You