Best (and Worst) Questions To Ask During Your Next Job Interview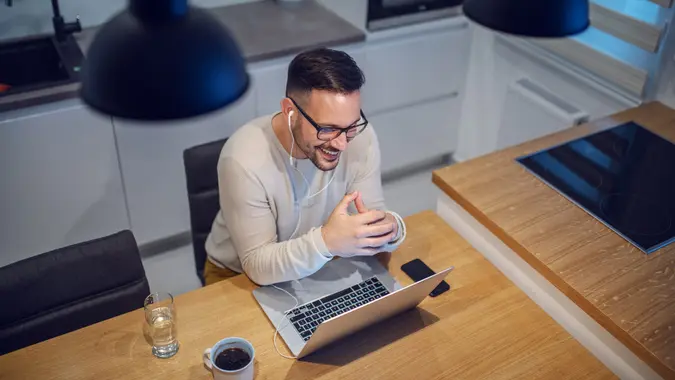 dusanpetkovic / Getty Images/iStockphoto
Job interviews are stressful. Between researching the company, picking the right outfit and getting to the building on time, there's a lot to worry about — and that doesn't even include the interview itself. Trying to come across as effortlessly brilliant while answering a potential employer's tricky questions is no easy task. So, it makes sense that you'd breathe a sigh of relief when the interview starts to wrap up.
Don't Miss: 20 Ways To Improve Your Chances of Getting a Job
Don't let your guard down just yet! You're still being tested. Before you go, you need to ask your interviewer some thoughtful questions to show that you're invested in the role. Here are the best questions to ask in an interview, as well as ones to avoid — unless, of course, you want to be added to the dreaded list of interview horror stories.
Make Your Money Work Better for You
Do Ask: What Is the Company's Culture Like?
One of the easiest questions to ask in a job interview is about the company's culture. Getting to know a potential work environment is important in determining if you'll be comfortable there and gauging expectations. If you're applying to a zany startup that serves beer and chicken wings every Friday and expects you to come on its annual trip to PJ's Petting Zoo, well, that would be good to know — especially if you're allergic to barnyard animals. If it's a more reserved workplace that values professionalism above all else, that's also worth knowing.
Read: How To Handle These Awkward (Maybe Even Illegal) Interview Questions
Don't Ask: How Soon Do People Get Promoted?
If you want to improve your chances of getting hired, asking how soon you're likely to get a raise isn't a good route. It projects a sense of entitlement that could be off-putting to an employer. A better job interview question to ask would be about the 30-, 60- and 90-day expectations for the role. If you receive this information upfront, you'll know whether you're meeting or exceeding the company's expectations after you've worked there for a while. You can then use that knowledge as a yardstick for any performance evaluations or promotion talks later on.
Make Your Money Work Better for You
Do Ask: Do Certain Personalities Succeed at the Company Over Others?
Some companies like extroverts or people who aren't afraid to speak up and brainstorm aloud. Others value introspective, studious folks who just want to keep their heads down and work. And, though most companies tend to be a mixture of personalities, it's worth finding out if a certain type tends to succeed over others. If you're an introverted person who likes your alone time, you might not want to work at a company that only promotes social butterflies.
Related: The Best Career Move for Your Personality Type
Don't Ask: What Will My Salary Be?
It's extremely important to negotiate your starting salary. However, that's not an appropriate question to ask an interviewer. You'll want to save the discussion about salary for later in the hiring process — like when an offer is being made — as that's usually when you'll do any negotiating. Plus, your interviewer might not actually know the answer. Talk about awkward.
Make Your Money Work Better for You
Find Out: The Biggest Salary Negotiation Mistakes You're Making
Do Ask: What Is Your Favorite Part About Working at the Company?
A good question to ask at the end of an interview is what your interviewer thinks of the company. By asking about their favorite aspect of working there, you'll get insight into the culture and demands of the job. If their favorite thing, for example, is the free LaCroix in the company fridge, that's probably a bad sign.
Don't Ask: How Did the Company Start?
You don't want to ask about the company's origin story, competitors, products or anything else that you could — and should — have already researched. You'll only come off as unprepared. In fact, you'll want to research ahead of time so that you're able to identify any strengths or weaknesses the company might have. By doing this, you'll be ready to talk about them should the interviewer ask.
More From GOBankingRates
Make Your Money Work Better for You