Dave Ramsey Lists the Top 5 Careers of Millionaires — They're Not What You'd Expect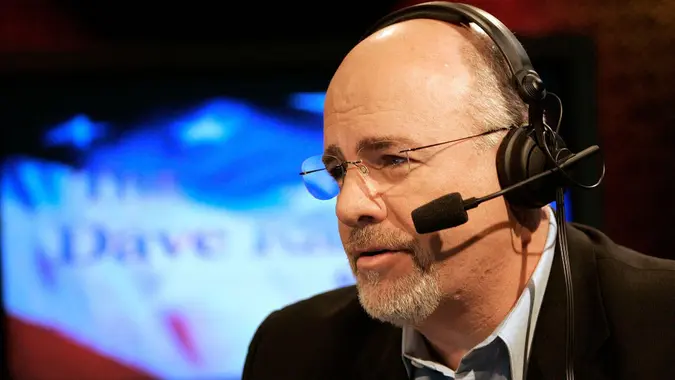 Mark Humphrey/AP/Shutterstock / Mark Humphrey/AP/Shutterstock
Dave Ramsey, a prominent figure in the realm of personal finance, is renowned for his mantra, "Debt is dumb, cash is king and the paid-off home mortgage has taken the place of the BMW as the status symbol of choice."
As a respected author, radio talk show host and motivational speaker, Ramsey champions pragmatic advice on money management, debt reduction and wealth-building, encouraging individuals to take control of their financial futures.
Recently, Ramsey conducted an extensive study involving 10,000 participants — the first ever study this size of millionaires. The undertaking aimed to unravel the secrets behind reaching the million-dollar milestone and unveil the top five careers embraced by millionaires. 
Keep reading to discover the five most prevalent careers among millionaires, and more results from the survey.
Survey Results: The Leading Careers of Millionaires
In the quest for financial security, understanding the pathways taken by the affluent is key. Surprisingly, the survey results challenge the notion that high-level, high-salary jobs are the primary route to wealth. Here are the top five careers for millionaires, and their median salaries (sourced from the Bureau of Labor Statistics):
Contrary to expectations, the survey revealed that only 15% of millionaires held high-level leadership roles.
This statistic underscores that the majority — 93% — accumulated their wealth through a combination of diligent effort and astute financial choices, rather than relying solely on substantial salaries.
Make Your Money Work Better for You
In fact, a mere 31% maintained an average income of $100,000 throughout their careers, with a significant one-third never reaching the six-figure mark. 
"We meet people of every possible story and demographic who have overcome barriers to build wealth," Dave Ramsey said in response to the survey results. "It turns out that math works for all of us — especially when you understand that your income is your most powerful wealth-building tool."
Shared Traits Among Millionaires
Amid the skepticism that many harbor about their potential to amass wealth, the statistics shed light on a different reality.
The majority of millionaires achieved their status through consistent investment practices, prudent spending habits and the avoidance of debt and risky financial endeavors. 
Embracing the 401(k)
Millionaires don't leave their money idly sitting in bank accounts.
The survey unveiled that 8 out of 10 millionaires invested in their company's 401(k) plans. Beyond these, 3 out of 4 participants ventured into investments outside their corporate plans.
Interestingly, the study found that 75% of millionaires attributed their success to regular, long-term investing, steering clear of the allure of single-stock investments. 
"You control your destiny with your behavior," Ramsey said. "Personal finance is 80% behavior and only 20% head knowledge. As I learn to control my money, I'm really learning to control myself. That's self-control." 
Self-Made Millionaires
This study underscores the fact that millionaires are predominantly self-made.
Surprisingly, 79% of millionaires did not inherit wealth from family members, while only a modest 21% received some form of inheritance. Even more striking, a mere 3% inherited more than $1 million.
Make Your Money Work Better for You
Intriguingly, 8 out of 10 millionaires come from families with middle-income or lower socioeconomic backgrounds. Only 2% could attribute their wealth to an upper-income family upbringing.
"I want to get people to the place where they believe they can actually do it (become a millionaire)," Ramsey said. "There are so many people in the marketplace who are hope-stealers saying it can't be done. But it can be done."
Most Graduated From Public Universities or State Schools
While you might assume that millionaires graduated from elite, ivy league schools, Ramsey's study displays that a prestigious degree does not guarantee millionaire status.
A noteworthy 62% of millionaires graduated from public state schools, while only a modest 8% attended prestigious private institutions. 
Education, however, remains a powerful tool. A striking 88% of millionaires graduated from college, far surpassing the 38% in the general population.
Impressively, over half (52%) of the millionaires in the study held master's or doctorate degrees, compared to just 13% of the general populace.
More From GOBankingRates