Do You Actually Need To Write a Cover Letter? Here's What 10 Recruiters Say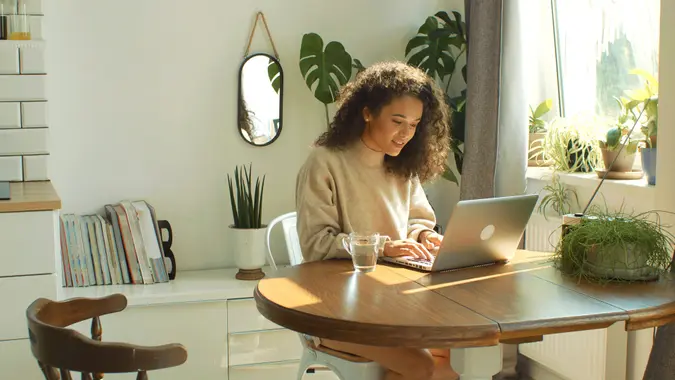 TheRabbitHolePictures / iStock.com
For job seekers, crafting cover letters is often a major pain point. They take a lot of time to write, and it can feel like your efforts were in vain if you don't end up even making it to the initial interview round.
Check Out: 22 Side Gigs That Can Make You Richer Than a Full-Time Job
See: Here's How Much Cash You Need Stashed If a National Emergency Happens
If you're currently on the job search, you may be wondering if you actually even need to write cover letters or if they are just a waste of time. To find out, GOBankingRates asked recruiters whether or not they believe cover letters are necessary.
Magnani believes that cover letters are not necessary if you are corresponding directly with a recruiter.
"When responding to a recruiter via a job board, a cover letter is generally not necessary and actually can be harmful if not done correctly," he said. "The purpose of the cover letter is essentially an executive summary of why you are a fit for the role and why you are interested in the specific role. Many applicants use a 'canned' cover letter for every job they apply to, and when it is not customized to the specific job, it can demonstrate a lack of diligence and hurt your candidacy. If you are submitting a resume directly via e-mail to a recruiter, it's more effective to use the e-mail text as the cover letter to describe your interest and your fit for the job, instead of including a cover letter."
Make Your Money Work Better for You
POLL: Do You Have a Side Gig or Other Hustle?
Houston sees cover letters as a way to differentiate your application from other candidates.
"When you only have one chance to make a first impression, cover letters are very important," she said. "A cover letter positions a candidate to showcase their personality, highlight relevant value and overcome any potential challenges. Cover letters may or may not get read, but it is always best to send one. Sending a cover letter might be the extra push to help a candidate outpace other candidates."
Zach Howard, Founder of SKLLD
As the founder of a recruitment firm, Howard knows firsthand what recruiters want — and he believes cover letters are important.
"I recently sat in on a panel of recruiters for top tech companies," he said. "One of them noted that recruiters spend an average of only seven seconds reviewing a resume. While that may seem like it makes cover letters less important, I argue that it increases the value of a cover letter. If a recruiter only spends seven seconds on your resume, writing a really strong cover letter gives you one more chance to make an impression with the recruiter before they move on to the next candidate."
Make Your Money Work Better for You
Claire Sofield, Owner and Managing Director of Four Recruitment
Sofield views cover letters as optional.
"Cover letters tend to be optional now and can be deemed unnecessary in certain situations," she said. "If you're using a recruitment agency and have a thorough resume/CV, you can probably do away with a cover letter. The profile at the top of your resume/CV should be used to convey the essential information, such as your key achievements and why you're suitable for the role."
Anastasiia Khlopova, IT Recruiter at Jooble
Although Khlopova also sees cover letters as optional, she does believe there are benefits to writing one.
"First, it is an excellent opportunity to describe your experience and achievements, and explain the value you can bring to the company," she said. "Also, you can show your interest in the company and explain why you consciously chose it. The cover letter significantly increases the chances for your resume to be answered, as it [demonstrates] your motivation."
Make Your Money Work Better for You
Farber said that many of his executive search firm's clients no longer require cover letters. He believes they can be beneficial in some scenarios, but that they are unnecessary for most job candidates.
"Thanks to technology, recruiters and hiring authorities can use a search engine and social media to gather additional information that a resume may not show," he said. "If there are two similarly qualified candidates and one takes the time to put together a thoughtful and personalized cover letter, I could see it benefiting that person. However, the scenario is rare. Hiring companies can get a feel for the candidate through a phone call, video call or in-person interview to determine the best fit for their team. Expressing the same message in a cover letter verbally with conviction can leave a stronger impression during the hiring process."
In general, Mangrum does not think cover letters are necessary.
"Cover letters aren't necessary unless specified in the job post," she said. "The majority of employers and recruiters I know, including myself, hardly consider them as deciding factors in the hiring process. A candidate's qualifications, skills and work experience are the most important factors when hiring — nothing that isn't part of a standard resume, hence the widespread irrelevance of cover letters."
However, there are some exceptions.
"In some instances, such as entry-level positions where most fresh grads' resumes look pretty similar, a cover letter might give you an edge," Mangrum said. "Still, there's no guarantee if it will make a difference. As a recruiter, I don't read cover letters I never asked for unless I'm in a rare situation where I've shortlisted two equally qualified candidates for a position and might need [something] to break the tie, such as a strong cover letter. If for some tricky staffing positions I've mandated a cover letter in the job ad, I skim through them due to the large amounts of applications we usually receive."
"Another instance where a cover letter could be deemed necessary is when you're switching industries or applying for a role not directly related to your previous one," she continued. "Explaining your career move and highlighting your relevance to the position you're applying to, such as any transferable skills, is a good idea."
Joe Coletta, Founder and CEO of 180 Engineering
Colletta, a recruiter with 20 years of experience, does think cover letters are necessary.
"Cover letters are still an important tool in your job application arsenal," he said. "While the resume highlights your qualifications, the cover letter gives you good real estate to tell your story and, in the process, connect with the recruiter/hiring manager. In your resume, you will list your responsibilities and achievements, but in your cover letter, you can go an extra step to tell your story about a project you were passionate about, the outcomes and how the skills you developed can help add value to your next job."
It can be especially useful in today's job market, he said. "In the wake of the pandemic, a cover letter can help you explain employment gaps, your values and priorities, and what makes you a standout professional that will meet your (future) employer's needs."
Gabriella Bailey, Senior Talent Partner at Move
Bailey sees cover letters as "somewhat outdated."
"I find hopping on a call and hearing firsthand about people's skills, experiences and motivations is much more inclusive and gives a better picture of a candidate's competency and how well they'd fit into a team/company," she said.
Jim Sullivan, CEO and Founder of JCSI
The recruiting agency CEO said that cover letters are necessary.
"A cover letter is still an important part of your resume as it can set you apart from other possible candidates, and it helps recruiters to look at you from a glance," Sullivan said. "This makes it easier to tell if they want to continue reading on into your resume. A cover letter also helps to put a personality to the candidate, as it is a quick summary of you and what makes you the right person for the job. It makes it easier for the employer to remember you, so put some thought and time into your cover letter, and always provide one."
More From GOBankingRates
Make Your Money Work Better for You