Does Unlimited Paid Time Off Really Mean Unlimited?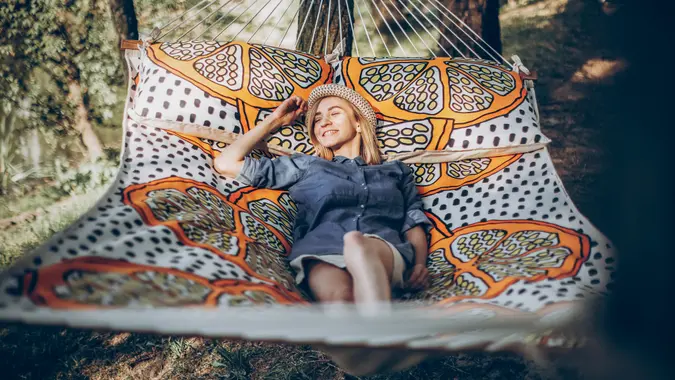 Bogdan Kurylo / Getty Images/iStockphoto
Unlimited paid time off can seem like an amazing job perk. Theoretically, it means you can take a one-month paid vacation to Europe or take a mental health day whenever you need one. But in practice, is unlimited paid time off really all that it seems?
Check Out: 11 Best Lucrative Side Hustle Ideas: Earn MoreSee: 22 Side Gigs That Can Make You Richer Than a Full-Time Job
GOBankingRates spoke to career experts about the pros and cons of this type of vacation policy, and whether there's actually an unspoken limit to "unlimited" PTO.
Consider: Should Employers Require Workers To Take Time Off?
Pros of an Unlimited Paid Time Off Policy
There are a number of advantages to having an unlimited paid time off policy, including flexibility and more time to pursue passions outside of work, said Joe Flanagan, senior career advisor at VelvetJobs. This, in turn, can benefit the employer as well.
"A happier employee is a more productive one," he said.
Plus, it promotes a better way to quantify how well an employee is working.
"With proper management, unlimited PTO shifts the focus from the time the employee is sitting in their office to the work the employee is actually able to accomplish," said Kate Conroy, a consultant at Red Clover, a strategic human resources and change management consulting firm.
Disadvantages of Unlimited PTO
The biggest disadvantage of an unlimited time-off policy is all the ambiguity it engenders.
"Employees can feel uncertain about when and how much PTO to take off if policies and procedures are unclear," said Kyle Elliott, career coach and founder of CaffeinateKyle.com. "This is often true at smaller organizations, as well as those that are newer to unlimited PTO. Additionally, some employees can feel [uncomfortable] using their PTO if leaders and colleagues are not also taking time off."
Make Your Money Work Better for You
On the flip side, some employees can feel too comfortable taking time off, putting an unfair burden on their teammates.
"If one employee takes too much time off, the other colleagues will be forced to cover for them, therefore creating a problem," Flanagan said. "If this continues unchecked by the employer, a possibility of certain sections being non-functional can occur."
Find Out: 6 Uncommon Job Benefits You Should Demand Right Now
Another disadvantage is that unlimited PTO does not accrue.
"The employee may lose compensation when it comes to accrued days —  inclusion of the days in a severance package cannot happen," Flanagan said. In addition, it can lead to loss of compensation for those who work at companies that pay out employees for any unused vacation days at the end of the year.
Depending on the company, another potential drawback is that you may be expected to work during your "time off."
"Bosses and other co-workers might feel tempted to email and text during vacation since they feel like they'll be able to take another vacation soon," said Branka Vuleta, founder of the recruitment platform LegalJobs.io. "It really does erase the boundaries sometimes, which can make [employees] burned out and tired, even while using their PTO."
Vuleta is fairly skeptical about unlimited PTO policies overall.
"The unlimited leave policy is more of an employer's trick to attract talent," she said. "For unlimited PTO to work properly, it has to be heavily regulated to ensure seamless workflow and productivity year-round. Leave should be tracked to ensure the business has enough employees, but to check as well that employees take equal vacation time."
Make Your Money Work Better for You
How Much Time Can You Actually Take Off?
If your company does offer unlimited paid time off, does this truly mean you can take off as much time as you want? According to Felicia Daniel, human resources manager at TINYpulse — which offers an unlimited PTO policy — it does.
"Unlimited PTO really means unlimited PTO," she said.
If you feel more comfortable trying to stay within a reasonable range of paid time off, Daniel recommends taking around four weeks off a year. However, you can go beyond that benchmark — within reason.
"Generally, annual paid leave ranges between 10 to 30 days per year," said Archie Payne, president at CalTek Staffing. "If employees take more than this, it is excessive and needs to be reigned in unless there is a good reason for more leave."
Beware of the signs that you could be taking too much time off.
"An employee could know if they're taking too much time off if they're not fulfilling their job responsibilities," Daniel said. "Our company culture hones in on autonomy, but that just means we are trusting in how, when [and] where you'll get your job done. If PTO is intruding or obstructing your responsibilities to the point where you can't finish or don't have time for projects, then it's pretty clear that your usage of PTO should be reviewed."
But this isn't usually the case. In fact, employees with unlimited PTO tend to take less time off than those with a traditional time-off policy.
Make Your Money Work Better for You
"According to a study done by Namely, an HR software company, employees under unlimited PTO take an average of 13 days off annually," Flanagan said. "This is two days less than the employees under the traditional PTO package."
More From GOBankingRates
Last updated: Sept. 24, 2021