Gen Z Doesn't Just Prefer Remote Work — New Study Shows They Won't Work Without It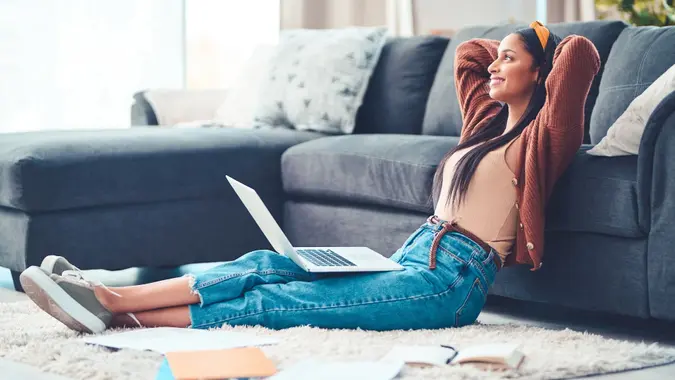 Moyo Studio / iStock.com
The youngest generation is looking at workplace environments in a new light. Growing up in the digital age is resulting in Gen Z having different workplace values than those that have come before them. Younger generations are appreciative of the flexibility and social opportunities that come from working remotely and are prioritizing fully remote and hybrid work opportunities.
The Future of Finances: Gen Z & How They Relate to Money
More: Will Student Loan Forgiveness Include Parent Plus Loans?
Read on to find out what percentage of Gen Z prefers — or mandates — working remotely, and what this generation's workplace priorities are.
Over Half of Gen Z Americans Want To Work Remotely
GOBankingRates recently conducted a survey of over 1,000 Americans to find out their opinion on remote work and work-from-home policies at their current or future employers. Of those who responded who were members of Generation Z, 29% would prefer to work remotely. Not far behind those who prefer to work remotely are the 27% of Gen Z who view working remotely as a necessity. In total, 56% of this generation wants or needs to work outside of a traditional office setting.
Make Your Money Work Better for You
Smaller portions of this generation do not have the interest or the option of working remotely. The survey revealed that 13% of Gen Z do not want to work remotely and 14% do not have a profession that allows them to work remotely. Some members of this generation are also looking for a middle ground, as 17% would prefer a hybrid model of working.
It's clear from the results that the majority of Gen Z is looking for remote work opportunities the way previous generations never had the opportunity to. Let's take a look at why this generation prefers remote work, and the best jobs for Gen Zers looking to work from home.
Live Richer Podcast: How To Get Rid of Your Student Loan Debt
Why Gen Z Prefers Remote Work
It doesn't come as a surprise to hiring managers that a high percentage of Gen Z prefers remote work. Here are a few of the reasons why this generation appreciates working from home so much.
Increased Earning Potential
"As someone who is actively involved in the hiring process for new workers at the company, I have witnessed that Gen Z candidates do prefer to work remotely," said Andrei Kurtuy, co-founder and CCO at Novorésumé, an online resume builder with over 5 million users worldwide. "I believe this trend is rising since it allows employees to work two jobs or have a side hustle to earn more money."
Make Your Money Work Better for You
More Diversity and New Perspectives
A remote workplace also opens doors to a more diverse and inclusive workplace, as you are able to work with people from all across the country and sometimes even the world.
"Young adults from Generation Z value belonging to a welcoming, diverse and equitable workplace and community," said Edward Mettet, director at WikiJob, a website job seekers use to share information about finance careers and companies. "Younger workers from Generation Z prefer an environment where they are respected and valued, and where their efforts are valued for more than simply their expertise. Compared to previous generations, those in Gen Z are more receptive to new information and perspectives."
A Healthy Work-Life Balance
This generation is also looking for a job that will allow them to maintain a healthy work-life balance. For members of Gen Z who are in college or just getting started establishing themselves in a new city, a remote job can allow them to be financially healthy without sacrificing their social lives. It also allows them more time to focus on school and relationships due to the lack of commuting and the flexibility to work from wherever they are.
Make Your Money Work Better for You
Boosts Independence
Working from home also means Gen Z gets the opportunity to keep themselves accountable and have more control over their own schedule.
"It doesn't surprise me that such a high percentage of Gen Z prefers remote work," said Daniel Cook, HR consultant at Mullen, a personal injury law firm in Texas. "Most Gen Zers thrive best in situations when they are left to discover things on their own and solve things with their own initiative. Thus, a remote work setting works perfectly for them because it helps preserve that individuality in the workplace, while also enabling the kind of collaboration that they're comfortable having."
The Best Jobs for Gen Zers Looking for Remote Work
Some industries and types of jobs are better catered to remote work than others.
"For all Gen Z people who want to work remotely, I would encourage you to apply to new startups since they prefer a hybrid mode of work," Kurtuy said. "Moreover, you can also look for online tutoring jobs since they offer flexible working hours. I have also encountered many such workers who are offering academic or college counseling online since it allows them to work during their free hours from the comfort of their homes."
In addition to looking for online tutoring and counseling jobs, Gen Zers can also find a plethora of remote-work opportunities in customer service, data entry, software development, social media and content writing.
More From GOBankingRates
Methodology: GOBankingRates surveyed 1,004 Americans aged 18 and older from across the country between July 21 and July 24, 2022, asking six different questions: (1) Where did you learn about personal finance?; (2) How much overall debt do you currently have? (Including student loan debt); (3) How much of your monthly income do you put towards rent/housing?; (4) What is your opinion on remote work/work-from-home policies at your current or future employer?; (5) Do you invest your money? If so, what do you invest in? Select all that apply; and (6) What minimum salary would you need to make to be happy? GOBankingRates used PureSpectrum's survey platform to conduct the poll.
Make Your Money Work Better for You