Gender Pay Equity Is More at Risk Than Ever During the Pandemic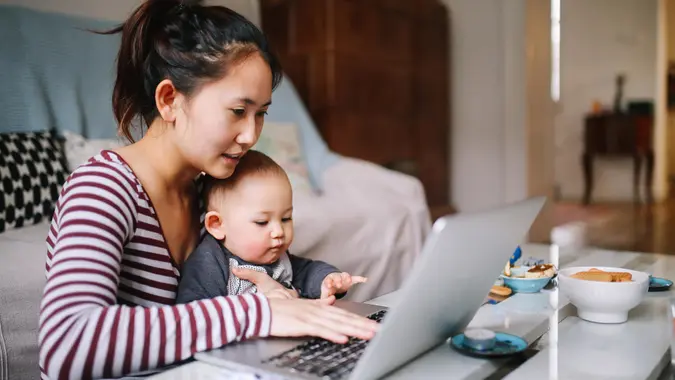 lechatnoir / Getty Images
Across the world and throughout the crisis, it was harder to be a woman during the pandemic than a man. According to a report from the United Nations Foundation, COVID-19 "is rapidly unraveling the limited, but precious, progress that the world has made toward gender equality in the past few decades."
Read: COVID-19 Has Totally Undone Decades of Progress for Women Workers
Even without the virus, the world would have entered Women's History Month 2021 with the dream of gender-based pay equity still exactly that — a dream. Then came COVID-19, which forced women out of work in greater percentages than men. Women were also more likely to have their hours reduced or pay cut and missed more opportunities to advance in their careers or earn more money. 
New Crisis, Age-Old Themes
Women in recent decades have entered the workforce in greater numbers, with more education and in more senior positions than at any time in history, according to the Center for American Progress. Even so, the average American woman earned 82 cents to her male counterpart's dollar even before the virus made things worse.
Make Your Money Work Better for You
See: Here's How Much Men vs. Women Earn at Every Age
The reasons are as old as the hills.
"Such a trend falls back into traditional gender fault lines between men and women," said Dr. Janet Ahn, chief behavior science officer at MindGym, a firm that applies psychology and behavioral science to workplace management. "Women traditionally take on more of the physical labor at home, e.g., house chores, childcare, groceries, etc., as well as the mental labor like taking care of tasks, to-dos, reminding partners of their tasks, etc. COVID increased the demand for both these types of labor since everyone is working from home."
Dr. Ahn discussed the phenomenon of "prescriptive" gender stereotypes, whose biases are so pervasive that they're willed into reality.
Find Out: The S&P 500's Top 10 Companies for Women
"What this means is women are assumed to be nurturing, helpful and communal," Ahn said. "These assumptions have implications for prescriptions where women are expected to be nurturing, helpful and communal. For these reasons, women tend to shoulder more of the physical and mental labor at home, ultimately hindering their advancement at work."
Make Your Money Work Better for You
Women Are Saddled With a Whole Bunch of 'More Likelies'
When searching for a reason why a crisis disproportionately affects a particular population, a common phrase emerges. According to the United Nations Foundation and the Harvard Business Review, women were "more likely" to be in vulnerable situations that were sure to make the experience harder.
More: Nearly 10 Million Working Moms Are Burned Out, Thanks to COVID-19
Compared to the larger population, women are: 
More likely to work in jobs that are informal, insecure and low-paying

More likely to work in industries that were hardest hit by COVID-19, like service and travel

More likely to experience wage discrimination

More likely to have fewer years experience in the workforce

More likely to shoulder the unpaid responsibilities of caring for children

More likely to serve as primary unpaid caregivers for parents or other elderly or disabled dependents

More likely to get pregnant — this one seems fairly obvious, but it's also incredibly important 
Read: A 'Staggering' 2.6 Million Women Have Left the Workforce Since the Pandemic Started
The Career Consequences of Pregnancy Vary by Location
Countries like Estonia, Lithuania, Hungary, Latvia, Bulgaria, Slovakia and the Czech Republic give new mothers more than an entire year of paid maternity leave at their full salaries, according to UNICEF. Countries like Denmark, Iceland, Japan, Portugal and many others also guarantee long periods of fully-paid family leave for fathers and almost-wholly subsidized child care.  
Make Your Money Work Better for You
The United States is the only country in the developed world that guarantees women nothing at all. Unless they qualify for the rare jobs with exceptional benefits, new mothers in America must choose between earning an income and recovering from childbirth and nurturing their infants in those crucial first weeks and months. This reality has forced painful choices on generations of working women in the U.S. But for many women who became mothers during COVID-19, the country's failure to enforce even the most modest income protections made balancing their careers and lives an impossibility. 
See: US Workers Rank Last in Benefits
Fewer Women Will Be on Top When Normalcy Returns
When the discussion shifts to things getting back to normal, it's important to remember what "normal" was before the virus. A 2018 New York Times report found that there are more men named John working as Fortune 500 CEOs, Republican senators and Democratic governors than there are women in any of those positions.
With that handicap already in place, COVID-19 forced even more talented women to leave work to do the things that women have been putting their lives on hold to do for time immemorial. That means the already small sliver of women at the tippy top is almost certain to shrink even more. 
More: What The First Year of The Pandemic Looked Like for The Working Mom
"It's hard to say the immediate effect of pay equity at the moment," Ahn said. "But what probably will happen is the gender gap at senior levels will widen. This is because if women cannot advance in their performance or are being forced out of work altogether, there will be fewer women in the pipeline to hire in the future."
More From GOBankingRates
Last updated: March 23, 2021
Make Your Money Work Better for You