12 Highest-Paying Retail Jobs for 2023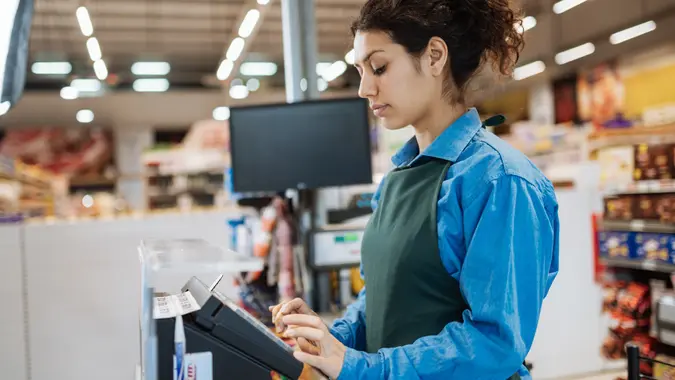 Drazen_ / iStock.com
The retail industry isn't just for teenagers looking to find after-school work. Today's retail employers know they need to offer competitive wages and benefits to entice their employees to stay. This makes finding your ideal retail job easier now than ever. 
Read: With a Recession Looming, Make These 3 Retirement Moves To Stay on Track
12 Highest-Paying Retail Jobs
Some retail positions are more worthwhile than others. These include positions that not only pay more, but are also with companies that offer better benefits and employee perks than other prospects. 
1. Apple Genius Bar
Average hourly rate for a Genius Bar employee: $25.09 per hour
Apple Genius Bar employees help customers with technical problems related to their Apple products. This is a complimentary service that the store provides. Due to the need for technical skills and knowledge, the store pays a competitive rate to Genius Bar workers.
2. Bergdorf Goodman
Average hourly rate for a sales position: $20 per hour
Make Your Money Work Better for You
Bergdorf Goodman is owned by the Neiman Marcus Group, which puts it on the higher end of retailers on this list. Not only do employees get paid a fair hourly wage, but all full-time workers receive health insurance and retirement benefits as well as paid time off.
3. Trader Joe's
Average hourly rate for a cashier: $16.50 per hour
This eclectic favorite of millennial shoppers offers more than just tasty treats. Employees are given competitive pay, a retirement plan, a store discount, health pay, paid time off and guaranteed promotions based on performance.
4. Costco
Average hourly rate for a cashier: $18 per hour
In addition to standard benefits, workers at Costco are given a free store membership for themselves and two more to give away to friends and family.
5. The Container Store
Average hourly rate for a retail sales associate: $17.32 per hour
At the Container Store, employees are offered standard benefits including medical, dental and vision. In addition to this, employees enjoy paid time off and generous store discounts. 
6. CVS
Average hourly rate for a cashier: $17.09 per hour
Make Your Money Work Better for You
CVS offers a fair wage and benefits, but the company is set apart by its offer of personalized and holistic well-being programs to improve and maintain health.
7. Best Buy
Average hourly rate for a cashier: $14.93 per hour
In addition to an employee discount, Best Buy offers incentive pay, assistance for employees, and disaster or personal hardship relief.
8. H-E-B 
Average hourly rate for a cashier: $15.40 per hour
This grocery chain's employees, known as partners, enjoy a 10% discount and opportunities for stock options and a 401(k).
9. Ulta
Average hourly rate for a sales position: $18 per hour
At this beauty supply chain, all full-time associates are given benefits plus paid time off and holiday pay.
10. Sam's Club
Average hourly rate for a cashier: $17 per hour
Sam's Club, a competitor to the highly ranked Costco, offers its employees insurance and paid time off — which is accrued based on service hours and your time working with the company.
Make Your Money Work Better for You
11. Macy's
Average hourly rate for a sales associate: $19 per hour
Macy's offers a unique benefit: it lets employees access their wages ahead of their payday. This is possible thanks to its partnership with Payactiv, employees can access up to 50% of what they've earned instantly.
12. Starbucks
Average hourly rate for a barista: $18 per hour
Starbucks is one of the highest paying on the list, and it's well-known for offering employees discounts, generous insurance plans and paths to further their education.
Can You Make Good Money in Retail? 
It is possible to make good money in retail. The key to earning a good salary is hard work, longevity with the same company, and making your way up from entry-level to managerial level. 
What Is the Best Retail Job To Work At? 
One retailer that is rated highest by employees is Costco. Costco pays a competitive wage — averaging around $18 per hour — and offers benefits like life insurance, disability insurance, a health savings account and mental health care.
Final Take
There are plenty of retail jobs out there willing to pay employees comfortable wages. So when you are choosing a new job, consider not only the wages but other offered benefits and perks to aid your work-life balance.
FAQ
Here are the answers to some of the most frequently asked questions regarding the highest-paying retail jobs.
What retail store pays the highest?

Positions at the Apple Genius Bar are some of the highest-paying retail jobs available today. The employees are technical support workers who help diagnose product issues and problem-solve for users.

Which retail store pays the most per hour?

Luxury retail stores pay the most per hour, and employees of these stores can also earn commissions. However, luxury retail workers have some of the highest work expenses. Employees are held to aesthetic standards which are often achieved with personal wardrobe and beauty expenses.
Data is accurate as of Feb. 23, 2023, and is subject to change.
Our in-house research team and on-site financial experts work together to create content that's accurate, impartial, and up to date. We fact-check every single statistic, quote and fact using trusted primary resources to make sure the information we provide is correct. You can learn more about GOBankingRates' processes and standards in our editorial policy.
Make Your Money Work Better for You