I Quit My Job and Started a Business: Here's How I Did It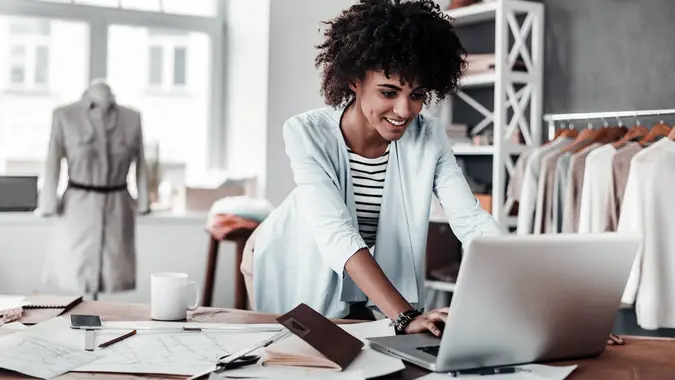 g-stockstudio / iStock.com
Many people dream of starting businesses. However, quitting a steady job is a risk most aren't willing — or able — to take.
Foraying into entrepreneurship isn't for everyone, but it can be monumentally rewarding for those who find success as their own bosses. GOBankingRates spoke with three entrepreneurs at the helm of thriving businesses.
Find out how they took the leap that landed them on top of their own company org chart.
Catharine Montgomery, Founder and CEO at Better Together
When she found herself facing derogatory treatment from a colleague in her previous position and management did nothing — the offender was retained and rewarded with a raise and a promotion — Catharine Montgomery found herself in a pivotal moment.
"Rather than accepting defeat, I made the decision to advocate for myself and my professional aspirations," said Montgomery, who is currently in the mid-stage of her career, with around 15 years of professional experience. "With courage and determination, I negotiated a favorable buyout agreement, which provided me with the financial means and motivation to launch my own social-impact-focused public relations agency."
Take Our Poll: Do You Think AI Will Replace Your Job?
She said her company, Better Together, has thrived, helping organizations and individuals who share her commitment to creating positive social change.
"As a Black woman in a leadership position, I recognize the significance of representation and the responsibility that comes with it," she said.
Make Your Money Work Better for You
Since starting her own company, she said she has become even more motivated to be part of meaningful change.
"Throughout my journey, I have learned the importance of resilience, self-advocacy and using my platform to uplift marginalized voices," she said. "These experiences have further fueled my determination to dismantle systemic barriers and create a more inclusive and equitable professional landscape."
Her company is flourishing now, but she said choosing to open her own business wasn't an easy decision.
"After leaving my job, I had the means and time to search for the next phase of my career that would be the most fulfilling," she said.
While scrolling through a Slack channel, she found a recruiter who was searching for founders an investor could partner with. "It was that particular moment that everything fell into place," she said.
As for what advice she would offer potential entrepreneurs, she said to embrace your passion and purpose.
"Before starting a business, take the time to explore your passions and identify a purpose that aligns with your values," she said. "Find a cause or a problem you genuinely care about and let it drive your entrepreneurial endeavors."
Additionally, she emphasized the importance of networking.
"Surround yourself with mentors, advisors and like-minded individuals who can provide guidance, support and different perspectives," she said. "Seek out networking opportunities and connect with fellow entrepreneurs who can share their experiences and insights."
Christophe Gauthron, CFA, Founder and CEO of Kwanti
At the mid-point of his career, Christophe Gauthron had developed sufficient experience and expertise in mathematical programming. He could have continued down a classic career trajectory to seek higher pay and flashier job titles, but he didn't.
Make Your Money Work Better for You
"One way to beat the mid-career malaise is to ask yourself, 'Is this all there is?' — and you begin to question everything," he said. "In my case, I decided that I was going to radically change my work domain and disrupt my life. The move was very experimental."
He decided to leave the startup where he had been working closely with the founders for more than 10 years.
"My co-workers were surprised that I wasn't switching to a competitor but rather to an entirely different domain with the goal of architecting and developing my own product from scratch, with no partner or investment," he said. "I don't blame them if they thought that I was dreaming."
After quitting his job, he spent a year designing and programming Kwanti, placing an emphasis on risk and simplifying portfolio analytics.
"I wasn't thinking about starting a company then," he said. "I was more focused on solving a real problem using new technology."
He offered several pieces of advice to potential entrepreneurs, including that your time is precious.
"You will often have to choose between your family, friends and your business," he said. "Be clear about your priorities from the start. I always put my family first, even if it meant that the business grew at a slower pace."
Additionally, he said to be mindful of whom you hire, consider failure an opportunity to grow and remember to take breaks throughout the day. He also said to expect everything to take twice as long as planned, no matter how much planning you do.
Make Your Money Work Better for You
Julia Shih, Founder of Body + Soul
An executive at a tech company, Julia Shih was making a really good salary running both the sales and marketing teams. In fact, she had even been honored as female executive of the year at the Stevie Awards for Women in Business.
"I was really hitting my stride and making a name for myself, but the long hours along with the endlessly grueling competitive landscape of the tech industry took a toll," she said. "I enjoyed the challenges, but often asked myself what I was actually doing to make the world a better place."
She said two things prompted her to change her career trajectory and start her own business — having a toddler at home while pulling 60- to 80-hour workweeks and chronic pain from a history of sports injuries. The pain she was in prompted her to start researching herbs and healing, which led her to develop a formula for a therapeutic massage cream, which is now called Miracle Sports Cream.
When she knew she was onto something, she laid the groundwork for Body + Soul — a vegan and chemical-free skincare company — while still employed.
"Starting your own business requires a lot of setup and capital; and, once you lose your primary source of income, the pressure to generate revenue increases exponentially," she said. "There was probably a six-month overlap where I was working my day job and setting up my business in my spare time."
After creating her business plan, securing a few angel investors and getting her company website up and running, she gave notice and left her job.
Because the path to success isn't linear, she wishes everyone thinking of taking the leap into entrepreneurship the best of luck on their endeavors.
Make Your Money Work Better for You
"Starting your own business is not for the lazy or faint of heart," she said, "but, if you are able to create a successful business, there is no greater achievement or reward."
More From GOBankingRates