Here's How Much Real Estate Agents Make: A Closer Look at the Industry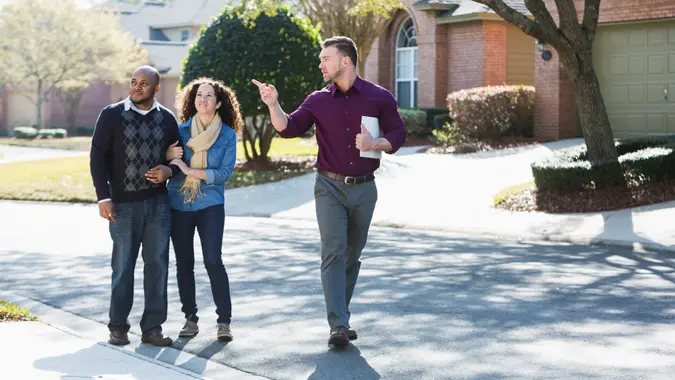 kali9 / Getty Images
Buying or selling a home is one of the biggest financial transactions that many people make in their entire lives. Real estate agents work with buyers and sellers during this process by getting their clients the best deal possible. A lot goes into the job, and there are many things to consider when determining how much real estate agents make.
How Do Real Estate Agents Make Their Money?
Most real estate agents work on commission and receive a set percentage of a home's total sale price upon completing the sale. Therefore, an agent's annual income can vary based on how many homes they sell. Market fluctuations and full-time vs. part-time hours affect income range, but there are additional key factors that impact how real estate agents make their money.
Negotiation Skills
Shrewd negotiation skills maximize the value of a sale for clients and set the real estate agent apart from their competitors. Furthermore, real estate negotiation skills take on a whole new meaning in understanding the emotional components of both sides during any deal. Effective communication and response is a real estate agent's craft when assessing their clients' motivations and those of the other side.  
Experience
Experience may be one of the best indicators of how much a real estate agent makes. Anyone can search home listings online, but an experienced, multiple license-renewed real estate agent will likely know more about local neighborhoods and building codes, making them more marketable to clients. 
Make Your Money Work Better for You
An experienced real estate agent shouldn't have any issues checking off all the small details and marks on a sale contract, which also maximizes the deal value and, therefore, their commission.
How Much Do Real Estate Agents Make?
This question covers a considerable range and therefore has a few different answers. As of May 2021, the U.S. Bureau of Labor Statistics estimates the average annual income for real estate agents is $61,480. That's $29.56 per hour, given a standard 2080-hour work year. However, most real estate agents have considerable control over their hours, and their dependence on commission leads to real estate agents having a wide spread of income.
Commissions generally vary from 5% to 6%, and the amount may be split among different parties depending on referral fees. The median price for home sales in the U.S. for 2021 was $346,900. That leaves real estate agents with $17,345 to $20,814 per home sale.
According to that same report from the U.S. Bureau of Labor Statistics, 10% of real estate agents made less than $28,270. The bottom 25% brought in $35,880 or less. The median income was $48,340.
Anyone who questions how real estate agents get rich should look at the upper percentiles of this report. The top 25% of real estate agents bring in at least $75,940 annually, while the highest 10% make $102,170 per year. 
Make Your Money Work Better for You
Top Level Real Estate Agent Earnings
The most lucrative real estate agents work in oil and gas extraction, with an average annual wage of $122,760.
Most people probably agree that location is critical in how much real estate agents make. The top states for real estate agents are:
 
| State | Annual Mean Wage |
| --- | --- |
| Massachusetts | $90,390 |
| New York | $81,020 |
| Wyoming | $80,580 |
Of course, agents must balance these increased income amounts with the costs of living and various state income taxes. While moving to a new location to increase their income isn't necessarily the right move for every real estate agent, it's a potential option on the table.
Is Being a Real Estate Agent Worth It?
Numbers don't lie, and these financial statistics certainly make the profession seem worthwhile. However, there are additional aspects to look at a little more closely.
Real estate agents may have a large earning potential, but market fluctuations can directly impact those earnings. Agents only make money when they sell houses, so any housing market crisis could see them out of a job. A prime example of this happened during the 2008 housing market crash, with over 10% of real estate agents losing their positions permanently.
Make Your Money Work Better for You
Additionally, upfront costs come with being a real estate agent, such as license and franchise fees, business and home office equipment, marketing material and travel. However, the IRS recognizes real estate agents as statutory nonemployees — or "self-employees" for tax purposes. Therefore, many, if not all, business expenses may be tax-deductible.
Commercial Real Estate
Agents may move toward commercial real estate, a division of industrial real estate, and land subdivision, which is dividing a sizable undeveloped lot into smaller lots for development. These real estate specialties come with a commission increase from standard real estate commissions.
Full-time commercial real estate agents average a higher income of $165,940. However, the increase in work-from-home arrangements has a significant impact on commercial real estate and could make the decision to enter the space a potentially risky one.
Broker
Someone who starts as a real estate agent has plenty of room for advancement. Some will become brokers themselves, managing other real estate agents and generally earning more based on their experience and seniority within the firm. As of May 2021, brokers have an average annual salary of $86,490. 
Final Take
A real estate agent career can be lucrative, but much depends on how much effort an agent is willing to put in. Adept and likely wealthy agents usually match certain skills and personality traits, leading to their success. Agents who do not communicate well, don't display a positive work ethic and fail to relate to their clients and those on the opposite side of the deal probably won't discover all their financial potential.
How Much Do They Make
Information is accurate as of May 19, 2022.
Our in-house research team and on-site financial experts work together to create content that's accurate, impartial, and up to date. We fact-check every single statistic, quote and fact using trusted primary resources to make sure the information we provide is correct. You can learn more about GOBankingRates' processes and standards in our editorial policy.
Make Your Money Work Better for You