How Return-to-Office Mandates Could Impact the Financial Job Market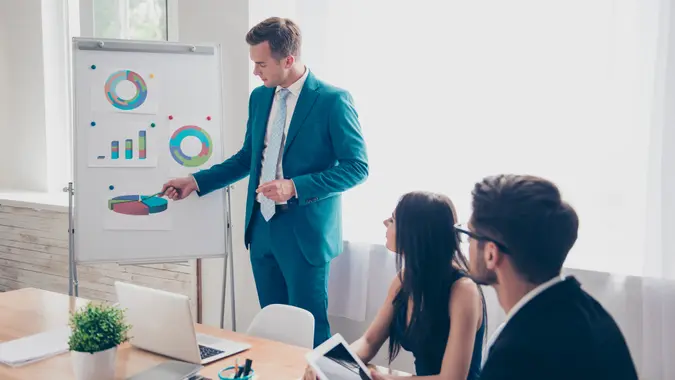 Roman Samborskyi / Shutterstock.com
The COVID-19 pandemic radically reshaped the way many of us work, with remote and hybrid arrangements quickly becoming the norm for many industries and professions.
Financial services, like most industries, was largely office-based, emphasizing face-to-face interaction with clients and coworkers. As the pandemic forced a shift to remote work, proving its viability, employees became accustomed to the lifestyle flexibility that remote work afforded.
Despite the popularity of remote work, many employers started pushing back against it as soon as city and state policies restricting in-person activities began loosening. Wall Street executives have been some of the most vocal in calling for a full return to office work — in fact, around 40% of financial professionals say they already are back in the office for four days a week or more, according to a Bloomberg Markets Live Pulse survey conducted between May 29 and June 2, 2023.
Many workers aren't happy about it, though — the survey also showed that only around 20% of financial professionals actually prefer working in the office, with more than half saying they preferred at least a hybrid workplace. It seems that return-to-office mandates will continue to run up against employees' reluctance to do so, which could have big implications for the financial job market.
Also see the highest-paying remote jobs.
Turnover Rates Could Get Even Higher
One of the most striking results of the MLIV survey was that roughly one out of two people who work in finance would look to change jobs if they were asked to spend more time in the office. Banking and finance already have one of the highest employee turnover rates of any industry — especially in specific fields like investment banking that are famous for being "burn and churn" environments where overworked employees don't stay for long.
Make Your Money Work Better for You
"If companies continue to push for return-to-office mandates, this will result in more open positions and higher employee turnover in the short term — which is something we've already begun to see with the influx of job openings and quit rates in finance," said Phillip Sprehe, an economist and labor market analyst at Geographic Solutions, Inc.
Sprehe noted that this trend could stabilize in the long term, if workers gradually begin to accept in-person work and start returning to in-office positions.
'Quiet Quitting' Could Spike
The phrase "quiet quitting" has become a popular way to label the phenomenon of an employee doing essentially the bare minimum to stay employed. This isn't a new concept — the phrase "work to rule" was coined to describe when unions and labor organizers use decreasing productivity as a group tactic — but quiet quitting generally refers to an individual's actions.
One of the reasons behind quiet quitting is that, for many, quitting is much easier said than done, especially in a tight job market. If workers who are dissatisfied with in-person work are unable to find new remote or hybrid positions, they may resort to doing less, either to fight burnout or as a subtle form of protest. 
"With return-to-office mandates, I see such a situation developing in the financial industry. This is because … return-to-work mandates will only serve to demoralize employees who, to be fair, were getting a good deal with hybrid work. While they will not necessarily quit and look for better jobs, they will stay, but productivity will be significantly reduced," said Young Pham, financial advisor and co-founder of BizReport.
Make Your Money Work Better for You
Could Return-to-Office Backfire?
In the short term, with low unemployment and a tight job market, workers may not have much choice about whether or not to return to in-office work. With Citigroup, Morgan Stanley, Goldman Sachs and others recently announcing layoffs, many workers may feel fortunate simply to have a job at all.
In the long term, competition between firms may force employers to rethink returning to the office. Remote employers currently enjoy a massive advantage in attracting and retaining talent. In addition, remote employers will potentially have far lower operating costs than their in-office competitors.
"Some firms … are designed to serve people virtually," said Jay Zigmont, Ph.D., CFP, and founder of Childfree Wealth. "With an infrastructure to serve clients virtually, employees can work from anywhere. Firms built this way will benefit from an influx of potential employees looking for remote work. Embracing remote work can save financial firms as they no longer need to cover salaries in high-cost-of-living areas."
More From GOBankingRates