How To Manage Overlapping and Conflicting Time Off Requests in the Workplace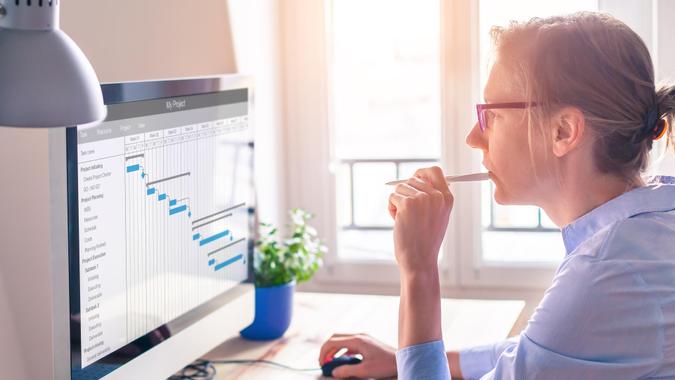 NicoElNino / iStock.com
Summer is always a popular time to travel, but summer 2021 could be even busier than usual. Many employees put travel plans on hold in 2020, which means that they'll be itching to use up their vacation days this year.
Share the Love: Don't Miss Out on Nominating Your Favorite Small Business To Be Featured on GOBankingRates — Ends May 31
"Employers are expecting to see a deluge of PTO requests this summer as travel destinations reopen and people feel more comfortable traveling," said Jessica Webb-Ayer, editor at XpertHR. "Additionally, since many workers have held off taking vacations during the pandemic, they are anxious to take time off now that the world is starting to get back to normal. However, the expected rise in PTO requests this summer may present an administrative nightmare for many managers and HR departments."
Discover: See the Full List of Money's Most Influential and More
If you are a manager or a member of your company's HR team, it's likely you'll be dealing with overlapping vacation requests this summer — and you'll likely have to deny some of those requests. Here's how to handle this scenario in a way that won't ruffle too many feathers.
Make Your Money Work Better for You
Implement a Clear Vacation Policy
If you don't have a set vacation policy, you're more likely to deal with conflict down the line.
"The best way to avoid vacation conflicts is to address it before the conflict ever exists with a detailed and clear vacation policy," said Robin White, managing partner at Guided Leadership Solutions, a small business coaching and consulting organization in San Diego. "It's important to detail the process by which vacation requests should be submitted, the deadline to submit requests and priority for approval (i.e. if approval will be given on first come first served or [based on] seniority). If the company follows their policy, it helps avoid ill feelings among those that may have their request denied."
Modern Money Etiquette: Should You Ask Coworkers About Salary?
The policy may also include details like the maximum number of days off in a row or the number of employees within the same team that can be off at the same time.
If you already have a vacation policy, it's a good idea to remind employees what it entails prior to busy vacation seasons.
Make Your Money Work Better for You
Read More: Jobs That Can Make You a Millionaire Before Retirement
"Only providing written policies during the employee onboarding process is a common mistake. Instead, employers should have policies readily available to employees and remind them of the details periodically," said Jesse Oakeson, general counsel and director of human resources at Helpside. "At the beginning of common vacation times (i.e. summer and Christmas), it is helpful to send a reminder to employees about time-off policies."
Encourage Discussion Among Employees
To avoid conflicting time off requests, encourage your employees to discuss their plans with teammates before formalizing any vacation plans.
Related: Should Employers Require Workers To Take Time Off?
"I recommend that all employees discuss when they would like to take time off, develop some schedule within teams and create a rotating time off plan," said Ewelina Melon, head of people and culture at Tidio. "Each team member has their own vacation preferences, and usually, it is much easier for colleagues to set up a team time-off calendar."
Make Your Money Work Better for You
Discuss Time Off Plans During One-on-One Meetings
If you have weekly, bi-weekly or monthly check-ins with your team, you should discuss any tentative upcoming vacation plans to head off any issues before requests are made.
Read: What It's Like To Job Hunt During a Pandemic
"I make it a point to discuss scheduling issues with my team during my monthly one-on-ones," Oakeson said. "That helps me identify potential scheduling issues on a regular basis."
Be Transparent About Reasons for Denying a Request
Deciding to deny a time off request is not always an easy decision, and when you do, you should be prepared to explain the reasons behind your decision.
Find Out: Companies That Let You Work From Anywhere
"If that situation appears, I would transparently and openly discuss the concrete reason why I rejected their request," Melon said. "Honest and transparent dialogue is the key to agreement, and I believe it can solve many difficult situations. It is also crucial to propose to the employee different days when their request can be readily accepted."
More from GOBankingRates
Make Your Money Work Better for You