I Quit My 9-To-5 To Work on a Cruise Ship: Here's How Much Money I Make Now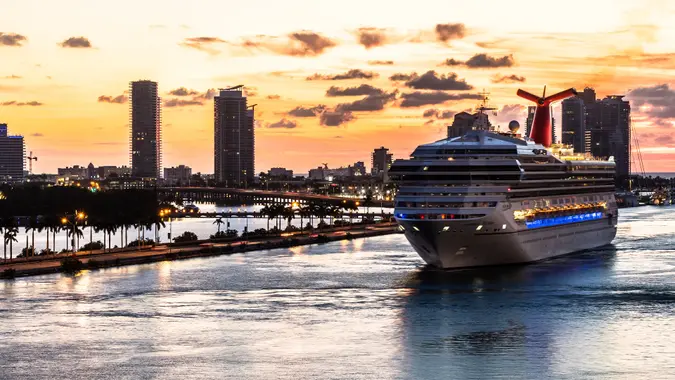 Debbie Ann Powell / iStock.com
If you've ever been on a cruise vacation, you might wonder what it would be like to live on the high seas. It's entirely possible and may even be more affordable than living and working on land. According to ITFSeafarers.com, roughly 200,000 people currently work on cruise ships, while countless others live there while working remotely or have chosen to spend their retirement on the water.
Retiring on a Cruise Ship
It's not as unusual as you might think to reside on cruise ships during retirement, especially once you run the numbers.
For instance, Angelyn and Richard Burk told Reader's Digest they've been living on cruise ships since May 2021, when they decided to leave mortgage payments and jobs behind to retire in freedom.
They usually plan cruises back-to-back, but if there is a gap in their cruise bookings they might visit family or friends on land. The couple revealed that they pay roughly $32,485 annually for their transportation, lodging and food.
This is less than any of the cheapest places to retire, according to a GOBankingRates post spotlighting where you can retire for under $50,000. In Detroit, for instance, you can retire for $33,356, which is roughly the same as living on a cruise ship.
Working Remotely from a Cruise Ship
At the high-end of the scale sit people like Austin Wells, who is 28 and leased an apartment on the MV Narrative, a cruise ship designed for residential living. Wells paid $300,000 for a 12-year lease, which equals just over $2,000 per month, for a 237-square-foot cabin, as reported by CNBC.
Make Your Money Work Better for You
Wells can also pay all-inclusive living fees of $2,100 for food, drinks, laundry, fitness classes, and medical check-ups. With the cost of healthcare today, this might seem like a bargain for many people. Wells, a San Diego resident, told CNBC that he plans to continue working at Meta's augmented and virtual reality division remotely, mostly keeping West Coast business hours and some early mornings.
Working as a Cruise Ship Employee
Then, there are some people who can't take their job with them but still have a desire to see the world. Kailey Milhorn formerly worked at a day care center and then came home after her exhausting job to teach English to kids in China online.
"This meant getting up at 4:30 in the morning due to the time difference," she told Business Insider. "After that I'd head to my second job at my local day care, then come home and teach again at night. Although I was making a good $4,000 a month between the two jobs, it was rough and I knew I needed something different."
As a cruise-ship member for Royal Caribbean, Milhorn currently works as a youth staff member, although she has also bartended at times.
While a general cruise ship employee earns $49,005 per year, according to Ziprecruiter.com, a youth staff member earns an average of $56,060 per year. At $4,671 per month, that's more than Milhorn earned as a day care worker and online teacher.
Make Your Money Work Better for You
Since Milhorn has a psychology degree, she could earn at the top end of the salary range for youth staff members, which Ziprecruiter.com pegs ta $83,000.
Plus, there are the fringe benefits. Most cruise staff members do not have to pay room and board while they are working, as well as food and utilities, according to Indeed.com.
And, of course, there's the opportunity to see the world. "Sometimes we get to join the guest tours, which allows us to do the excursion for free," Milhorn told Business Insider.
If you think a cruise life might be for you, consider what jobs onboard you might be best suited for. Whether you are a chef, a daycare provider, a bartender, an entertainer, or even a medical professional, there might be a position available.
More From GOBankingRates