Hit the Jackpot With These Jobs That Can Make You Rich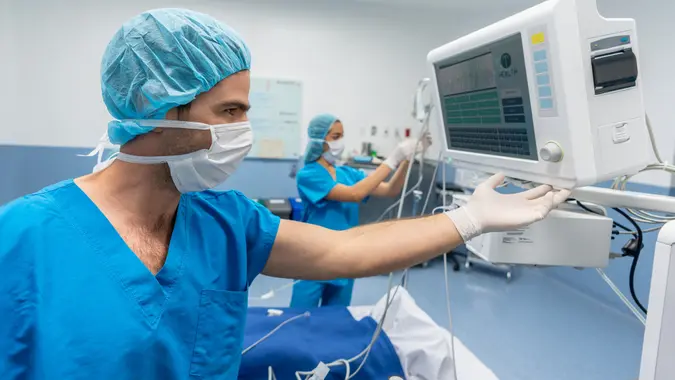 andresr / Getty Images
If you're torn between pursuing a career that makes you rich and one that makes the world a better place, the good news is that you don't have to choose — as long as you don't mind working in a hospital.
According to the Bureau of Labor Statistics (BLS), medical professionals hold 19 of the 20 jobs with the highest-paying median annual salaries.
The field of medicine can make you rich in more ways than all the rest, but other industries also have opportunities for job hunters who care most about dollar signs. The following list of jobs that make you rich contains a few of the big-money careers in medicine as well as some in other industries that are farther down the pay spectrum, but that still can make you wealthy. 
Cardiologist
 Average annual salary: $353,970
The field of medicine holds more positions with median salaries in the $200,000s and $300,000s than any other, and cardiologists have the most lucrative job of them all. If you're considering becoming a doctor who specializes in the heart and blood vessels, you should know that they tend to make the most money in outpatient centers, where they earn a median annual salary of $366,520. Cardiologists can expect to earn the most in Texas, Washington, New Mexico, Maryland, New Hampshire and Alabama. 
Anesthesiologist
Average annual salary: $331,190
Anesthesiologists make nearly as much as cardiologists — almost $350,000 — when they work in physicians' offices. They earn the highest salaries in Wisconsin, Alabama, Florida, West Virginia, Washington, D.C., Pennsylvania and Massachusetts, where the average annual salary is roughly $345,000-$364,000. Anesthesiologists perform the crucial work of managing pain before, during and after surgery by administering anesthetics and analgesics, monitoring patients and keeping them safe. 
Make Your Money Work Better for You
Oral and Maxillofacial Surgeons
Average annual salary: $311,460
The vast majority of oral surgeons work in dentist's offices, and if you're considering this field, that's where you should follow the herd — they earn an average of $331,210 there, more than in any other setting. They earn much less everywhere else, including outpatient care centers, general medicine and surgical hospitals, and especially colleges, universities and professional schools, where the average annual salary is just $64,440. 
Psychiatrist
Average annual salary: $249,760
Psychiatrists are medical doctors who specialize in mental health treatment and can prescribe medication. People sometimes incorrectly use their job title interchangeably with that of psychologists, but while psychologists do hold doctoral degrees, they do not attend medical school and are not medical doctors. Psychologists earn a good but not exactly rich median salary of a little more than $81,000 a year. Good psychiatrists, on the other hand, can get very wealthy — especially when they work in outpatient care centers, which pay them an average of nearly $300,000. They do particularly well on the West Coast, the Northeast and in Missouri, Minnesota, Indiana and West Virginia, where the average annual salary tops out at just under $325,000.  
Chief Executive Officer
Average annual salary: $213,020
While it's good to be CEO, nearly two dozen jobs pay more than the position of chief executive officer, all of which are in medicine. The position pays more than the average implies because BLS includes lower-paying chief executive roles in schools and governments. When CEOs lead companies and enterprises, which most do, the average annual salary is more like $290,000.  
Airline Pilot, Co-Pilot or Flight Engineer
Average annual salary: $198,190
It's important to separate this category of aviation professionals from lower-paid commercial pilots, who make just shy of six figures. The median pay for airline pilots, co-pilots and flight engineers is more than $200,000, which is higher than the average, and they average a little more than $200,000 when they work in the scheduled air transportation segment. But they earn the highest salaries of all — more than $277,000, on average — when they fly for couriers and express delivery services. 
Make Your Money Work Better for You
Computer and Information Systems Managers
Average annual salary: $162,930
Computer and information systems managers earn much higher than average — more than $220,000 a year — when they work in one of the nearly 20 fields that the BLS classifies as "other information services." Those fields include management, architecture and engineering, protective service operations, legal occupations and business and financial operations. They also earn more than $200,000 in computer and peripheral equipment manufacturing.
More From GOBankingRates
All salary data comes from BLS.