Retired but Want To Work? Try These 5 Outdoorsy Jobs for Seniors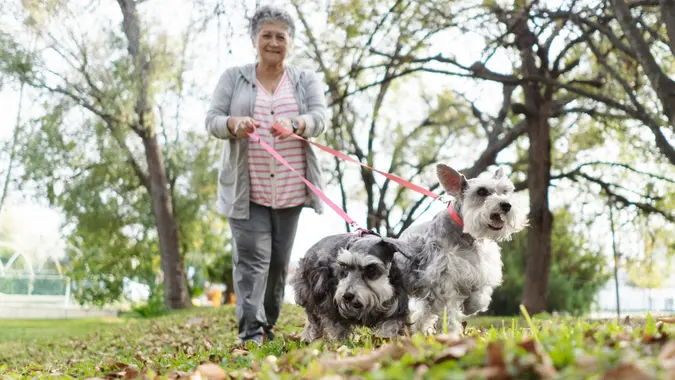 aldomurillo / iStock.com
Even though you're retired, you may still want to stay active and have an income stream for extra funds. If you enjoy being outdoors, there are many jobs available for seniors that will pay you while letting you spend time outside.
It's important to find hobbies for when you retire to have something to look forward to, since you don't have a steady schedule anymore. This is why many seniors will look for new types of work they couldn't try when they were committed to their full-time jobs.
If you're retired and want to work, here outdoorsy jobs you can try.
Walking Dogs
If you love pets and want to spend more time outside, you can offer dog walking services in local groups or join an app like Rover or Wag. You'll get paid to go for strolls with dogs in your community.
This is the perfect opportunity to get some steps in while making some extra money. And if you want to expand your money-making efforts inside, you can also offer pet-sitting services.
Become a Tour Guide for Seniors
"I take people for strolls along local rivers, and I have to slow them down to notice the Canada Geese training their babies to swim in the river, because too many people are looking at their feet," expressed Vickie Micallef, a tour guide for seniors.
Make Your Money Work Better for You
Micallef started a tour business based on taking seniors on adventures and having them step outside their comfort zones. After turning 70, she realized there weren't many activities for retired folks who still wanted to embrace their sense of adventure. So she decided to fill this gap by taking folks on unique experiences by starting an Airbnb Experience.
"Look up and see how the trees support each other, and listen to nature, because it has lessons for all of us," commented Micallef, who has created a new bucket list for activities she wants to do in her 70s. If you want to stay active, you should look into starting a touring service for seniors. You could even become a tour guide in general if you want to keep yourself busy.
What Kind of Tour Service Can You Offer?
A walking tour for seniors
Adventures and activities for those who still want to challenge themselves
A food tour
A tour specific to an activity that you're passionate about
Where Can You Offer Your Services?
Airbnb Experiences
Create a social media page
Join local groups
Start your own website
Find work with an established tour company
If you want to be outdoorsy, you can find some work as a tour guide for other seniors in a similar boat. That walking tour could help you bring in some extra money while making new friends from around the world.
Offer Outdoor Fitness Classes
Throughout the last few years, walking by a popular park and seeing a group of seniors exercising hasn't been uncommon. Outdoor fitness classes are gaining popularity, and if you're still fit, you could run your own class.
Make Your Money Work Better for You
Here are some examples of outdoor fitness classes that you can run:
Yoga classes
Aerobic fitness
Walking groups
Jogging groups
The best part is that you'll make money while keeping yourself fit and strong. You can start your own class, or you can join an established gym where you can get hired as a personal trainer. If you don't have the qualifications, you can invest a small amount into a personal training course and get started within a few weeks.
Handyperson
Are you considered the handy one in the family? Are you looking for projects that would keep you busy and let you spend time outdoors? You could offer your services on a platform like TaskRabbit, where you could find freelance projects that involve you completing odd jobs outdoors, depending on where you live.
Here are some examples of tasks that you can complete:
Yardwork and gardening services
Installing holiday decorations
Waiting in line for someone
Building a deck
Fixing the shed
The best part of using a platform like this in the gig economy is that you can pick and choose your projects so that you don't have to take on set hours. You could choose projects that interest you so that you're creatively fulfilled while increasing your income.
Photographer
If you want to embrace your creative side, you can pick up photography as an outdoorsy job for seniors. You can make money as a photographer and spend time outdoors in numerous ways.
Here are different ways you can make money as a photographer:
Start a photography blog
License your photos
Become an event photographer
Enter photo contests
Make Your Money Work Better for You
There are also niche jobs within photography, like taking pictures of planes that you can sell to airlines. Either way, you can spend time outdoors and get paid for it while mastering a new skill.
Closing Thoughts
There are various options for seniors looking to make some money in retirement while being outdoors. You could also look into traditional jobs like working in an outdoor retail store, becoming an event co-coordinator or offering outdoor landscaping services. The good news is that you can embrace your outdoorsy side while creating a new income stream for yourself.
More From GOBankingRates