'Productivity Paranoia': What You Need To Know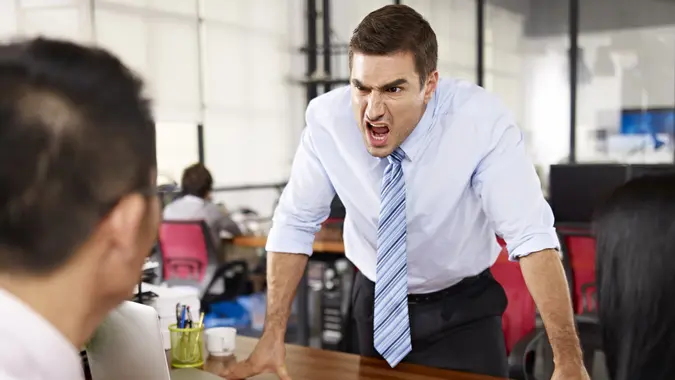 imtmphoto / Shutterstock.com
This year has ushered in a boatload of buzzwords, including "quiet quitting" and "quiet firing." Now, there's a new work-related piece of jargon trending: productivity paranoia. 
See Our List: 100 Most Influential Money Experts
Read More: This Credit Score Mistake Could Be Costing Millions of Americans
Coined in a new Microsoft report on workplace trends, productivity paranoia refers to a boss's obsessive suspicion that their employees are not working as efficiently as they should be because they are working out of the office, where managers can't observe them in person. 
Hybrid work and remote work are the key issues driving productivity paranoia, but what are the repercussions of productivity paranoia and how can bosses get over it? 
GOBankingRates consulted workplace experts to find out. 
Productivity Paranoia Is Wholly Unproductive 
"Managers need to know that employees have fully embraced flexible work and have prioritized a work/life balance over everything else," said Emma Salveson, a founder of HR and management company, The Hub Events. "This means that hybrid work is here to stay and that a new type of management is needed. If you focus entirely on employees looking productive, you can soon come up against productivity theater. This is where workers feel like they have to constantly look busy. This can be as simple as wiggling the mouse every so often to ensure all their active icons are green. In the end, this productivity arms race becomes entirely unproductive."
Make Your Money Work Better for You
Employees Could Get 'Tracked' 
"Employees need to know that if managers don't believe they are being productive, then it is highly likely they will install some form of tracking software to keep an eye on their employees," Salveson said. "It is often difficult to strike a good work/life balance whilst working from home. So, it is critical that employees simply do the work they intended to do during their contracted hours and not give a second thought to the tracking software. At the end of the day, your work should speak for itself."
Paranoia Among Management Could Lead to Employees Quitting 
"As an employer, be mindful that you're going to lose talented and highly productive staff if you are falling into productivity paranoia," said Dr. Yasmene Mumby, sustainable leadership expert and the founder and principal of The Ringgold. "Whether on sight or virtually, you'll never fully know exactly what your employees are doing 100% of the time. It's important to trust the people that you've hired to do their roles. The majority of employees do not want to be monitored or work for managers who are overly controlling or micromanaging."
Make Your Money Work Better for You
Take Our Poll: Do You Have an Emergency Fund Established?
Some Bosses Suffer From It Even Though They Know It Is 'Nonsense' 
"I understand [productivity paranoia] because even though I know it's nonsense (I trust my staff and we're more productive than ever) I still suffer from it," said Richard J. Brandenstein, attorney and law partner at Fusco, Brand & Rada, P.C. "Probably because I'm of a generation where 'work' and 'home' in the same sentence simply does not compute. It's a pretty widely held belief amongst management, especially older senior management figures, but it's called paranoia for a reason. Across the country, the facts just don't bear it out; in fact, people are working arguably harder now than ever before due to staff shortages." 
The Solution Lies in Striking a Balance 
"Ultimately, the key to dealing with productivity paranoia lies in finding the right balance between efficiency and creativity, and ensuring that everyone involved feels supported and motivated to succeed," said Linda Shaffer, chief people and operations officer (CPOO) at Checkr. "It's also important for employers to be clear about their expectations and goals when it comes to productivity, and to provide the necessary resources and support to help their employees meet these expectations.
Make Your Money Work Better for You
By taking a holistic approach to productivity and fostering an environment of collaboration and creativity, we can overcome the challenges posed by productivity paranoia and continue to thrive in today's fast-paced world."
Bosses Also Need To Be More Trusting 
"Bosses should consider how they can develop a more trusting, engaging mindset rather than being paranoid about their perceptions of employees' productivity and time," Mumby said. "I'd challenge leaders to reevaluate and consider this: Would you rather worry about your perception of an employee's productivity by over-monitoring their work, or would you rather just trust that they are being productive because they are producing high-quality work (no matter how much time it takes or doesn't take)?"
More From GOBankingRates
Make Your Money Work Better for You