5 Remote Jobs That Are Dying, According to Career and Workplace Experts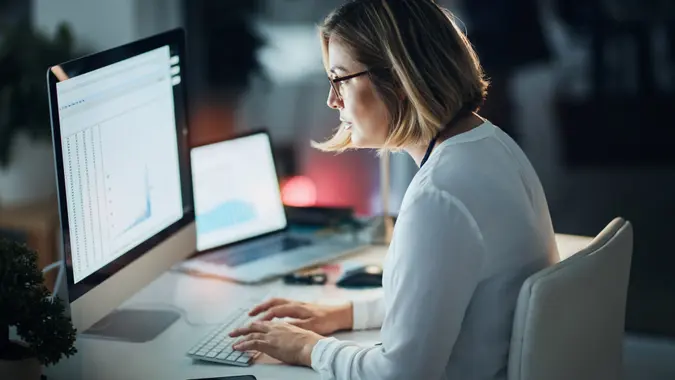 laflor / Getty Images
Did you know 90% of companies plan to implement return-to-office policies by the end of 2024? This data collected by ResumeBuilder suggests a drastic decline in remote work in just a little more than a year.
As more businesses issue return-to-office mandates, certain remote jobs that thrived during the COVID-19 pandemic are becoming harder to find. GOBankingRates talked to a few career experts about remote roles experiencing fewer job postings and why they're becoming less in demand with employers.
Here are the five remote jobs that are dying, according to career and workplace experts.
Data Entry
Travis Lindemoen, founder of Enjoy Mondays, has noticed a declining trend in remote jobs available for data entry.
The reason, however, doesn't necessarily correlate with moving employees back into the office. Rather, it reflects the rise of AI. Lindemoen said AI and chatbots are automating more data entry tasks and have the capability to handle routine tasks more efficiently.
Customer Support
Another remote role fading out is the customer support position. Much like data entry roles, these traditional administrative jobs are increasingly seeing tasks automated through use of AI and chatbots. 
Automating customer support inquiries, Lindemoen said, allows businesses to shift their focus toward roles that require a higher level of creativity, critical thinking and collaboration, all of which are harder to automate.
Make Your Money Work Better for You
Telemarketers 
Telemarketing remote jobs are starting to disappear, said Nathan Brunner, CEO of the employment job board Salarship. 
One reason why these roles are declining, according to Brunner, is because the FTC is cracking down on illegal telemarketing calls with Operation Stop Spam Calls. 
Sales
To be clear, sales as a position is not necessarily dying out. Rather, Marc Cenedella, career expert and founder of Ladders, said sales positions are moving out of remote and back to in-person or becoming hybrid roles.
Human Resources
Companies that made human resources positions remote amid the COVID-19 pandemic are bringing these roles back into the office again.
"Human resources benefit from face-to-face interaction," said Cenedella. "It's likely companies see value in bringing these workers back to the office, at least part-time."
More From GOBankingRates