Second Jobs Are Becoming More Popular — Here's How To Pull Off This Juggling Act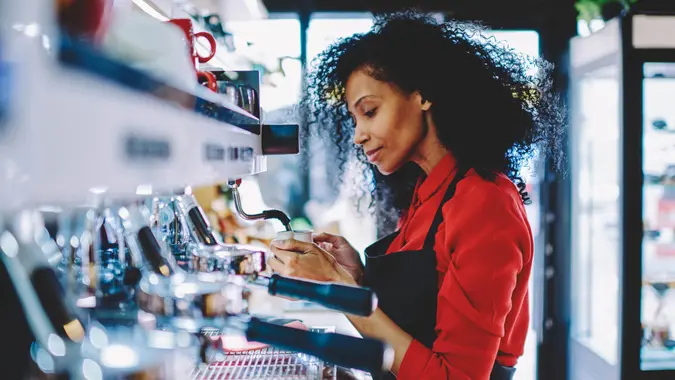 GaudiLab / Getty Images/iStockphoto
By day Cristina Moraru is a digital marketing strategist. By night and on weekends, she works as a waitress in a French restaurant. With the two jobs combined, she's been able to build up enough savings to purchase property and plan vacations. Not only does the side hustle help her earn more, it helps her to spend less. 
What Do You Think? Should Employers Require Workers To Take Time Off?
Make It a Goal: How To Achieve Better Work-Life Balance in 2021
"I'm working so many hours I don't have time to waste my money so each free time became more valued and appreciated," Moraru said. 
Vicki Salemi, career expert at Monster, points out that if you're thinking about a side hustle, you're not alone — in fact you're in the majority. 
"According to Monster poll data from last November, the overwhelming majority of workers (92%) agree that now is the right time to look into gig jobs," Salemi told GOBankingRates. "More than half (57%) are most interested in the gig economy in between jobs to hone skills and keep cash flowing. Over one-quarter (26%) preferred to pursue a side hustle after they're settled into a full-time job."
Make Your Money Work Better for You
Read: Are America's Stingy Leave Policies Leading To Burnout? 
The overwhelming job loss triggered by the pandemic is largely what drove people to seek out gigs in 2020, and though the job market has significantly recovered — with many businesses now struggling to recruit and retain talent — the pandemic hasn't died out, and the era of the side hustle looks poised to continue.
According to Jobvite's 2021 Job Seeker Nation Report, 53% of workers have or plan to have a second gig, compared to 36% surveyed in February 2020. More than half said the primary reason for a second source of income was the need for more money, while 22% saying a side gig was an opportunity to pursue a passion project.
Related: The Best and Worst Things About Working From Home
What are the pros and cons of working a second job? Salemi laid them out as follows: 
Pros 
You'll earn extra money.

It's something productive to keep you busy while earning money rather than unnecessarily spending money.

Even if you don't have any interest in pursuing it as a new career path, it's an excellent opportunity to learn new skills.

If you're in a toxic job while looking for a new full-time external one, a side hustle can help you feel more independent, even if it's a short-term gig, that the exit door is in sight.  
Make Your Money Work Better for You
More To Consider: The Pros and Cons of Continuing To Work Remotely Post-Pandemic
Cons:
It could lead to burnout and exhaustion.  

There could be a conflict of interest, so make sure your gig does not interfere with your full-time one.

You'll be decreasing time for your personal life, leisure, recreation and more.
Tips: How To Avoid Work Burnout During a Pandemic
A number of people juggling two jobs told GOBankingRates that the pros outweigh the cons; that said, it takes strong discipline and commitment to pull it off without burning out. Here are some ways to master the art of the side hustle: 
Do what works for you. "Determine what works best for you, your schedule and family," Salemi said. "If you take on weekend hours, think about down time you'll need to rest before Monday morning approaches."
Do not bite off more than you can chew. "Always choose jobs that do not have overlapping schedules," said Joe Wilson, senior employment advisor at MintResume. "Otherwise, you are just digging yourself a hole and you might lose both jobs if you are unable to produce the expected output or results."
Make Your Money Work Better for You
If comfortable, talk with your main employer about your second gig. "The pandemic is making it easier these days to have such conversations," said Daisy Wright, chief encouragement officer at The Wright Career Solution. "You don't have to disclose your reasons [for the second gig]."
Don't mix jobs. "When you're working for your full-time role, do not do anything outside of that even though it may be tempting if you're working from home," Salemi said. "Conversely, at your side hustle, do not work on your full-time role. Compartmentalize them and keep them separate as best you can."
Create a schedule and micromanage it. "This includes incorporating healthier habits, too such as sleep and nutrition," Salemi said. "Perhaps if you'll be on your feet all weekend in an app job/food delivery service, you'll want to pack nutritious meals so you have healthy food to eat on the go."
Find Out: 6 Uncommon Job Benefits You Should Demand Right Now
Stay regimented. "The way to balance two jobs is to stay regimented," said Janice Wald, coach, speaker and author at Mostly Blogging, who holds three jobs. "Have a time slot for all your tasks. I work on my blog, for instance, seven days a week. I teach on weekdays from 8 to 3, spend an hour on my commute, and work on my online business daily from 5 to 7. On weekends, I add my freelance writing job to the schedule."
Make Your Money Work Better for You
Up the self-care. "Know when to give yourself rest and think about other things besides your job, try to maintain a healthy social life, and stay in contact with your friends to alleviate you from all the dual job stress," said Irene McConnell, a career coach, hiring manager, and MD of Arielle Executive. "Try to exercise regularly and eat healthy to stay in a good state of mind."
More From GOBankingRates
Last updated: Sept. 30, 2021