Why Your Upcoming Vacation Requests May Be Denied — And How To Handle It With Your Manager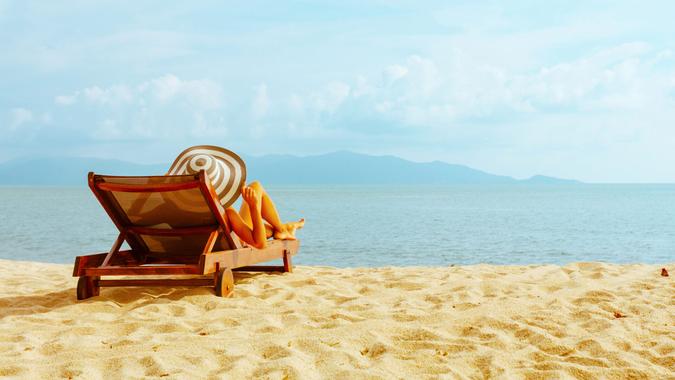 VladGans / Getty Images
As of late April, nearly 30% of Americans have been fully vaccinated — which means many will be looking to book travel after staying close to home for the past year-plus. And travel is already on the rise — a spike in travel demand began in March and is expected to continue into the summer travel season, USA Today reported. All that is to say that if you are planning to travel this summer, you are not alone — which means it may be more difficult than usual to get your summer vacation requests approved.
Show Support: Don't Miss Out on Nominating Your Favorite Small Business To Be Featured on GOBankingRates — Ends May 31
"Employers are expecting to see a deluge of PTO requests this summer as travel destinations reopen and people feel more comfortable traveling," said Jessica Webb-Ayer, editor at XpertHR. "Additionally, since many workers have held off taking vacations during the pandemic, they are anxious to take time off now that the world is starting to get back to normal. However, the expected rise in PTO requests this summer may present an administrative nightmare for many managers and HR departments, and could result in employees having their requests denied."
Make Your Money Work Better for You
Read: Should Employers Require Workers To Take Time Off?
How To Better Your Chances of Having Your PTO Requests Approved
Although there's no guarantee you'll get the vacation days you want, there are some things employees can do to better their chances of getting their PTO requests approved.
"I would suggest talking to your manager before planning your vacation to find out if there are any 'black-out' periods potentially on the books," said Matt Erhard, managing partner at the recruitment firm Summit Search Group. "Scheduling your trip to avoid major project deadlines and other busy times makes it more likely you'll be approved since the company can afford to have more absences during that span."
Be Aware: 6 Career Mistakes To Avoid During an Economic Downturn
You should also try to coordinate with your team members in advance.
"Not only does this increase your chances of getting the vacation you request, but it also reduces overall stress levels — you know you've planned ahead to get your projects covered and won't need to think about them while you're gone, and the rest of the team is prepared in advance to shoulder a bit of extra work in your absence," Erhard said.
Make Your Money Work Better for You
Gary Bury, CEO of staff leave planner Timetastic, recommends explaining why you want the time off when making the request.
"How can a manager refuse a 'family trip to Disney World', or 'a week learning to surf?'" he said. "If your manager knows you've got something good planned, the additional context makes it hard for them to refuse; indeed, they'll probably be happy for you."
Modern Money Etiquette: Should You Ask Coworkers About Salary?
Timing is also key.
"Put in the request as soon as possible," said Dana Case, director of operations at MyCorporation.com. "Once you know your preferred dates for travel, put in the request for PTO early on with your supervisor. Do not start moving forward with your plans, like purchasing flight tickets, before the request is fully approved."
Neha Khurram, founder of Beam Career Coaching, said to aim to put in requests two to three months in advance. In addition, "be sure to add the item to your 1:1 doc or tracker with your manager so you can chat about your plans and resourcing rather than simply sending a request on your HR portal," she said. "Do them in conjunction. Overcommunicating is essential."
Make Your Money Work Better for You
Read More: US Workers Rank Last in Benefits
Crispina Wilson-Jones, people operations executive at Learnerbly, agrees that putting in requests early is important — but says it may not be enough this year.
"Putting in leave requests early and preemptively making arrangements for how your teammates will manage without you will improve your chances of having your leave request approved," she said. "However, this year might call for special arrangements given the circumstances. Depending on the team, it might be helpful to organize a staff meeting in which people can negotiate their leave arrangements together in a way that allows the team to keep running smoothly during the summer."
How To Handle It If Your Request Is Denied
Even if you follow the guidelines above, there's still a chance you may not get your PTO requests granted.
"If a request is denied, it is often because the request was filed either too late or too many other members of their department put in time off requests for the same time period," Case said.
Tips: 5 Things To Negotiate at Your Job Other Than Salary
When this happens, being willing to compromise is your best bet.
"You should almost always try to reach a compromise with your manager," said George Santos, director of talent delivery at 180 Engineering. "Without being pushy or demanding, make your case directly to management and show that you have a flexible approach towards coming up with a solution. This solution may involve taking fewer days off or breaking up your PTO into smaller chunks. If you intend to travel, one solution could be offering to alternate between paid days off and days where you work remotely."
"If the reason that your request was denied is that other employees placed similar requests on overlapping days, you may be able to reach a compromise with your co-workers directly," he continued. "Approach them with an open mind and see if there is any way that you can both leave the exchange feeling content."
Although it's easy to get frustrated when your vacation request is denied, you should remain calm during any discussions with your manager or colleagues.
"The most important thing is to remain civil," Bury said.
More From GOBankingRates
Last updated: May 3, 2021
Make Your Money Work Better for You