10 Proven Ways To Get Paid for Amazon Reviews in 2023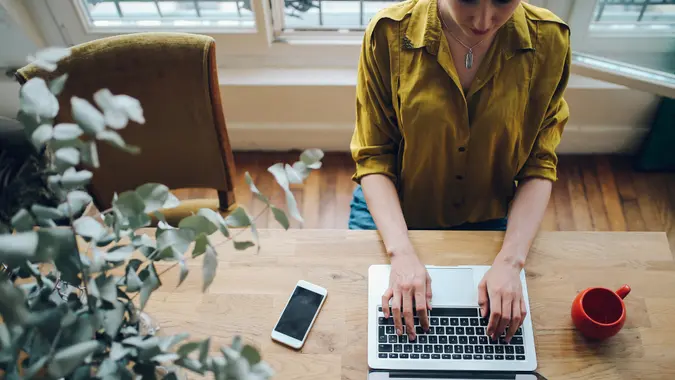 lechatnoir / Getty Images
If you're like many Amazon shoppers, you often read reviews of products before you make a purchase. Amazon reviews can be insightful, informative and often even funny. They can help you determine if clothing runs true to size or if household goods are constructed with quality materials. Whether you're in the market for home appliances or children's toys, Amazon reviews can help you find products that are worth the money.
But did you know Amazon reviews can also be profitable? You can get paid, in products or actual cash, to be an Amazon reviewer.
10 Ways To Get Paid for Amazon Reviews
Before diving into how you can make hundreds in extra cash each month, there are a few rules to being a paid Amazon reviewer. You are not allowed to receive money from manufacturers or Amazon resellers to write and publish an Amazon review for their products. You can't even receive free or discounted products from the manufacturer or seller to review. You also can't review your own product or a competitor's product.
If you're found in violation of Amazon's consumer review policies, your reviews will be removed and the product will be removed from Amazon. With this in mind, if a seller offers you money or other incentives to review their merchandise, it might be in your best interest to decline.
Fortunately, there are plenty of legitimate ways to get paid for Amazon reviews and for reviewing Amazon products in other places, too. Here are ten of the best ways.
1. Join Amazon Vine
Amazon Vine is a legitimate way for an Amazon reviewer to get paid for Amazon reviews. Amazon Vine is Amazon's invitation-only review program. If you post insightful, helpful reviews, you may be invited to become a Vine Voice.
Make Your Money Work Better for You
You can request free products to review as a member of Amazon Vine. Reviews must be honest and unbiased. Your reviews will be labeled with a badge designating them a "Vine Customer Review of Free Product." Vine Voices are highly respected, knowledgeable consumers that other Amazon shoppers often grow to trust.
After you've reviewed the product, you are allowed to keep it, give it away or sell it for cash.
2. Join the Amazon Influencer Program
Amazon Influencers are content creators who use and recommend Amazon products. This is done by creating an Amazon storefront or using affiliate links on social media platforms. You can apply to be an Amazon Influencer if you have a large social media following on YouTube, Instagram, Facebook or TikTok. To apply based on your Insta or Facebook followers, you'll need a business account.
Amazon evaluates and welcomes Influencers based on the size of their social media following and other factors.
3. Become an Amazon Associate
If you have your own blog or website or have developed a mobile app or Alexa skill, you might qualify to become an Amazon Associate instead of an Amazon Influencer. The programs are similar; both Influencers and Associates share their Amazon Affiliate links to earn a commission on each sale.
An Amazon Associate identifies as a business, rather than as a social media influencer. When choosing Associates, Amazon looks for a website with original posts and sites that meet the participation criteria.
You can review Amazon products on your website and share your affiliate link. Make sure to disclose that you may earn commission when your readers or viewers purchase through your link.  
Make Your Money Work Better for You
Once you've become an Amazon Associate or Influencer, opportunities abound to make money with Amazon reviews.
4. Create Your Own Amazon Storefront
As an Amazon Influencer, you can create an Amazon store of your favorite products. You aren't allowed to review your own products on Amazon as an Influencer, but it is a great way to earn cash from your favorite Amazon finds.
You can publish livestreams and create shoppable photos and videos showcasing your favorite Amazon products. Use your social media accounts to direct people to your Amazon storefront, which should have a personalized URL.
5. Join AMZDiscover
Whether you are an affiliate, a member of Vine Voices or you simply enjoy writing Amazon reviews, you can become a product tester listed on AMZDiscover. This website connects brands with talented Amazon reviewers. Companies will send you free products to test and review. You can keep or sell the products after you've tried them out.
6. Snag Amazon Coupons Online
Several other websites also connect brands with reviewers. Many of these sites offer steeply discounted coupons you can exchange for Amazon products. For instance, Snagshout offers discount codes for free Amazon products plus additional cash delivered straight to your PayPal account. It's free to sign up.
Similarly, VIP Power Club offers up to 99% off Amazon merchandise. When you claim an offer, you can use the discount code on Amazon right away to order the product at a steep discount. Many of the products also have free shipping with Prime.
7. Start a Blog
If you become an Amazon Influencer or Amazon Associate, you can make money writing Amazon reviews and product roundups, or sharing Amazon deals on your blog.
Make Your Money Work Better for You
Keep in mind it takes time to build up readership on a new blog. You may get faster results by marketing your blog through email and social media. Bloggers can earn up to $100,000 a month over time if they have a large following.
Best of all, the affiliate links and ads on your blog can continue making money even if you don't update your blog every day once you've built up some good traffic. This makes blogging and sharing Amazon affiliate links a great source of passive income over time.
Good To Know

To run a successful blog, you'll want to choose a niche that is in-demand, but not oversaturated. You can write about kitchen appliances, travel, electronics, gaming, camping, sports — the possibilities are truly endless.

Make sure to offer value with each post, including handy tips related to your niche.

Work in product links seamlessly. You can also embed Amazon links that look like ads into each post for added visibility.
8. Start a YouTube Channel
Once you've become an Amazon Affiliate, the possibilities for making money sharing Amazon reviews are virtually endless. If you prefer recording videos and doing voiceovers rather than writing, you can start a YouTube channel and review Amazon products.
Best of all, you don't have to appear on camera unless you want to. Simply showcase the product and do a voice-over of your review.
9. Review Products On Your Social Media Accounts
Social media platforms represent another effective way to get the word out about your favorite Amazon products and share your Amazon affiliate link.
You can share your link on Facebook, TikTok, Instagram, Pinterest or X. Keep in mind you can't use your X or Pinterest accounts to apply as an Amazon Influencer, but they can supplement other platforms.  
Make Your Money Work Better for You
10. Start a Facebook Group or TikTok Channel Where You Share Amazon Deals
Shoppers often search Facebook and TikTok looking for the best deals at their favorite stores. If you can deliver those deals, you'll develop a loyal following — and potentially piles of cash when you share your affiliate links.
You can create a public Facebook group and share Amazon Lightning Deals, which are limited time offers for steep discounts. You can also share your favorite products, especially if they are on sale or you feel they are an exceptional value, even at full price.
You can also share your favorite Amazon finds on TikTok videos and put your link in the comments.   
Final Note
If you love shopping, Amazon products, and sharing your favorite finds with friends and followers, you can earn extra cash or a full-time income as an Amazon reviewer.
FAQ
Here are the answers to some of the most frequently asked questions regarding getting paid for Amazon reviews.
Can I get paid to be an Amazon reviewer?

The Amazon Vine program sends consumers free products in exchange for insightful, high-quality Amazon reviews. To get an invitation to Vine, make sure to post plenty of high-quality reviews for Amazon products that you have purchased.
Once you join Vine, Amazon will send you free products to review. When you are done using the product, you can keep it for yourself or sell it for cash through Facebook Marketplace, OfferUP, other re-sale websites or even your local consignment shop.
You can also get paid for writing Amazon reviews if you become an Amazon Influencer or Amazon Affiliate. You can write reviews on a third-party website, including your own blog or social media account, and share your affiliate link to earn commission on every sale.

How do you qualify to write an Amazon review?

To write a review on Amazon, you must have used a credit or debit card -- not an Amazon gift card or credit card reward points -- for at least $50 on Amazon in the past 12 months.

Where can I write reviews and get paid?

You can write reviews as an Amazon Vine Voice on Amazon and get paid in free products. You can also write reviews on social media platforms, third-party websites or your own blog and earn money as an Amazon Influencer.
Make Your Money Work Better for You
Information is accurate as of Oct. 6, 2023. 
Editorial Note: This content is not provided by any entity covered in this article. Any opinions, analyses, reviews, ratings or recommendations expressed in this article are those of the author alone and have not been reviewed, approved or otherwise endorsed by any entity named in this article.
Our in-house research team and on-site financial experts work together to create content that's accurate, impartial, and up to date. We fact-check every single statistic, quote and fact using trusted primary resources to make sure the information we provide is correct. You can learn more about GOBankingRates' processes and standards in our editorial policy.