How To Earn Freebies and Cash as a Product Tester for Amazon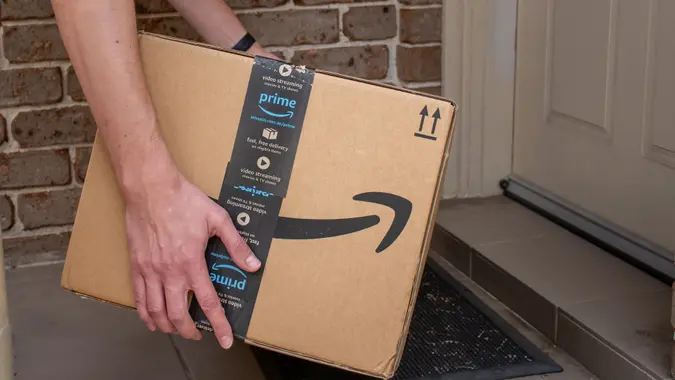 Daria Nipot / iStock.com
Reviews are important — most people read reviews of the products they're considering before purchasing them.
Read: What To Do If You Owe Back Taxes to the IRS
One study reported by PowerReviews found that a whopping 91% of all online shoppers "regularly or always" read reviews while considering different products, and 98% of shoppers say reviews are an essential resource when deciding to make online purchases. Even more strikingly, nearly half of consumers say they won't buy a product online if it doesn't have any reviews.
It's no surprise that online retailers like Amazon encourage reviews, and sellers will go out of their way to ensure people test, evaluate and review their products online. They'll go as far as to offer Amazon freebies to reviewers who have proven they can post informative, concise and accurate reviews. Being an Amazon product tester is a great way to get free items or deep Amazon discounts — and you don't even need to be an Amazon Prime member.
How Can I Apply To Be an Amazon Product Tester?
There are two primary paths to becoming an Amazon product tester: directly through Amazon or via third-party Amazon reviewer platforms. Here's a look at each.
Amazon Vine
This is an invite-only program, and Amazon handpicks reviewers for inclusion. If you want a shot at joining the Amazon Vine program, it's crucial to establish yourself as a reliable reviewer on Amazon.
You can do this by posting a significant volume of insightful and useful reviews. Review everything you purchase and consider increasing your review categories, as this can further boost your chances of Amazon selecting you for the program. It's important to note that Amazon does not guarantee an invitation to join the program.
Make Your Money Work Better for You
Amazon Reviewer Platforms
Various websites serve as middlemen, linking product sellers with prospective reviewers. These platforms enable you to get free or heavily discounted products in return for penning reviews.
You can easily find Amazon reviewer sites through a quick online search. Signing up for these sites allows you to scour through a huge number of tester-available products. You can then handpick the products you wish to test. Popular platforms include Vipon and Rebaid — here's a closer look at each.
Vipon
Vipon, recognized as one of the oldest and most popular Amazon deal websites, offers deep discounts and free items to buyers who sign up for the service. Buyers are free to request up to 20 products at a time, which is more than many other Amazon reviewer sites — one of the keys to Vipon's popularity and success.
Rebaid
Although a relatively new Amazon product review site, Rebaid has rapidly gained a lot of die-hard fans. It offers great service and deep discounts, with thousands of offers and millions of dollars paid out in direct rebates to site users. Rebaid doesn't just offer Amazon discounts but also features products from several online retailers, including Etsy, eBay and Walmart.
It's good to know that not all Amazon reviewer sites are authentic. There's no shortage of Amazon scams, and some reviewer sites could potentially be fraudulent, so always carefully consider your options and never disclose banking information that would allow a third party direct access to your accounts.
How Can I Get Selected for the Amazon Vine Program?
Amazon Vine is a selective, invite-only program that presents the best Amazon reviewers, whom Amazon calls Vine Voice. Those chosen to participate will have their pick of dozens of different products at no cost, as long as they agree to share their experiences to help fellow Amazon customers make savvy purchasing decisions.
Make Your Money Work Better for You
Your reviewer profile and familiarity with certain product categories are pivotal factors in your selection as an Amazon Vine program candidate. Amazon generally requires that reviewers have a track record of providing beneficial, top-notch product analysis.
Though Amazon doesn't disclose the specific criteria it uses in picking Vine Voices, users generally suspect that factors like the quantity and helpfulness of your reviews, the breadth of product types you've evaluated, the promptness of your reviews, and your aggregate rating as a reviewer are primary considerations.
If you're invited to the Vine program, there are some important conditions Amazon requires you to agree to. These include prohibitions against soliciting or receiving payment for your reviews, giving partial or unjust reviews and disclosing your Vine Voice status to others.
Do Amazon Product Testers Get Paid?
Amazon does not pay reviewers for testing through Vine, but they receive free items to encourage fair, unbiased reviews. The items you review are yours to keep — or sell on sites like eBay and Poshmark, which could generate some extra cash.
Caitlyn Moorhead contributed to the reporting for this article.
Editorial Note: This content is not provided by any entity covered in this article. Any opinions, analyses, reviews, ratings or recommendations expressed in this article are those of the author alone and have not been reviewed, approved or otherwise endorsed by any entity named in this article.