How To Become a Product Tester for Amazon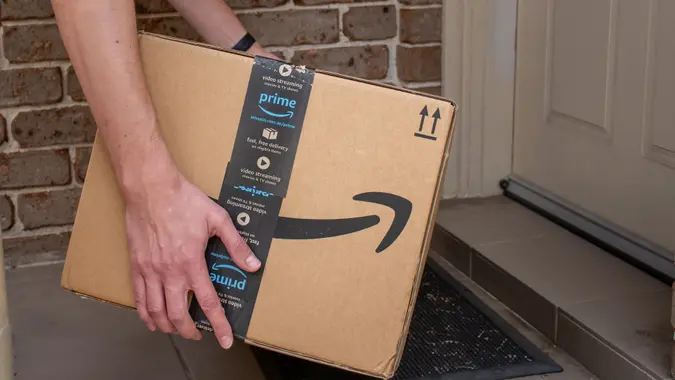 Daria Nipot / iStock.com
With all of the products available at the click of a button, quality control — or lack thereof — can lead to a lot of buyer's remorse. Fortunately, there are people out there reviewing products to give consumers an idea of what to expect before they purchase. Product tester jobs and the unbiased reviews they leave are an important part of e-commerce.
See: 3 Ways to Recession Proof Your Retirement
How To Become an Amazon Product Tester
Not only are there benefits to being an Amazon tester, such as free or discounted products, but consistently posting quality reviews can also be a legitimate side hustle. If you want to test Amazon products and get paid, here are two paths you can take.
Amazon Vine
Third-party programs
1. Amazon Vine 
The Amazon Vine program is invite-only, so it can be a bit more difficult to get into, but it is a good way to do tests and reviews for Amazon sellers right through your Amazon Prime account.
Amazon makes the decision of who to invite to be a Vine Voice based on your reviewer rank, the comprehensive nature of your reviews, how many negative or positive reviews you have, the frequency of your reviews, the type of products you've reviewed and how many upvotes your reviews receive.
Make Your Money Work Better for You
Amazon reviewers testing through Vine are not paid, but they do receive free items, since free stuff hopefully produces more transparency. Free products aside, here are some steps to take to increase your reviewer rank to so you gain more traction and hopefully capture Amazon's attention to snag an invite.
Tips To Become a Vine Voice

Write a review for every purchase you make through Amazon.
Keep your reviews short and sweet.
Add description, details and specificity about the product.
Outline your review with pros and cons or benefits and drawbacks.
A picture is worth a thousand words, so provide photos for the review when appropriate.
Write a review that you would find helpful as a consumer.
Picking a niche could help you become a trusted reviewer more quickly.
Reviewing new or just released products can also capture Amazon's attention.
Start an Amazon review blog.
Amazon Associates
Amazon also has an affiliate program known as the Amazon Associates program that works with Amazon review sites. These can be on the web or through blogging or social media. Essentially, if an Amazon product you review and refer sells through this program, you will earn a commission.
2. Third-party Programs
Though there are many third-party programs out there, make sure you do your research to find reputable sites that pay fairly. Many of these are great programs to use if you are going to shop through Amazon anyway, which can ultimately increase the volume of the product reviews you've tested.
Make Your Money Work Better for You
Snagshout
This is a great way to get price cuts, discount codes or cash back on your Amazon purchases. You can then review and test these items at a much lower cost and increase your chances of being invited to become a Vine Voice.
myRebateBuddy
myRebateBuddy was designed as a Telegram bot, so you'll need to download Telegram. Then, you'll be ready to claim offers and receive products from brands that need your honest evaluation and get cash back or a rebate for your effort via PayPal.
Rebaid
Not only can you get up to 100% off through Rebaid, but by using this site and checking out through Amazon, free and discounted products will be delivered to your doorstep.
Vipon
As an Amazon-focused site, this is a great route to take, as you can get huge discounts and raise awareness through customer coupon codes.
How Product Testing for Amazon Works
In today's market, sellers are neck-deep in competition to move their products to the front of the line for consumers to more easily find. The value of the feedback product testers can supply is nearly immeasurable. By using the input of product testers, companies can develop a unique selling position for their products that separates them from the very saturated marketplace that is Amazon.
Make Your Money Work Better for You
FAQ
Here are some quick answers to frequently asked questions about becoming a product tester for Amazon.
Does Amazon hire product testers?

Amazon does hire, or rather invite, high ranking reviewers to be part of its Amazon Vine program. It bases the decision on who to invite to this program on several factors, including:

–

Reviewer rank

–

Comprehensive nature of your reviews

–

How many negative or positive reviews you have

–

Frequency of your reviews

–

Type of products you've reviewed

–

How many upvotes your reviews receive

How do I become a legitimate Amazon product tester?

You can be invited to become a Vine Voice by Amazon if you meet its criteria.
You could also become a product tester through a third-party program to increase your review profile while receiving discounts, promotional codes, cash back and rebates

–

just make sure you do your research and choose a legitimate program if you go that route.

How do you get hired as a product tester?

To be invited to join the Amazon Vine program, you must first capture the attention of Amazon through your reviews via your own account or through a third party. You can do this by reviewing as many products as possible, making sure your reviews are comprehensive and concise and including photos when they're relevant, among other strategies.

Is Amazon Vine legitimate?

Yes, Amazon Vine is a legitimate program for product testing and reviewing. Becoming a Vine Voice is invite-only by Amazon itself.
Editorial Note: This content is not provided by any entity covered in this article. Any opinions, analyses, reviews, ratings or recommendations expressed in this article are those of the author alone and have not been reviewed, approved or otherwise endorsed by any entity named in this article.
Make Your Money Work Better for You