Get Paid To Write Reviews: 10 Best Sites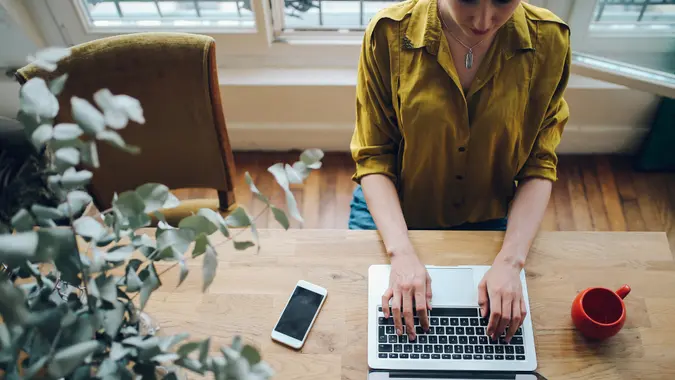 lechatnoir / Getty Images
If a product is made, and no one shares an opinion about it, does it even exist? As so much shopping or general consumerism is not done in person anymore, people read reviews to see how the star ratings will affect their purchasing decisions. Whether it is through a side hustle or testing products, your positive or negative reviews have an impact, so you might as well get paid for them. 
Read: 3 Ways to Recession Proof Your Retirement
10 Best Review Websites To Write for and Get Paid
The best sites to write reviews for, and get paid from, are out there if you know where to look. Millions of reviews influence everything, from search results to potential customers or even how local businesses are found in a wider net. Here are 10 great sites to consider when writing reviews:
ReviewStream
Harris Poll Online
G2
Crowdtap
GetReviewed
Listverse
Ciao
Capterra
Gartner Peer Insights
UserTesting
1. ReviewStream 
If you are frequently on social media and have your finger on the pulse of what is currently popular, ReviewStream may be the best site for you. You can review any items you want — however, popular items tend to get more likes, and the more likes you get, the more bonuses you get. Be sure to follow the publishing guidelines of the platform as this can ensure you get paid more and get more users marking the review as useful.
Make Your Money Work Better for You
2. Harris Poll Online
As an established research firm, Harris Poll Online typically has its reviewers work on products for a current market campaign. Essentially, every time you fill out a review or survey, you get points, which you then redeem for gift cards. This site isn't for starting a blog, this site is for specific review writing, or you may even be asked to complete or participate in the following tasks for payment:
Marketing videos: Watch a series of marketing videos to give your opinion on them or even share how you feel the company could improve them.
Product labels: Review varying labels to see which ones stand out the most to you.
3. G2
G2 — formerly G2 Crowd — is a popular crowdsourced platform for reviews. Though the earning potential does vary, you can earn up to $25 per review, depending on what specific type of software you are writing about. In order to get your review accepted, you must follow the requirements of the site, which include linking your LinkedIn account profile to the review.
4. Crowdtap
If you are looking for a review site you can work with from the convenience of your phone, you should consider Crowdtap. It gets even easier as Crowdtap will send you what they call daily missions, which include specific products for you to review. You get paid for your reviews in a variety of ways, including:
Free products
Gift cards
Redeemable rewards through affiliate links and brands
Make Your Money Work Better for You
5. GetReviewed
GetReviewed is a great site to write reviews for, as they pay you in cash to do sponsored reviews or blog posts. To get started, submit your blog for consideration and — once accepted by GetReviewed — it will be publicly displayed on the platform's marketplace. Payment for reviews come in through your PayPal account around two weeks after the review is finished and then approved by the advertiser.
6. Listverse
Listicles are a common and often reader-preferred form of review writing. If you also like this sort of long-form reviewing, consider Listverse. These lists allow you to write reviews and also recommend other sponsored content, all in one fell swoop. You will receive payment through PayPal once your listicle is published.
7. Ciao
Though Ciao — which is part of Kelkoo Group — is based in the United Kingdom, it takes reviewers internationally, which is a bonus. Payment varies depending on the priority of the review or how high profile the product is. There are a variety of products to review, including some from Amazon, and it is a great way to practice getting more reviews out there while growing the amount of traffic you generate.
Make Your Money Work Better for You
8. Capterra
Capterra pays you to write reviews for a variety of products and software programs. What is fun about Capterra is you are also usually required to product test whatever you're reviewing, so it's a bit more work but also a great way to score free stuff. The extra effort is typically worth it as you, on average, get paid $10 per review, which can add up to a nice amount of extra cash the more reviews you write.
9. Gartner Peer Insights
Gartner Peer Insights is not only a review site that will pay you but also one of the most successful technology and software review companies out there. Though there is the drawback of being limited to only 10 reviews annually, it does pay $25 per review. So though this might not be the only review site you write for, it is a good one.
10. UserTesting
Though UserTesting is more of a video testimonial review platform rather than a writing review platform, it still pays you for your reviews and might be a good opportunity to branch out to mixed media. You'll be asked to test websites and other applications and then record your video review. Talking about a product may be a nice change of pace from writing about one everyone once in a while.
Final Take
What's nice about writing reviews is that many of the sites that will pay you don't require much experience or equipment. If you are ready to get your foot in the door with review writing to start growing your audience and the traffic you generate, any of these sites are worth exploring.
FAQ
How do I become a reviewer and get paid?

There are many sites where you can become a paid reviewer, including the following:

–

ReviewStream

–

Harris Poll Online

–

G2

–

Crowdtap

–

GetReviewed

–

Listverse

–

Ciao

–

Capterra

–

Gartner Peer Insights

–

UserTesting

–

Survey Junkie

Do you get paid for Amazon reviews?

You don't get paid for Amazon reviews in cash, but you can score free stuff through the Amazon Vine program. It is invite-only, so it can be a bit more difficult to get into, but is a good way to do tests and reviews for Amazon sellers right through your Amazon Prime account.
Amazon makes the decision of who to invite to be a Vine Voice based on your reviewer rank, the comprehensive nature of your reviews, how many negative or positive reviews you have, the frequency of your reviews, the type of products you've reviewed and how many upvotes your reviews receive.

Can you get paid for doing Google reviews?

Leaving Google reviews may help you build your review platform and reputation, but Google does not pay for your reviews. It also discourages business owners or small businesses to incentivize customers with free products or money to leave positive reviews, as this could be considered coercion.

Do you get paid to write reviews on Yelp?

No, Yelp does not pay users for writing reviews on its site.
Make Your Money Work Better for You