Amazon Prime Members Can Shop Online at More Places With This New Perk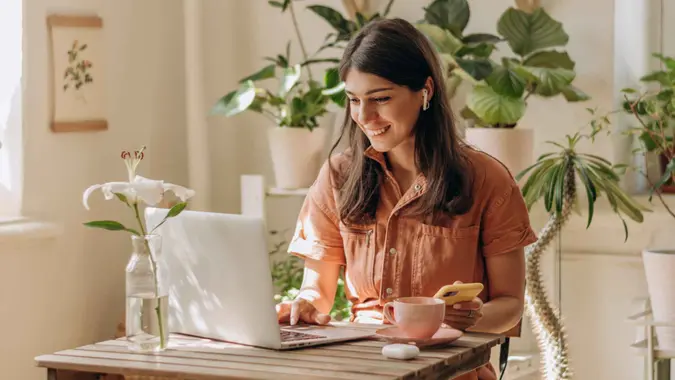 Tatiana Buzmakova / Getty Images/iStockphoto
Online retailers who use Shopify's e-commerce platform can now integrate Amazon's "Buy With Prime" feature into their websites. This means the same checkout and delivery experience for Prime members outside of Amazon.com.
This announcement came as a shock to many within the industry. Amazon has tried to get brick-and-mortar retailers to use its Amazon Pay System as their point-of-sale (POS), The Street reported, but few retailers trusted the e-commerce giant. Amazon has been repeatedly accused of using its data to make knocks of best-selling products and selling them on its platform. Last year, Shopify warned merchants against using Amazon's one-click checkout service, saying it violated the platform's terms of service, according to CNBC.
But there have been compromises on both sides. According to Amazon's announcement of the integration, Prime members will pay for their orders using a payment method from their Amazon wallets, but Shopify Payments will process the payments through its checkout.
Amazon CEO Andy Jassy posted on X, formerly known as Twitter, saying it was great to work with Shopify to give Prime shoppers the same benefits from participating Shopify merchants when they check out using Buy With Prime.
In a video about the deal, Shopify President Harley Finkelstein discussed how the integration benefits merchants and their customers.
"Merchants can give Prime members access to Prime benefits like fast and free delivery outside of Amazon.com for the first time ever. This will give customers more flexibility in how they make their purchases from the independent brands they know, love, and trust," he said.
Make Your Money Work for You
The app has started rolling out as invite-only to select Shopify merchants, Amazon said, and it will be available to all U.S.-based Shopify merchants by the end of September. Amazon noted that Buy With Prime has helped merchants grow their e-commerce business, increasing shopper conversion by 25% on average.
More From GOBankingRates